In 31 days, I leave for Poland and I have to speed up my macho level advanced diving before I leave.
I arrived around 6 PM at Veterans Park and put my dry suit on; I belched all the air out by pulling the neck seal and doing a squat.
I was also wearing a shorter pair of swim trunks for increased mobility; I was not going to be in the helpless situation that I was in last time – falling down and not being able to get up.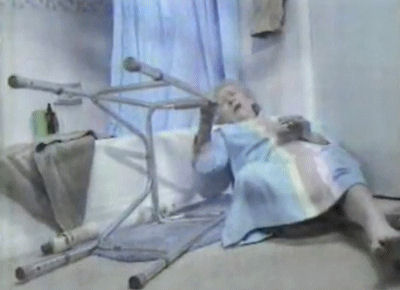 Help! I've fallen and I can't get up!
I practiced on the pavement, getting up off the ground – whatever I did, worked.
My knees were more flexible, too.
A new diver "Russ" introduced himself.
He had 12 dives in and wanted to do his first night dive.
There was a light Divevets crowd, so I told him, "You can tag a long with me, but I'm doing my second dry suit dive, and it won't be a night dive… and if I have issues, you better be able to take care of yourself."
Donna The Hot Biker Chick pulled up and told me that she's going to do her first dry suit ocean dive.
I got excited and asked, "Donna, are you coming to Poland with me?"
She thought for a millisecond and responded, "NO!"
Dash was gearing up in a dry suit to dive with Donna.
So for the dive, as the plan was, Donna the Hot Biker Chick, Dash, the new guy Russ and me.
I made it through the surf with no issues, Donna and Dash followed.
I waited for Russ… he made it out, and I couldn't tell if he had his fins on or not, but he was doing circles in the surf zone.
Oh man, I wished more people were there – this was a training dive for me, and not a mentoring dive.
I started swimming back to shore in case he needed assistance.
Russ couldn't hear me yelling through the surface chop.
After a few minutes, he washed ashore and called the dive; I swam out to meet the other two.
I had a short fill – I think my tank is leaking again; I informed the other two that I would be leaving before their dive was over.
I noticed that diving in a dry suit gave my feet a strange "wet" and cold feeling that I didn't notice on my first dry dive.
We descended.
Logged SCUBA Dive #440
Dove With Donna The Hot Biker Chick and Dash
Veterans Park, Redondo Beach, California, USA
In With: 2400 psi
Out With: 700 psi
Max depth: 72 feet
Waves: Slightly annoying surface chop
Visibility: Shitty until over the shelf, then it cleared to 10 feet
Water Temperature: 54 degrees at depth, 68 at the surface
Air Temperature: 72 degrees
Total Bottom Time: 25 minutes or so
Visibility was shitty, and turning my light on just back scattered all the light off the silt.
We went down the canyon and I felt the thermal – it got cold, but hell I'm in a dry suit, plus I'm macho.
Shrimp, small fish, yellow crabs… a typical, non-eventful dive at Veteran's Park.
We were at 50 feet, gawking at two shrimps fucking, when I signaled that I was heading in due to my low air situation.
I slowly made it back to the surf zone and surfaced with 700 psi left, right in front of the lifeguard shack, which was closing.
I came walking ashore; it felt like I had bowling balls strapped to my feet.
And then, I got knocked down by a wave — I crawled out of the surf zone and got up with relative ease.
My feet were as big as cantaloupes, with the consistency of a water bed.
Yep, I flooded.
I made my way to the parking lot where Divevets' Kenneth examined me for leaks.
Kenneth said, "Whoever zipped you up, had about another inch to go before completing the seal."
Well, that person was me – I had so much anxiety about not being able to put my fins on or not being able to get back up, I didn't check to see if my zipper completed the seal; I will never do that again.
Donna and Dash made it back about 25 minutes later.
Light debriefing ensued before I packed up my soggy gear and headed back to the ghetto.