Last week, Dan from Divevets gave me a 12 minute pool course on how to dive in a dry suit, in exchange for a bottle of $25 Scotch.
Let's see – use your BCD for buoyancy, put air in your dry suit when you feel ball squeeze and come up with your exhaust valve higher than your feet.
That was basically it; he had me turn upside down and recover when all the air went to my feet by turning right side up.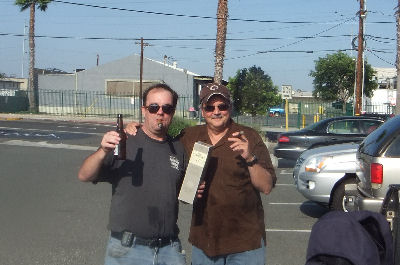 I am now ready for the ocean in a dry suit!
I arrived at Veterans Park in Redondo Beach where I met up with Chipper.
Our mission – to find some lost equipment and test my dry suit abilities without either of us getting killed or hurt.
The surf was picking up, but we are macho…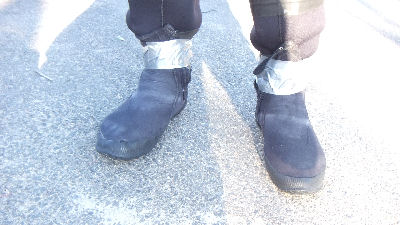 Lacking large booties that fit over my dry suit socks, I had to improvise with duct tape – MacGyver would be so proud of me!
Chipper and I walked to the shore, high-fiving some kids who wanted to touch some SCUBA divers.
Chipper made it through the pounding surf with no issues.
I made it to chest high water, and tried to put my fins on…
I tried bending my leg, but the water pressure on my dry suit made my leg pretty stiff; I couldn't bend it enough to put my fin on.
I'm bobbing around in the surf zone, getting slowly pushed back to shore.
I put some air in my dry suit, exhaled and did the most uncomfortable crunch that I've even done… I got one fin on and started to kick out.
Just as determined, I put the other fin on.
I was really winded; I caught up to Chipper as the waves were picking up.
We rested before going down.
Taking advise from fellow divers, I put on six additional pounds of weight.
Descending was easy, Chipper was right behind me.
Logged SCUBA Dive #439
Dove With Chipper
Veterans Park, Redondo Beach, California, USA
In With: 3000 psi
Out With: 500 psi
Max depth: 71 feet
Waves: Four foot waves, increasing as the dive progressed
Visibility: Five to maybe 10 feet, at best
Water Temperature: 54 degrees at depth, 65 at the surface
Air Temperature: 74 degrees
Total Bottom Time: 25 minutes or so
I wanted to get to 100 feet, but I screwed up a bit on the navigation, and I was going through air like I haven't done since I was a newbie.
It is strange feeling the air in my dry suit bubble up and down my body.
We went North, before heading up to 40 feet and back.
As Chipper later said, "The difference between five foot and ten foot visibility at Vets, is that you just get to see more sand."
We saw crabs, shrimp… same stuff as last dive; I did not bring my camera, as I did not want the distraction.
We did not come across any lost equipment.
I really huffed through my tank; we were heading in and I surfaced in 18 feet of water, mostly due to the surge at the bottom.
The surf pushed us in and I was able to take my fins off fairly easily.
I was walking to shore and right at the sand ledge, a wave knocked me down.
No problem, I'll just get back up, like I always do… shit, I couldn't bend my knees wearing that water proof Glad bag to get up.
I started to crawl… man, I fucking couldn't bend my knees to get up.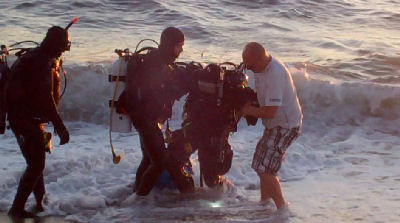 Luckily for me, some fellow divers picked my ass up and propped me on my feet. – Photo by PDP
PDP captured my non-macho exit:
Chipper said, "Remember when I told you on the surface when we were coming in, that you are the most macho first time dry suit diver that I know?"
"Yeah…"
"Well, I take it back."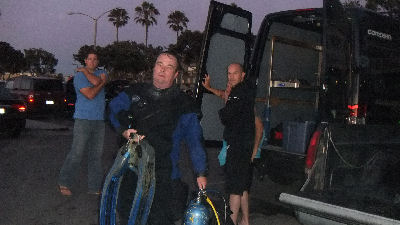 Another successful dive, and this one in a dry suit!
I now know why some of the cold water dive tours want you to have at least 20 dry suit dives – this may take some time getting used to, and they don't want problems.
We debriefed with beer and sausages and bratwursts; there was a pretty big crowd in the parking lot.
Jimmy The Bagman loaned me a set of doubles to practice with for my September dive trip.
COMING SOON! More dry suit dives!