Well, I guess I haven't officially announced it on this blog until now, but my next macho diving adventure is going to be in Poland this September.
I had no idea what I was getting in to – the water is 38 degrees Fahrenheit and I need a dry suit – which new, also costs about as much as my plane fare.
I won an extra-large Dry Suit off of Ebay, but I am so fat, that I couldn't fit in it, and a custom wetsuit would take too long to arrive, and put me into more debt.
I posted on Divevets if anyone had a dry suit for sale for a fat guy.
Mean Bob came through with one that he thought would fit.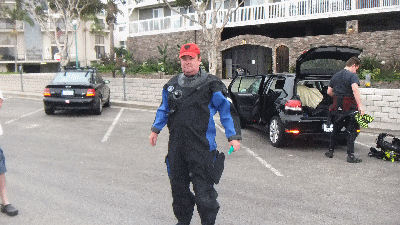 And it fit me!
Bob even brought another diver to test it to make sure it didn't leak.
"Why can't I test it?" I asked.
"You need to be trained in a dry suit, otherwise you might die," I was told.
OK, now the add-ons to boost profit!
Well, I was later told that I would get trained for the payment of a bottle of Scotch, so I had no issue with that.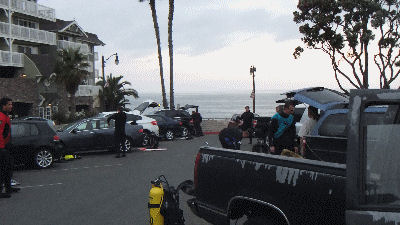 The whether was really funky – 83 degrees, but raining slightly; the ocean was flat.
I hooked up with Dr. D. for my dive in my wetsuit.
Logged SCUBA Dive #438
Dove With Dr. D.
Veterans Park, Redondo Beach, California, USA
In With: 3000 psi
Out With: 1000 psi
Max depth: 70 feet
Waves: Pretty flat, with some rollers
Visibility: 10 to maybe 15 feet
Water Temperature: 58 degrees at depth, 64 at the surface
Air Temperature: 84 degrees
Total Bottom Time: 35 minutes or so
The dive was perfect, with no events worth noting – we saw shrimp, crabs, small fish, etc.
Once I arrived back in the parking lot, I got the word, "The wetsuit is good, my right sleeve is wet, but only because the under garment was sticking out of the seal."
I bought the dry suit, with the under garment.
I put it back on as I was told it has a "pee valve" in it.
"What is a pee valve?" I asked.
"It's so you can pee without taking the suit off."
Great!
Having a couple of debriefing beers, I actually had to go pee, so I decided to test the pee valve by standing on the grass and letting it lose.
I felt this warm sensation go down my right leg and my boot started to fill with liquid.
"I don't think the pee valve works!" I yelled.
"You need a condom with a tube that connects to the valve, dumb ass!"
OK, how embarrassing, I guess I do need dry suit training!
Luckily, I was not in a life threatening situation.
During debriefing, the Redondo Police rolled up on us…
"It's the cops, hide the beer!" someone yelled.
The Officer asked how conditions were.
One of the divers said that, "The water was cold at depth and when we ascended, it was like swimming up into warm urine."
The Officer said, "OK, we didn't need to know that… and by the way, we don't care about the beer in your cups, or the peanut shells on the ground."
The Police drove off.
Dan and Jimmy The Bagman started talking about giving the Redondo Beach Police free SCUBA lessons since they are so cool – well, except for the ones that give dog tickets.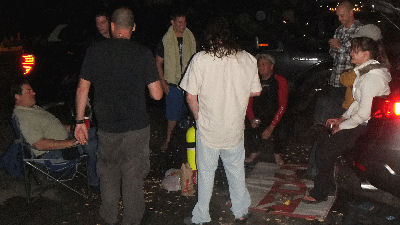 Debriefing continued.
Now, I just need 20 dry suit dives and training with doubles before I leave in September.
Comments Off

on Dry Suit Test Dive At Veterans Park