I've had a rather bad cold for a week, and honestly I have no clue as to how I got it, however some have speculated that since I have quit drinking draft beer, the cold may be just symptoms of withdrawals.
I arrived at Terranea Resort at 8:15 AM to an almost full parking lot with about 40 divers gearing up.
I believe more than three diving clubs were there, including one group that wheeled their gear down to the beach in baby strollers, where their shore support set up camp.
I decided to go it alone; I was still slightly congested, but not to the point that I couldn't get down – I just didn't need a dive buddy, in case I was wrong and had to call the dive just after entry.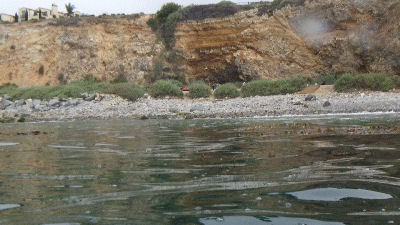 The ocean was literally as flat as a lake and entry was extremely easy.
Logged SCUBA Dive #436
Solo Diving/SoCal Buddy Diving
120 Reef, Terranea Resort, Rancho Palos Verdes, California, USA
In With: 3000 psi
Out With: 750 psi
Max depth: 40 feet
Waves: No waves, flat as a lake
Visibility: 10-15 feet
Water Temperature: 62 degrees
Air Temperature: 72 degrees
Total Bottom Time: 43 minutes or so
I kicked out to the rocky finger just outside of Pigeon Shit cave and submerged.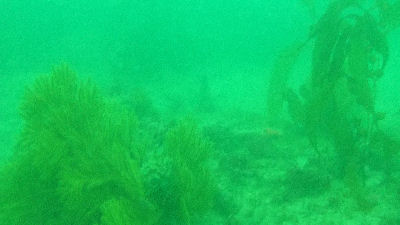 Visibility was good, however a little green – nothing that Photoshop can't handle.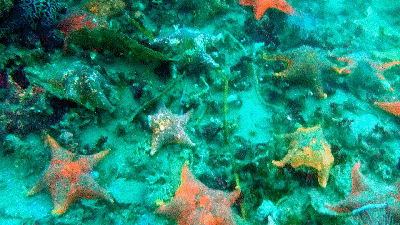 Star Fish make their home on a reef.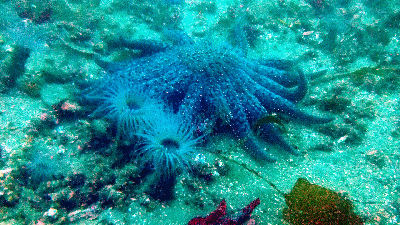 A passing Sun Star.
I passed by some stirring sand; as I approached, I noticed it was a huge Bat Ray burying itself in the sand for a probable nap.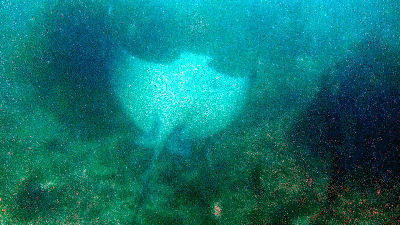 The Bat Ray took off as soon as it spotted me.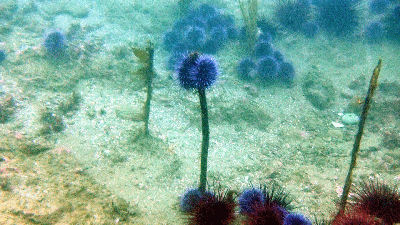 I am going to apply for a $2 million government grant to study why sea urchins climb sticks.
After about 30 minutes I headed back in, surfacing twice to get a bearing.
The exit was extremely easy.
I noticed that there are still fishermen here, even though this area has been declared a marine preserve almost two years ago.
I had some kids who were interested in what was off the coast; "Fish, Bat Rays… I was hoping to find some sunken treasure, " I said.
Coming from my dive, still wet and geared up, I was walking to my truck in the parking lot when a car pulls up along side of me.
"Are you leaving?" the driver asked.
Really? This guy thinks I'm going to throw my tank in the back of my truck and speed away still wearing my weight belt and wetsuit?
"Uh, no," I responded.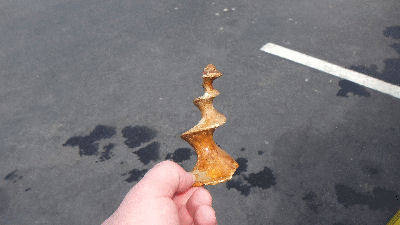 Reverend Al found an extremely rare something – nobody knew what it is; someone guessed it might be the inside of a conch.
I called it "God's cork screw."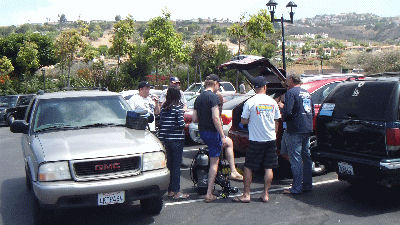 The debriefing starts!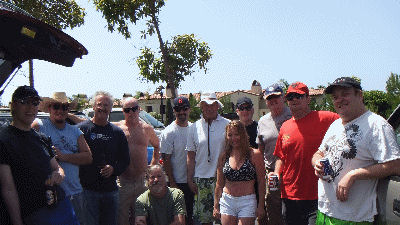 Today's group of divers and support crew, minus the other 20 divers who were there.
I had to cut the debriefing short and go visit my father.
Comments Off

on 2013 Father's Day Dive At Terranea Resort