February 3, 2013*
We were eating a light snack of fruit, chips and dip during our surface interval when the question about the second dive was asked.
Where should we go next?
Stay here, or to another oil rig?
When most didn't care either way, Dan made the comment that, "You guys vote like women."
The captain suggested that we stay for a second dive since, "Conditions won't be any better at the other rigs."
So, we stayed.
Donna apparently found a more suitable, less macho, dive buddy, so I paired up with Dan.
Logged SCUBA Dive #431
Dove with Divevets' Dan, "SoCal Buddy Style"
Eureka Oil Rig, California, USA
In With: 2250 psi
Out With: 600 psi
Max depth: 52 feet
Waves: Pretty calm
Visibility: Eight to 10 feet, but cleared to 20 feet at depth
Water Temperature: 54 degrees
Air Temperature: 74 degrees
Total Bottom Time: 26 minutes
We descended.
This was my second dive with my new BCD… I grabbed what I thought was a purge value and ended up pulling my weight pouch out.
Luckily it was empty, as I still use a weight belt.
By the time I got down, Dan was gone… well, same ocean, same day, so oh well, we'll do it "SoCal buddy style."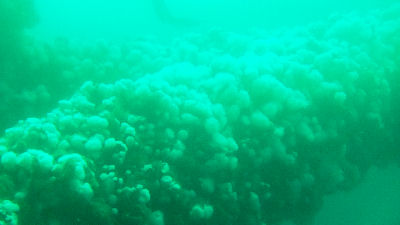 There's a floor of beams around the 60 foot mark.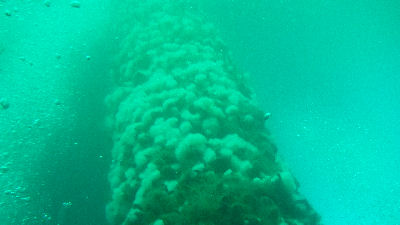 I spent most of my time at this depth, cruising around the horizontal beams, trying to take some good pictures as my camera was warning that the battery was very low.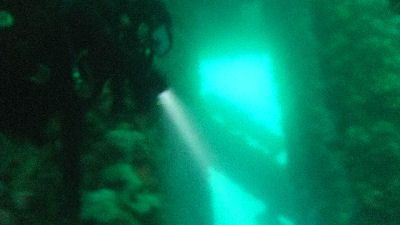 If I wasn't so macho, swimming around underneath all those dark beams may have spooked me out.
I slowly surfaced just as Dan did.
We started the dive and ended the dive together, so that's good enough in my book.
Some divers brought back some big scallops.
I was also fortunate enough to meet Carl, a friend of one of the hottest celebrity divers in the world – Paris Hilton.
He apparently has even been to her house; meeting him was better than previously meeting someone who did catering for Paris.
Maybe one day I will actually get to meet Paris Hilton, or better yet, even dive with her.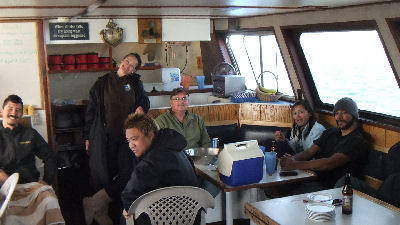 On the way back, it was recommended that I dive in Estonia this year; I am planning to go to Poland and got into a friendly argument when someone told me, "You know Poland is land locked?"
Uhm, no it isn't.
Now for the tragic part…
With ten divers, how much beer did you think the boat had?
If your guess was one can of Tecate, you would be correct.
Luckily, I brought a few Bud Lights and Donna had a few Tecate bottles, so debriefing was light, but that was probably a good idea on Super Bowl Sunday.
The Pacific Star has a big deck – well, with ten divers it seemed pretty big…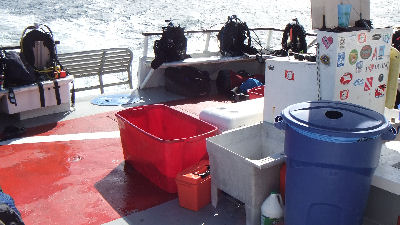 And even though their tasty breakfast burrito sat like a rock in my stomach, and they only had one beer in stock for ten thirsty divers, the Captain and crew are very competent, I will be glad to go on another dive trip on the "Pac Star."
*Posting of this has been delayed because of the Super Bowl.