November 8, 2012
I am getting mileage out of my diving trip to Albania.
I was invited by Tony of the San Gabriel Valley Dive Club to speak at their November meeting about my trip and how I was able to pull it off.
I made certain that the presentation would go smoother than the last by asking, "My videos have sound, do you have speakers and PowerPoint that supports embedded AVI movies?"
When the answer was "yes" I could not help but agree.
It was raining, and it took me two hours to drive from the ghetto of Long Beach to the IHOP in San Dimas, where the club holds their meetings.
I arrived an hour early, and the hostess at the restaurant had no clue that there was going to be a meeting of any kind at their restaurant.
"Well, we're remodeling our meeting room, so I doubt it's going to be there, but I can save you a table," she said.
Hmmm… I asked if they had beer here.
"I do in my car, but we don't serve it here," she said.
Wait, no meeting that she knows about, and no beer at a dive club function – I became very suspicious.
Every lobster season I get these PETA-member whack jobs that say how horrid I am for legally hunting lobsters.
Was some looney-tune going to jump out of a bush at 6:30 and take me out Tony Soprano style?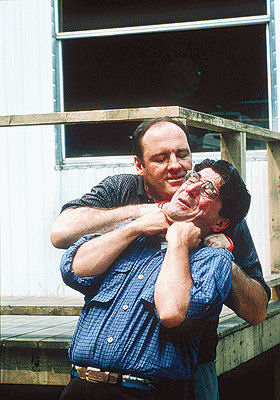 Well, I called Tony and verified that, yes, this was the place, but I was just early.
I walked over to CVS, bought a six pack of Budweiser, and did what debriefing at Old Marineland trained me to do – drink a couple beers in the parking lot.
After IHOP did an emergency clean up of their meeting room, I was let in to set up – nothing like the smell of fresh paint – I didn't need anymore beer, especially with the rain and traffic.
The dive club members started to show up, including several kids – OK, I now have to do an impromptu rated PG version.
I can't change the video of the Albanian graffiti, with the slight pan over of a guy with a … OK, it is now a cigar in his mouth, if I should be asked.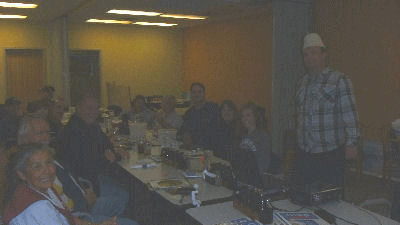 Tony came through with his promise to bring me beer, and some kick ass beer at that, which I saved for home.
And as I promised, I did the presentation with my genuine Albanian Fez.
About 16 people showed up, which was considered pretty good considering the weather.
The presentation went pretty much flawlessly and everyone seemed to enjoy it.
The club has a bigger budget than most, I think – I was given beer, dinner and compensated very generously for gas.
Hell, if I could redo this same presentation at the same compensation level 50 times over, I could pay for another trip.
I was asked if this was "the most extreme thing" that I had ever done.
Well, I didn't have an answer… I've gone out with a lot of psychotic women, so in retrospect, I can honestly say that it wasn't the most dangerous thing I've ever done.
I had a great time and they were a cool bunch of people.
When Tony told me that I had one of the better diving blogs, and another member said that she was glad she braved the rain because my presentation "was extremely interesting," that made my night.
When I asked if anyone would be interested in a trip to Albania, someone asked, "So, why would you want to go back?"
"It is a beautiful country, with nice people and was exciting," I said.
Non-macho people just won't understand.
The videos that I presented at both of my dive club presentations can be found here:
And just for fun, I just found this, Bugs Bunny goes to Albania…
To see this on YouTube click here.
Thank you San Gabriel Valley Dive Club, I had a great time!