I need to get back into the swing of things.
I need to start diving at least a couple times a week, otherwise I see myself just getting older and withering away.
The sun really didn't come out this morning, so it was hard to get up, but I was determined.
Not many regulars appeared – Dr. D (aka Dennis G.), Kenneth and a couple others, but mostly new faces; at least new faces to me.
I accompanied Dr. D., with Pinky and New Dry Suit Chris to 120 reef.
Logged SCUBA Dive #425
Dove with Dr. D, and "Pinky" and New Dry Suit Chris
Terranea Resort. Rancho Palos Verdes, CA
In With: 3000 psi
Out With: 900 psi
Max depth: 43 feet
Waves: Pretty flat, maybe two foot swells
Visibility: Up to 20 feet
Water Temperature: 64 degrees
Air Temperature: 65 degrees
Total Bottom Time: About 39 minutes
For whatever reason, I had a hard time keeping my footing on entry.
Visibility sucked in the cove, but cleared to 20 feet of visibility further out; we could see the bottom.
We swam to the rocky finger outside of pigeon shit cave and descended.
We followed Dr. D. who lead us to places of 120 Reef that I forgot existed.
This was a pretty routine, uneventful dive.
The other two divers apparently had only a dozen dives after certification, but did extremely well.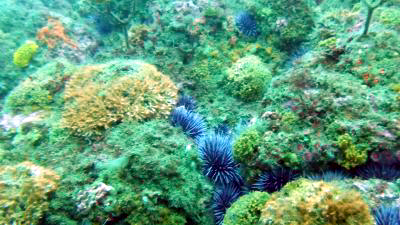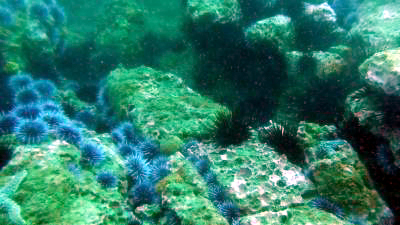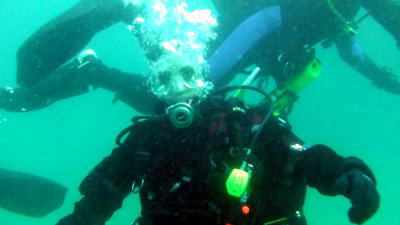 A perfect dive with a perfect exit, too – no casualties!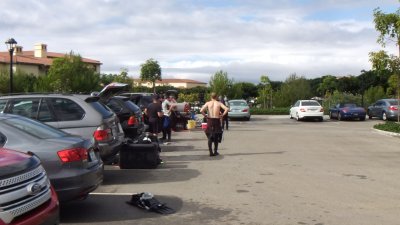 Debriefing was with Budweiser and ghetto grill cooked spicy sausages.
I was talking to yet another Bob about the differences between Divets and the now defunct "Sandeaters" dive club.
"The Sandeaters would meet once a week at a different location, but nobody knew who was part of the club… different people would show up and some you would never see again…"
"…and as soon as the dive ended, people would get in their cars and leave; you never got to debrief or get to know anybody."
If it wasn't for the post dive debriefing, I probably would just dive solo.
Dr. D and Pinky were so macho, they did a second dive.
Comments Off

on Sunday Services: Diving Terranea Resort