July 13, 2012*
After a two hour surface interval to off gas, we found the kids with the peddle boat to drop us off on the other side of the bay.
The boat had sprung a leak and was taken out of the water.
Idit talked the owner of the bar on the beach, and hired their fishing boat to take us for 500 LEK.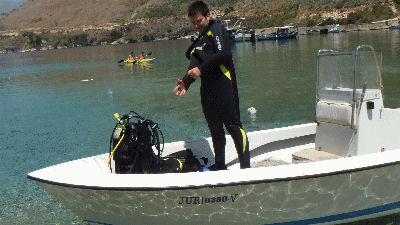 This was the boat with the rock as an anchor.
Again, we were to swim back to shore; the boat was only transportation there.
The boat took us to the spot, I inflated by BCD, threw the gear over board, grabbed my fins and fell into the water.
I put my fins on and dawned by BCD jacket.
I swam over to Idit and tried to take a compass reading of where shore was.
"Where the fuck is my compass?"
"Where did you lose it?" Idit asked.
"It's got to be in the water, I must have dropped it putting on my BCD."
We surface swam in 20 feet of water, looking for my compass, and thanks to the clear blue water, I found it within three minutes of looking.
If this was a typical Southern California dive, my compass would have been sacrificed to the sea gods.
We descended.
Logged SCUBA Dive #418
Dove with Idit
Porto Palermo Bay
Himara, Albania
Air Source: Private fisherman's compressor in Saranda
In With: 2800 psi
Out With: 200 psi
Max depth: 99 feet
Waves: Flat
Visibility: Up to 50 feet
Water Temperature: 73 degrees
Air Temperature: 96 degrees
Total Bottom Time: 40 minutes or so
Some kind of sea shell.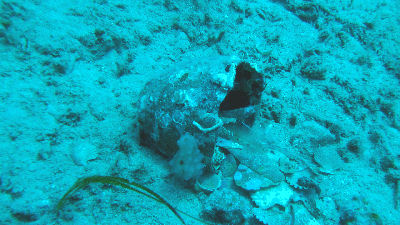 What's left of another ancient wine vessel – I picked it up to see if I could find "Made in China" on it; nope, it is probably really old.
I left it where I found it.
Idit was getting bored of me taking pictures.
Again, we got really deep, really quickly.
This dive was mostly over a grass reef, better documented in the video footage I took.
At slightly under a half tank, we swam back, under the Port Palermo Pier to an easy exit at the bar.
Hamburger and steak wander all over Albania.
On the way to our next diving spot, we stopped by the old Communist Submarine Base.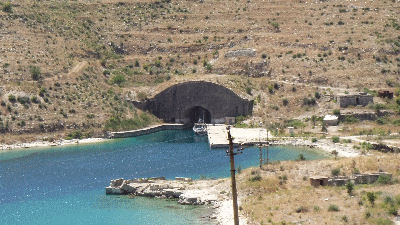 Let me see if I can remember the story accurately.
During the 1960's Albania had purchased some submarines from the Soviet Union.
When Enver Hoxha broke ties with the Soviets, for not being communist enough, he started to cuddle up with China's Mao.
Fearing an invasion, he started this tunnel to shelter his submarines.
Apparently, it was all dug by hand over a course of 30 years and never completely finished; many people died in the construction.

*Due to time constraints, lack of reliable internet access outside of Tirana, power outages in Tirana and the strength of Albanian beer, posting of this article has been delayed.
Comments Off

on SCUBA Diving Albania: Porto Palermo Bay