July 12, 2012*
With our refill situation resolved thanks to the Saranda fisherman with his compressor, we had a day to view some more sites.
We toured Gjirokaster Castle, a large fortification on top of the mountain.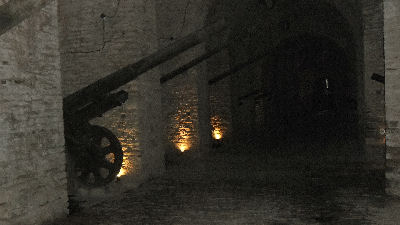 There are no artificial lights inside the castle, you can only see by the sun light that seeps in – Albania maintains a very "Green Friendly" tourist environment; the smell inside was quite unique, too.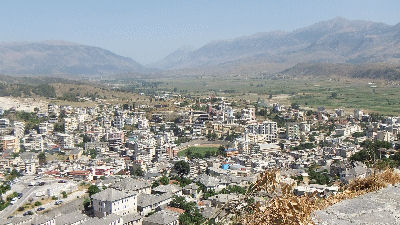 The view from the castle.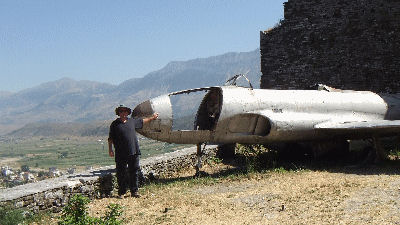 This is me with an "American Spy Plane."
The plane, sometime during the 1960's, had mechanical problems and had to make an emergency landing at Tirana airport.
Albania sent the pilot home, but kept the airplane and used it as propaganda as a "captured American spy plane."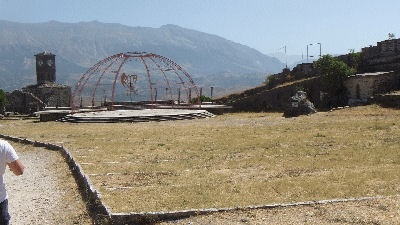 The field used for large communist rallies; since then, events like concerts, apparently are held here.
Walking around the castle: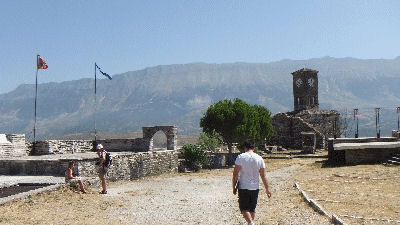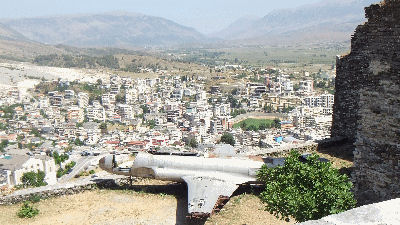 We left the castle and went in to the village:
Qeparo Village is a characteristic example of "Vernacular Architecture," which is a category of buildings based on local needs and available materials.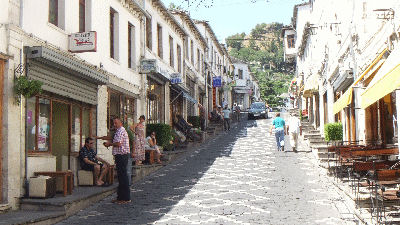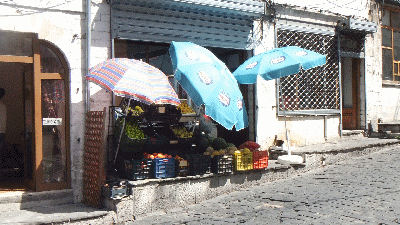 A Grocery Store.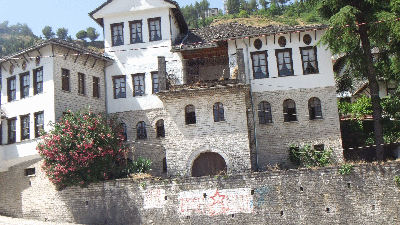 Enver Hoxha's childhood home.
As the story goes, it was destroyed in World War II, and later rebuild by Hoxha even bigger and grander.

Gjirokaster Castle from a distance.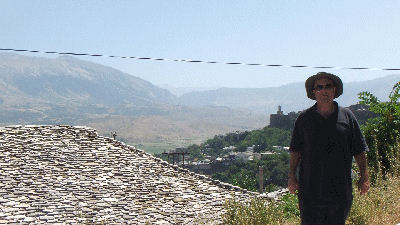 We walked all over the place – up hill in 100 degree heat.
We left after a few hours and headed to our next destination.
Heading to Blue Eye, we got stopped at a Police check point.
The Police Officer asked Idit where we were from.
Idit told him he is from Tirana, and that I am an American tourist, visiting the castle.
They exchanged a few words in Albanian.
"He wants to know how you liked the castle," Idit said.
All the Albanian I had learned, I had forgotten.
I leaned over, smiled and gave a thumbs up.
The Officer smiled and we were let go without showing any paperwork.
*Due to time constraints, lack of reliable internet access outside of Tirana, power outages in Tirana and the strength of Albanian beer, posting of this article has been delayed.
Comments Off

on Unesco City, Gjirokaster And The Old Village Of Qeparo, Albania