July 11, 2012*
I think we were both really F'ing tired by this time.
Idit is twenty years younger than I, but since I am super-macho, he didn't worry about me.
We got down to our last two tanks of air, which meant taking a whole day off to refill our tanks at the camp site where the small "super compressor" was located.
We figured, six tanks at an hour and a half each, would be a nine to ten hour task; and they were doomed to be short fills.
But, Albania is a small country.
It seems like everybody knows everybody.
Idit again pulled off the impossible!
He located a compressor that is owned by a fisherman, next to a restaurant in Saranda.
He offered to fill four of our tanks for free – at least, I believe it was free; Idit may have slipped him a few LEK for his troubles.
This is another site that the Polish guys would dive from their boat: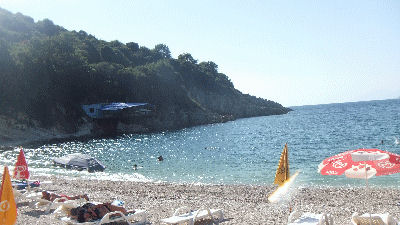 We had a swim ahead for us.
Entry was no problem; we surface swam to the left, until we saw something interesting to dive on.
We descended.
Logged SCUBA Dive #416
Dove with Idit
Monestary Beach Reef
Saranda, Albania
Air Source: Private compressor in Vlorë
In With: 2900 psi
Out With: 300 psi
Max depth: 70 feet
Waves: Flat
Visibility: Up to 50 feet
Water Temperature: 74 degrees
Air Temperature: 98 degrees
Total Bottom Time: 40 minutes or so
The water felt so refreshing after touring Butrint in almost 100 degree weather.
We got to 70 feet really quickly.
Idit warned me of a fishing net – we swam over it.
It was very transparent, I probably would have ran right into it, if it wasn't for Idit.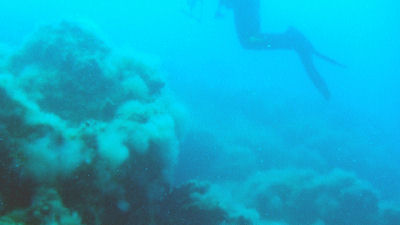 The reef was unlike any I had seen before – it was covered in some sort of cotton like growth.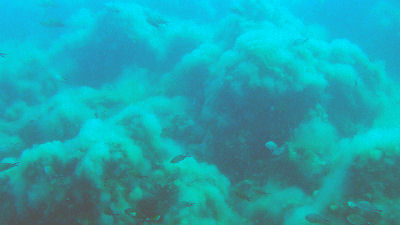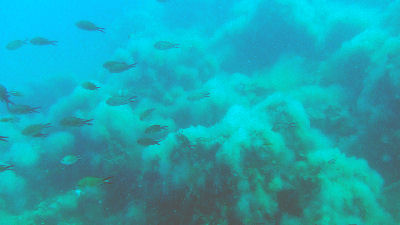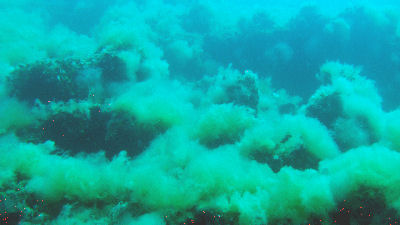 We turned around at a half tank and navigated to a perfect exit.
We were both extremely tired.
We dropped off four tanks at the fisherman's compressor.
"Can I take a picture of the compressor?" I asked.
"No," Idit said.
He continued, "A compressor is a very expensive item here; the first thing that will be asked is 'Why?'"
Idit dropped me off at my Hotel room, where I walked across the street to use my emergency Albanian to buy beer – not sure if I spelled everything correctly, but this is how the conversation went…
"A flisni Anglisht?" I asked the store owner.
"Jo," He said.
"A keni birre?"
"Po."
He took me to the beer.
He started to ramble off a conversation in Albanian.
"Mi falni, nuk kuptoj Shqip," I said.
"Ju Pollack?"
"Jo, une jam Amerikan."
"Ah, Amerikan!" he said, and gave me the thumbs up.
I bought four big Tirana beers for 400 LEK ($4.00) and went back to update my blog, only to find that the internet access was shut off after 10:30 PM.
*Due to time constraints, lack of reliable internet access outside of Tirana, power outages in Tirana and the strength of Albanian beer, posting of this article has been delayed.