July 11, 2012*
Idit and I had lunch on the boardwalk in Saranda last night.
Saranda gets pretty hoppin' in the evening.
Idit picked me up at my Hotel, and we made a quick trip up the street to the "Demi Beach" Bar.
It was the closest access point for a beach entry to the Probitas Wreck.
The Probitas was sent by the Italian government to evacuate Italian soldiers after Italy surrendered during World War II.
The Nazis got pissed and sunk the ship in the bay in 1943.
Idit and I made an uneventful entry into the bay, amongst a lot of curious onlookers.
We made the 100 yard swim to the buoy that marked where the ship is, and descended.
Logged SCUBA Dive #414
Dove with Idit
The Probitas Wreck
Saranda, Albania
Air Source: Private compressor in Vlorë
In With: 2800 psi
Out With: 300 psi
Max depth: 70 feet
Waves: Flat
Visibility: Up to 50 feet
Water Temperature: 72 degrees
Air Temperature: 84 degrees
Total Bottom Time: 50 minutes or so
I believe we hit the bow first, coming down the buoy line.
The Probitas is laying on its side on the ocean floor in 70 feet of water and parts of the hull are as shallow as 15 feet from the surface.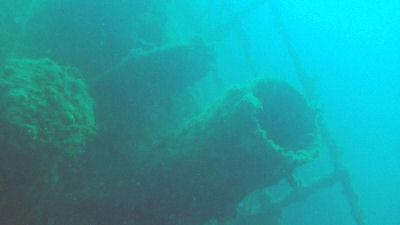 Smoke stacks?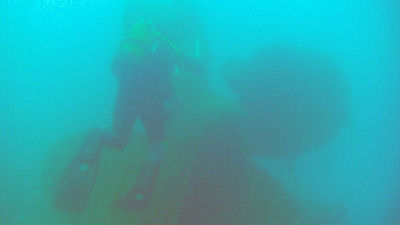 Idit approaches the prop.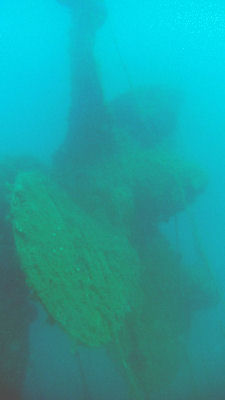 The Propeller.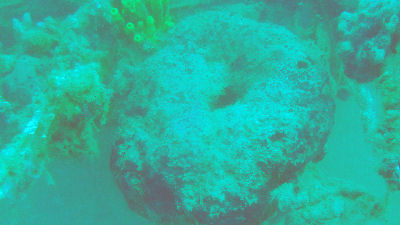 Growth on the Probitas.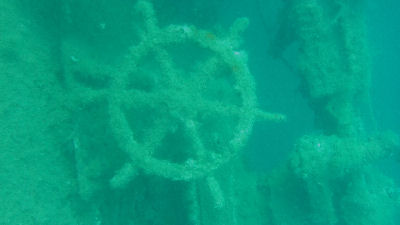 The wheel.
Diving the top hull 15 feet deep was our safety stop.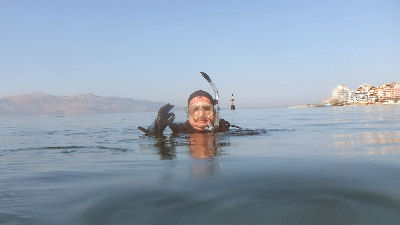 When Idit and I were down to 1000 psi, we surfaced to get a bearing on where to go to exit.
"Uhm, where did we enter?" I asked.
"Take a bearing on those yellow umbrellas," he said.
We submerged again and headed towards the beach – and right on target!
We surfaced right at the yellow umbrellas, but it was 20 feet away from where we actually entered – no big deal.
We were soon off to our next dive location.

*Due to time constraints, lack of reliable internet access outside of Tirana, power outages in Tirana and the strength of Albanian beer, posting of this article has been delayed.
Comments Off

on SCUBA Diving Albania: The Probitas Wreck