July 9, 2012*
After a nice rest in my hotel room in Tirana, my friend and travel guide, Idit, picked me up at my hotel at 8 AM, for the six hour drive to Porto Palermo in Himarë.
The plan was for several tours and seven SCUBA dives.
The problem with SCUBA diving in Albania?
Since the Polish Diving Base in Saranda left town late last year, there has been no way for recreational divers to dive in Albania.
That, and the complete lack of regulations governing any type of SCUBA activity, makes it even that much harder.
There are no dive shops, no practicing SCUBA diving instructors, no decompression chambers,
the diving spots are hard to get to and, by law, Albanians can't own boats unless they are
fishermen.
Why can't they own boats?
Apparently, Greece and Italy had problems with Albanian illegal immigration, and their governments pressured the Albanian government to pass such a law.
I met Idit through YouTube, after finding a video he had posted diving with the Polish Diving Base.
He basically told me six months ago, that the best he could do was invite me as a friend to do beach dives, but warned me, "There is no infrstructure to cater to recreational divers, I am not an instructor and only have 50 dives under my belt, if you get bent the hospitals here won't know how to treat you and there is no (diving) insurance here."
Idit did the almost impossible.
His friend in Porto Palermo had two tanks and weights and a small compressor, which we had
to pick up in Tirana…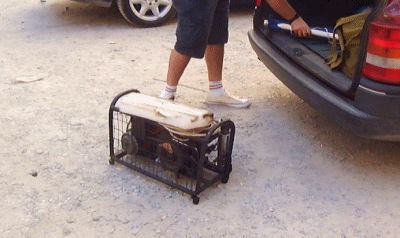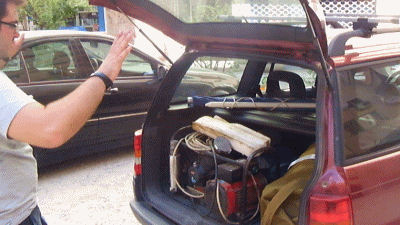 …he also found an Italian trained SCUBA instructor with tanks and a compressor in Vlorë.
The journey began driving through, by American standards, insane traffic – chaotic traffic
circles, small streets with no lines, pedestrians crossing against traffic.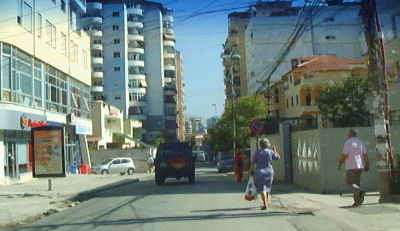 We passed by a shirtless man laying in the gutter, crying; a woman was holding her child
begging for money.
On the other hand, ignoring all that, there were still families walking down the street, vendors selling groceries – business as usual in one of the poorest places in Europe.
The highway outside of Tirana is nice and modern, but once you get past Durres, the road gets really rough.
A lot of heart breaking poverty can be seen, but the country is filled with American flags; Albanians love Americans and they adore George W. Bush…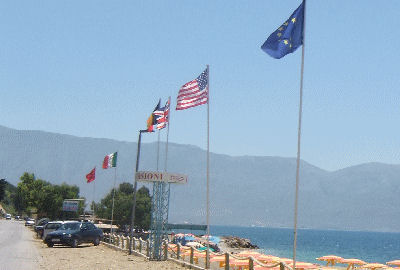 We made it to Vlorë, where Idit called his contact with the filled tanks.
We met him at the "fourth traffic circle, next to the Mosque."
We followed him to his home, where he lent us four filled tanks…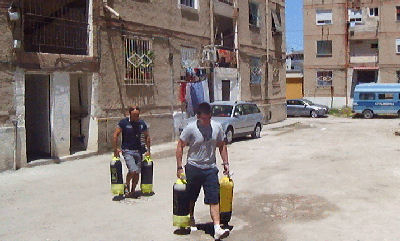 A little bit past Vlorë, there is a huge mountain that must be traversed.
Idit's small economy car was weighed down by us, our luggage, a portable compressor and six
SCUBA tanks.
For an American, used to American driving, it was a white-knuckle ride, going up narrow roads, through hair pin turns, dodging oncoming traffic.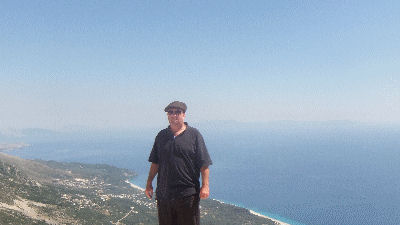 But the scenery was beautiful (Notice I tried to look European).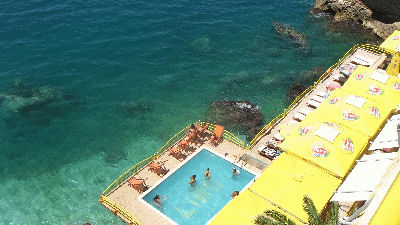 Amid all the poverty, was an extremely beautiful country with a wonderful ocean view.
We finally made it to Porto Palermo, but the owner of the bungalows had taken off to Tirana for supplies.
Not knowing where to dive in Porto Palermo, we changed our schedule to head to Saranda for
our first dive, the next day.
*Due to time constraints and lack of reliable internet access outside of Tirana, posting of this article has been delayed.
Comments Off

on Jouney From Tirana to Himarë By Car