I was invited to check out the Cee Ray by Captain Mike and Mikey, the Cook – friends of a common friend.
I was told, "If you're a regular diver, come and check out our boat for free as our guest, but don't be afraid to tip accordingly."
How could I refuse an offer like that?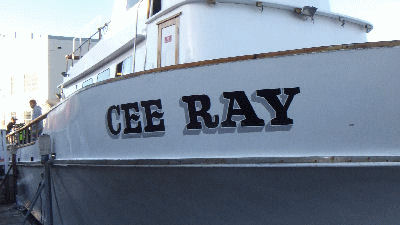 The boat was chartered by Sports Chalet, the company that I've written a lot of shit about – like refusing to fill my Luxfer Aluminum tanks from 1980.
It was explained to me, as I was signing in with their Divemasters, that "They know you're our guest, they won't bother you and you won't bother them…"
That's cool, but I begged them, "Please, at least, make sure that I'm back on the boat before you pull anchor…"
The two Sports Chalet Divemasters were cool, I believe their names were Tim and Frank.
One looked like Darrell Sheets from the TV show Storage Wars; the other looked like Sheriff Frank Hammer from the movie Bonnie and Clyde.
I was given a bunk and a number; I slept, or tried to sleep, most of the way there.
There were some pretty good looking chicks on the boat; I was lucky to catch a nipple slip when one of them was getting into her wet suit.
We stopped at one place where I thought we would anchor, but then the boat pulled away and sped off to drop anchor elsewhere…
I was the first off the boat.
Logged SCUBA Dive #410
Solo Diving
Scotsman's Reef, Catalina, CA
In With: 3000 psi
Out With: 600 psi
Max depth: 58 feet
Waves: Slight chop
Visibility: Up to 30 feet
Water Temperature: 65 degrees, colder at depth
Air Temperature: 80 degrees
Total Bottom Time: 45 minutes or so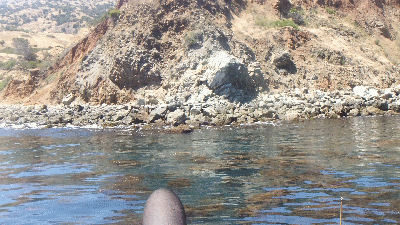 I jumped off the side, and gave the "I'm OK sign."
I followed the reef down to 58 feet, were the sand started.
It was clear, but visibility varied.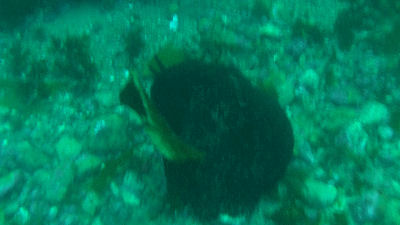 I spotted a Giant Sea slug.
I made it back with no issues, after having found a diving pouch someone dropped.
Comments Off

on Diving Scotsman's Reef Off The Cee Ray