Father's Day Dive — Guess Where?
Well, if you guessed Terranea Resort, you were correct!
However, if you are bored with my almost weekly dive reports from basically the same location, I have great news.
My long awaited trip to Albania is officially on!
And scheduled for next month!
Stay tuned about that… so lets get on to today.
Realizing that today is Fathers' Day, and quite certain there would be a low turn out, and the fact that I was going to my parent's place for a barbecue, I didn't bring the ghetto grill.
So, I pulled up to a crowded parking lot, half filled with diver's cars just a few minutes after 8 AM; nobody was in the parking lot.
Most likely everyone was checking the conditions.
Donna The Hot Biker Chick pulled up as I was walking towards the trail; I waited for her.
Before we could go, all the divers approached the parking lot, giving them the jealous impression that Donna and I arrived together.
Donna quickly dispelled the rumor.
Conditions were reported to be – flat!
Some were even considering exiting The Point.
So, TwinDuct broke out some chicken and tube steaks (a.k.a. hotdogs) to put in my cooler and I explained to him, that I didn't bring the ghetto grill.
No, I don't always bring the grill.
I failed again.
There must have been 14 divers in our group, all going off The Point; the entrance could not have been easier.
Logged SCUBA Dive #407
Started the Dive with Donna The Hot Biker Chick and TwinDuct, ended it with Kenneth.
The Point, Terranea Resort, Rancho Palos Verdes, CA
In With: 3000 psi
Out With: 800 psi
Max depth: 62 feet
Waves: Pretty flat with a few rolling swells
Visibility: Eight to 20 feet
Water Temperature: 65 degrees, colder at depth
Air Temperature: 70 degrees
Total Bottom Time: 45 minutes
Reverend Al dropped us right on the Pennicle – the small statue that has seen many changes throughout the years…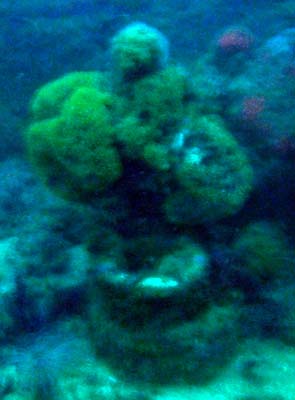 Growth now makes it almost unrecognizable.
I had taken a lot of time equalizing – we dropped in 60 feet of water.
I sort of lost my buddies, everyone pretty much looked the same.
Donna has some holes in the butt of her wetsuit, so I started looking for her; then I realized that she was the only female diver here today.
I really didn't want to swim around looking at guy's asses, so I just swam in circles hoping to at least find TwinDuct, who was the only diver to dive without a hood.
Some divers were planning to exit The Point, and after about 10 minutes, I figured that the divers that were there were going to stay there.
I left on my own for The Cove.
On my journey, I felt a tap; I turned and it was Kenneth signaling me to buddy with him.
I agreed.
I can see some of the fish coming back to this reef; hopefully one day, the fish will be abundant, like when I first started diving here.
TwinDuct caught up to us and followed us for a bit.
We made it to The Cove with air to spare; that, and and easy exit along with great visibility, made this a perfect dive.
We warned a couple of fishermen that this area is a marine preserve.
The guy said, "The resort told us it was catch and release…"
That is news to us.
Traditional debriefing followed.
Jordan saved the day by having his grill!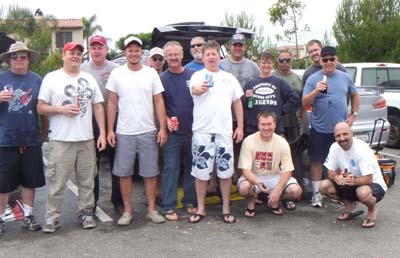 A short video somes up today's dive…
To view this video on YouYube, click here.