The snow fall for the last two years has really sucked, so the prime rafting has come and gone.
However, I was invited for our annual Kern River camping and rafting trip the first week of June.
I invited TwinDuct, he accepted.
I've been inviting Donna The Hot Biker Chick to Albania for the last year and she has constantly declined, so I asked, "What about going to the Kern River for rafting with TwinDuct and I?"
"Sure, I'll go," she said.
TwinDuct and I were in shock.
Surely, this was some sort of a cruel joke?
Why would she decline a two week trip to Albania, but go on a rafting trip with me and another guy?
All three of us left the Los Angeles area in TwinDuct's natural gas powered van – the refueling strategy was planned with military precision; since the van can only go 150 miles on one tank, we left with a full tank, refueled in Bakersfield on the way up and back.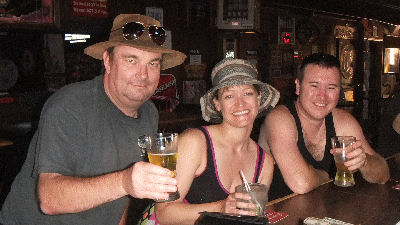 At Lake Isabella, we stopped by the Shady Lane Saloon for a few drinks before heading to Vons to stock up on food and beer.
I have never seen so many people shop for food at the same time in such a small town, but the cashier told us that since it's the first of the month, everyone got their welfare check today.
That made sense.
We checked in at the Frandy Camp Ground and made camp – Donna made it clear that she had her own tent.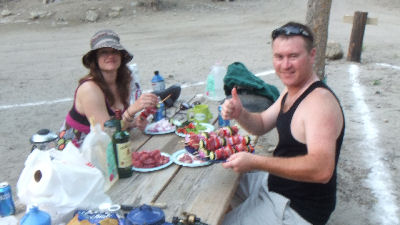 Shish kabobs, whiskey and beer was for dinner.
Having been told that TwinDuct was bringing a radio, I left my radio and Johnny Cash collection at home; but, it was not made clear that the radio didn't work.
We couldn't get any radio reception, but since we were at Frandy, we just listened to everyone else's music.
I found Instructor John's campsite; we were originally suppose to be next to one another, but John moved closer to the river due to a cancellation.
John said that he had maybe three or four additional people for rafting, but that, "The water is so low that if I didn't have reservations and other people coming up here, I would have canceled."
I looked up stream at the mighty Euwing rapids – what was once mighty looked pretty wimpy now.
TwinDuct brought some "free" firewood for us to burn – old shingles and planks.
The burning paint and lacquer on the shingles gave our fire quite a unique smell.
The rest of the evening is an alcohol induced blur, ending with me walking Donna to her tent after she fell asleep in front of the toxic campfire.
The next morning, after a breakfast of cowboy coffee and camping slop, we were ready for rafting.
John's other group of "three or four" turned out to be three or four families.
The strategy was to get our turns in as soon as possible – with the low river flow, a couple of runs was good for us.
John took the most macho on the first run, to scope out the route – of course, I was in the first group.
We started below Power House because there wasn't enough water flow above it – that was a first for us.
We ended up getting perched on a group of rocks for about 15 minutes before we shook ourselves free.
Except for a few thrills, the voyage was more of a cruise down the river.
It was still fun, and nobody complained.
Donna the Hot Biker Chick and TwinDuct went on the second run, I drove shuttle.
As a matter of fact, I drove shuttle several times that day, which gave Donna and TwinDuct time alone to bond.
My plan was back firing.
After lunch, all three of us got to make a river run together; the conversation was more interesting than the perfect run – diving stories of when I helped John with his SCUBA classes, my psycho ex, who John despised and how John was charged, at one time, with running an unlicensed rafting company.
Altogether, I believe seven runs were made; the three of us got to go twice, which was just fine with us.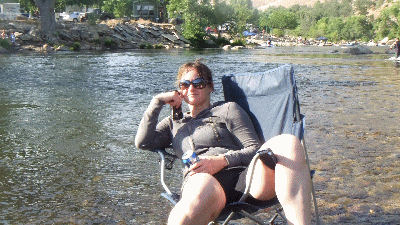 We hung out at the slow moving Kern River until about 6 PM, before heading back to camp for dinner.
TwinDuct put a beer can on the radio's antenna and was able to get one local country station.
We had been fortunate to not have neighbors next to us, until an SUV pulled up.
Three guys got out and pitched one, big huge tent.
Another car pulled up and parked, two guys got out and joined their group.
TwinDuct looked over and said, "Those guys are homos, I can just tell, there's something not quite right – ten guys just don't sleep in one tent."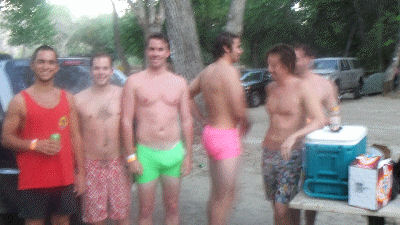 As more and more of them showed up, they came over and started to take a fancy to me and TwinDuct.
I can't get one girl interested in me, but ten guys are looking at me as their fresh meat?
Time for some liquid courage in case I have to kick ass on ten guys.
Fuck beer, I grabbed the Jameson Whiskey and drank a few shots.
I really can't remember the next few hours.
What I gather is that TwinDuct must have held me down while Donna poured the rest of the whiskey down my throat.
I sobered up hanging out at John's campground with Donna.
By the time we got back to camp, the neighbors had gone somewhere, and TwinDuct was butt hurt that we left him alone while he was cooking dinner.
It was dark, except for our campfire.
The neighbors walked back from where ever they were, and three of them were butt ass naked.
No shit, I am not joking.
One of the troop leaders from a nearby Boy Scout group walked over to them and said, "Hey guys, we have kids over here, you need to put some clothes on."
They complied.
The gay guys lit a campfire with store bought firewood and proceeded to party into the night.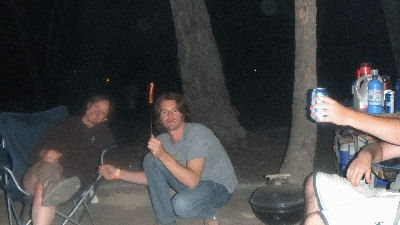 This one weirdo from the group kept coming over to our site to roast his weenie over our chemically treated campfire.
He started taking a fancy to Donna and eventually invited her over for a "tensome."
Donna laughed, otherwise, I might have had to kick some ass.
Towards the end of the night, Donna actually went over to their campsite.
Now, TwinDuct and I both felt abandoned.
I went to sleep.
I woke up the next morning to find out that the weirdo weenie roaster had crawled into Donna's tent, naked, looking for a place to sleep.
Donna threw his ass out after "only fifteen minutes."
If TwinDuct or I had done that, Donna would have shot us.
Donna told us, "Those guys aren't gay; it was part a a bachelor party theme."
"Ten gay guys would never go camping together, it's just too dirty," she said.
TwinDuct then told me, "Yeah, and about last night, I think you blew it with Donna."
"Why, what happened?"
"You got drunk on Whiskey, and even though you weren't being a dick, you told Donna how you really felt about her."
Donna later told me, "You started this trip with zero points, and now you are negative."
We packed up and had breakfast…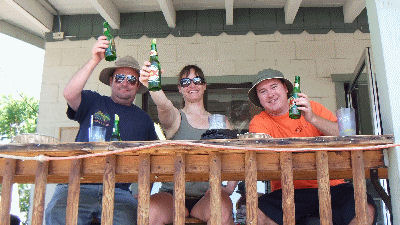 … before a short tour of the area and the three hour drive home.
All in all, it was a great trip, and all three of us have no regrets for going.
We will hope and pray for heavy snow this Winter, so that the rafting will be excellent next year.
But for now, the rafting season in Southern California is over.
Here is the exciting video that captures it all!
To view this video on YouTube, click here.