As I mentioned in my previous post, dive conditions for about the past month have been sketchy, and the March weather a little weird – it's been colder than normal for March and we've had a few storms roll in and ruin the visibility.
Now, it's April, and it's time for my traditional Easter dive!
Weather could not have been better – a warm 72 degrees in the morning with the ocean as flat as a lake.
I was suppose to meet Holly, a fairly new, Sunday services only diver – neither of us thought that many people would show up.
After all, it's Easter and some people have families and lives.
How wrong we were – half the parking lot was filled with divers; maybe 15 to 25 in all.
What was worse, Chipper was there – whenever we are in the same ocean at the same time, conditions have always sucked.
Most divers went off the Point; Holy and I went off the Cove.
This was Holly's 40th dive – for some reason, a diver's 40th is a special number.
You've been smart enough – or mentored wisely enough – to survive 40 dives, so you can really be called a regular diver.
We made an easy entrance and swam to the rocky finger outside of Pigeon Shit Cave before submerging.
Logged SCUBA Dive #405
Dove with Holly
120 Reef, Terranea Resort, Rancho Palos Verdes, CA
In With: 3000 psi
Out With: 1600 psi
Max depth: 43 feet
Waves: Flat, I mean REALLY flat
Visibility: Eight to 15 feet
Water Temperature: 52 degrees
Air Temperature: 72 degrees
Total Bottom Time: 32 minutes
The water was extremely cold – well, at least cold for Southern California, and the visibility was as good as 15 feet in some places.
I had my underwater camera with me – unfortunately, I really didn't take any footage that I really liked.
It was sort of dark and in some places a little silty.
We came across something really strange, but my pictures didn't turn out.
It looked like a really skinny black starfish with a hole going through the middle; I will try and find a picture of a similar one to post later.
We toured the reefs for about 25 minutes.
I was getting cold, but we both had 2,000 psi left in our tanks – Holly motioned to me, I signaled that I was cold and she agreed.
We started back, heading over the sand.
Almost running into the bottom of the rocky finger, I corrected course and broke the surface almost where we entered.
We made an easy exit.
The "Chipper plus PSD equals crappy conditions" jinx is over!
To get Holy in better condition to handle the macho walk, I let her carry all her gear by herself.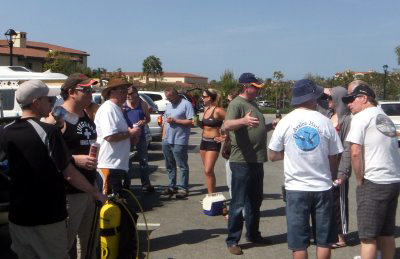 Liquid debriefing followed – there were some really hot looking chicks there.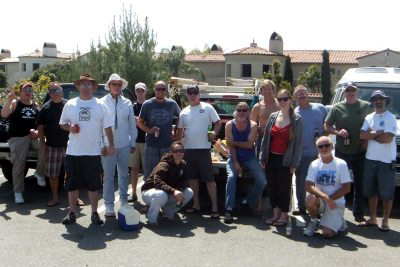 The group photo.
Until next time!
Happy Easter everyone!
Comments Off

on Easter Sunday Services and SCUBA Diving Report