For the last two weeks, I've been lucky to get 10 feet of visibility off of Palos Verdes.
Now, the California coast is being pounded by nine foot waves, most likely pushing the visibility down to nothing.
Some often ask, "Why do lobsters go deeper in the middle of lobster season?"
It's so they can escape the pounding surf.
From the National Weather Service:
…HIGH SURF ADVISORY REMAINS IN EFFECT FROM 7 AM THIS MORNING TO
NOON PST WEDNESDAY…
* TIMING…SURF WILL BUILD THROUGH THE MORNING…PEAK LATER THIS
AFTERNOON AND OVERNIGHT…THEN BEGIN TO SUBSIDE BY LATE
WEDNESDAY MORNING.
* SURF…SURF WILL AVERAGE 6 TO 9 FEET DURING THE PEAK OF THE
EVENT. THERE WILL BE LOCAL SETS TO 10 FEET ON EXPOSED WEST
FACING BEACHES OF LOS ANGELES COUNTY…AND TO 11 FEET ON
EXPOSED WEST FACING BEACHES OF VENTURA COUNTY.
* IMPACTS…LARGE SURF AND VERY STRONG RIP CURRENTS WILL MAKE
OCEAN ACTIVITIES DANGEROUS FOR ANYONE. THERE COULD BE LOCAL
MINOR FLOODING OF LOW LYING AREAS NEAR THE TIMES OF HIGH TIDE.
PRECAUTIONARY/PREPAREDNESS ACTIONS…
A HIGH SURF ADVISORY MEANS THAT HIGH SURF WILL AFFECT BEACHES IN
THE ADVISORY AREA…PRODUCING RIP CURRENTS AND LOCALIZED BEACH
EROSION.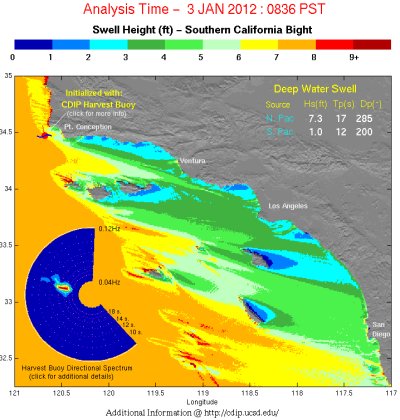 Our friend, Max Bottomtime, reminds us all to be wary of conditions before we suit up and dive:
To view this video on YouTube, click here.
Comments Off

on Crappy Visibility Goes To Zero With Pounding Surf