Happy New Year!
I woke up sort of late, from trying to sleep through the New Year's gunshots in the Long Beach Ghetto.
I arrived about 8:30 AM, and instead of taking a look at the conditions myself, I relied on the judgement of the experts.
Apparently, it was a little surgy in The Cove and a little rough but "doable" at The Point.
I decided to head off The Cove with Dennis G. and go right.
Logged SCUBA Dive #399
Dove with Dennis G.
Terranea Resort, Rancho Palos Verdes, CA USA
In With: 3000 psi
Out With: 1000 psi
Max depth: 47 feet
Waves: Surgy in the surf zone
Visibility: 10 feet to shitty
Water Temperature: 54 degrees
Air Temperature: 74 degrees
Total Bottom Time: 45 minutes
The entrance was easy.
I followed Dennis, surface swimming to about half way to The Point.
I wondered why we didn't enter off The Point, if we were going to swim all that way?
We submerged in about 20 feet of water and swam for about 15 minutes in the direction of The Point, making it down to 47 feet at the deepest.
Visibility was shit – 10 feet at the best, but I'll take 10 feet over 5 feet, any day.
The only decent picture that turned out was of Dennis…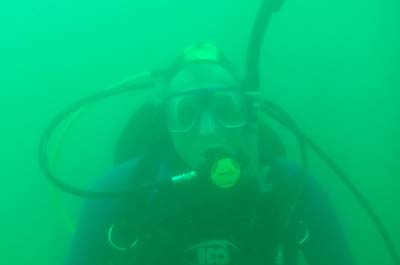 However, I must say, it was a nice, but green, dive!
We turned back and made an uneventful exit at The Cove.
We saw a few fisherman – they probably have no idea that this part of Palos Verdes is a fishing preserve.
I've been trying to find out exactly where the fishing preserve begins and ends – from what I've heard it's from Point Fermin to the Light House at Palos Verdes.
I'm not an environmental nazi, but having seen the fish decline over ten years of diving here, I can't really object to the fishing ban.
I haven't even bothered to spear fish for the last several years here, because there's nothing to shoot.
Making it back to the parking lot, two dry divers inquired about the conditions – they each had lost one fin upon entry, while getting pounded at The Point.
Apparently, some in the group made some pretty hairy entrances – I think Dennis had our dive plan right.
And for all the bravery that it took to enter off The Point, the reward was visibility that was worse than our dive – 8 feet was the report.
I broke in our new ghetto grill by turning the heat all the way up, to burn off the Lead based Chinese paint.
I filled the new grill with the old lava rocks from the previous ghetto grill, to keep the flavor consistent.
Beer Brats, Beer, Jello Shots and a New Year's Champagne toast ended the debriefing.
May 2012 be a great year for everyone!
To watch this video on YouTube, click here.