Long Point, CA
(aka The Old Marineland)
Dove with Nick
Nick and I met at the Point Vicente Fishing Access to check out Cardiac Hill.
The conditions looked like crap, so we headed to Long Point.
There was a large number of other divers there – apparently a diving club called the "Sole Searcher" or maybe "Soal Searchers."
Supposedly they're out of Pasadena.
The couple that parked next to us later introduced themselves as Anastasia and Jeff from the dive group.
A little after 9 AM, Nick and I headed down to the cove and went in.
The conditions were absolutely horrible.
Visibility was five feet at best and very soupy; there was a STRONG current pulling North-West.
We tried swimming to the second kelp bed, but the current wore us out.
When we submerged, we tried heading East to the kelp beds, but we ended up going in circles fighting the current.
Visibility was sometimes nonexistent.
We called it off and headed in.
We warned Anastasia and Jeff about the conditions; they later called off their dive.
The rest of their group – at least the majority — headed off the point.
It was low tide – not a very bright thing to do as the rocks are covered with slime.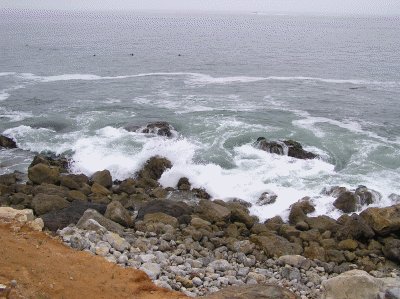 We were all concerned about how they were going to make it back; divers rarely head back and go on shore at The Point.
They usually swim to the cove, but the current today was a major concern.
After de-gearing, Nick, Anastasia, Jeff and I walked down to The Point.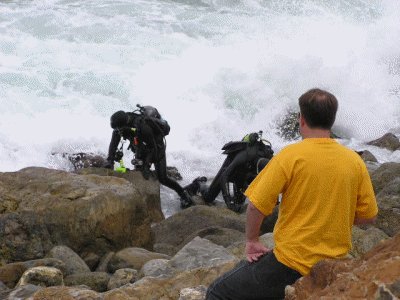 Three divers came in on The Point after getting tossed by the increasingly large waves.
I tried to help one of them ashore, but was declined.
"Where's the dignity in that?" he asked.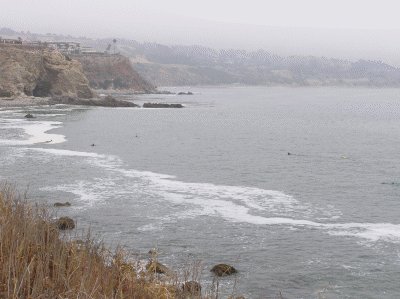 The other divers were scattered trying to swim to the cove against the current.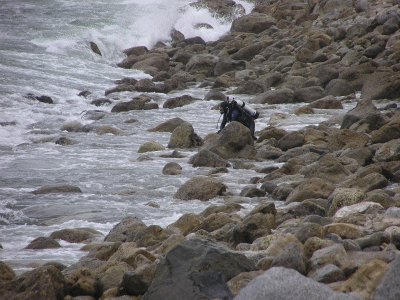 Three got tired and headed in mid-way.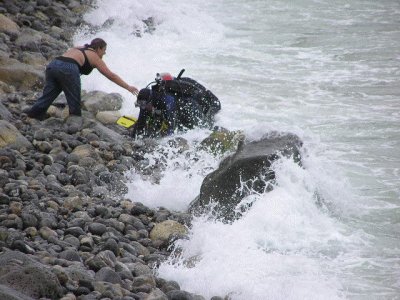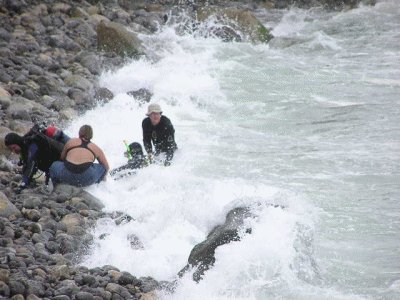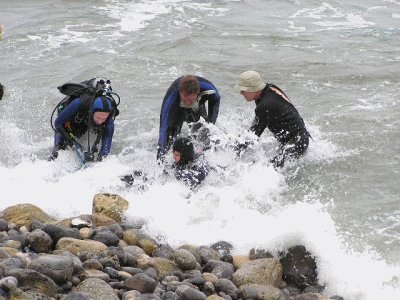 Everyone made it to shore eventually, the last made it to the cove.
The diver- possibly the leader – who made it back in on the point, jumped back in the water to help the others.
I stayed on shore pointing out who remained.
I don't think a lot of these divers were not experienced beach divers.
At least one dropped his weight belt.
Everyone made it back alive.
In with: 3000 psi
Out with: 2500 psi
Maximum depth: 30 feet
Waves: 4+ feet
Visibility: 0-5 feet – It really sucked
Water Temperature: About 55 degrees F
Total Bottom Time: About 10 minutes.
Comments Off

on Logged Dive #53 The Old Marineland, Long Point RPV, CA