Indian Rocks, Catalina, CA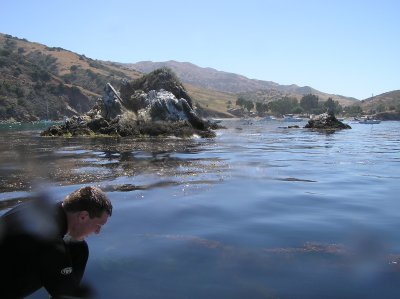 This is dive #3 off of "The Bottom Scratcher"
Dove with Nick
Nick had to repair the strap latch on one of his fins with tie wraps.
Close to 2 PM we had to enter the water — probably closer to 2:30 PM.
My regulator started free flowing.
I banged on it – it stopped (I actually had been using Instructor Ed's rig this trip.).
I noticed that the exhaust vent on Ed's secondary was loose; I took my knife out and tightened it while I waited for Nick.
Dive Master Sean yelled, "Are you using your knife to work on your rig?"
"Yes," I replied.
"I thought so," he replied.
Nick jumped in shortly thereafter.
My primary second stage was OK, but my secondary second stage was free flowing slightly.
I used my secondary second stage for this dive.
I thought it might conserve air since my primary secondary didn't leak.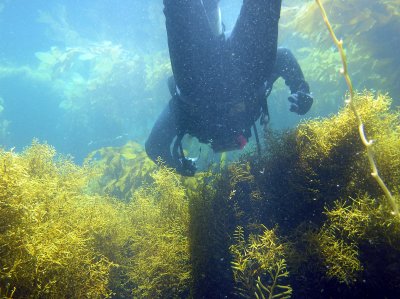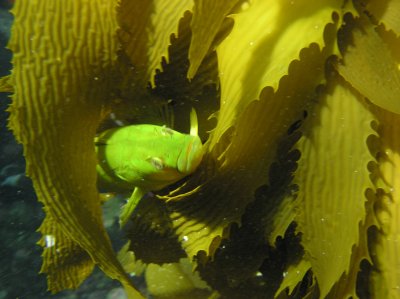 This is pretty much a shallow dive with lots of kelp and an interesting assortment of reefs and rocks.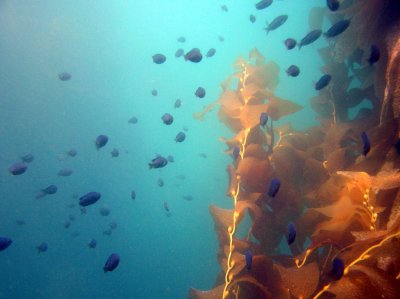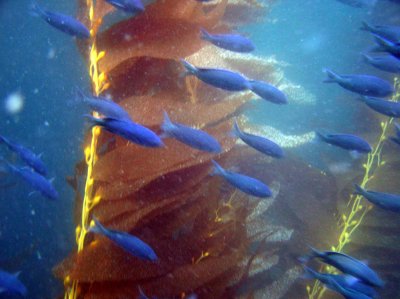 One turn you may be over grass, and then fall down into a reef covered with kelp.
It's like an underwater maze.
Quite interesting scenery.
We surfaced beyond the front of the boat, went back under and swam to the back.
I was a little concerned about the depth of this dive.
The tables said that I was good on this dive at 35 feet for 35 minutes.
I ended up at 45 feet for 45 minutes.
In with: 3100 psi
Out with: 800 psi
Max depth: 45 feet
Waves: 0 – not a factor
Visibility: 45 feet
Water Temperature: Warm
Total bottom time was about 45 minutes
The Bottom Scratcher is a great boat – we partied all the way home.
I made it a point to drink lots of beer — I thought it would displace the residual Nitrogen in my blood with Carbon Dioxide.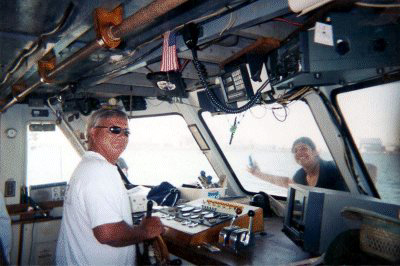 Captain Rick of The Bottom Scratcher
"Rick" was the Captain, "Sean" the Divemaster, "Bobby" the deckhand who filled the tanks and "Debbie" was the cook.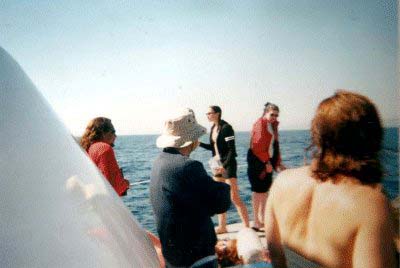 Hot chicks sun themselves on the bow of the Bottom Scratcher.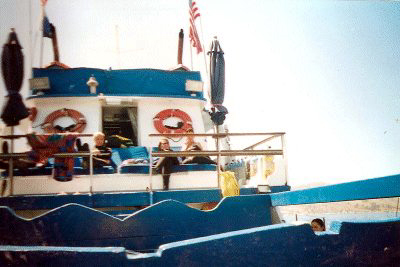 Hot chicks rest on the second level of the Bottom Scratcher.
I also met Karen – a hot chick who's been diving for two weeks AND has a boyfriend.
Sonya – from the Netherlands – is a blonde hottie that parties with the Captain.
Basically, this is a cool boat with cool people.
The Divemaster wasn't a babysitter; there was no problem with people solo diving.
I will be back!
Comments Off

on Logged Dive #52 Indian Rocks, Catalina, CA