There's been a high surf advisory for practically this entire weekend – so, it was time for me to fill a spot on Instructor John's annual river rafting trip up to the American River.
We all met Saturday morning at an undisclosed location, in the South Bay area, and started the day drive to the Sacramento area…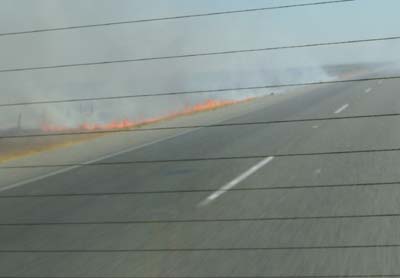 We passed by an apparent recently started fire just off the freeway – it was probably started by some really stoned teenagers who flicked a marijuana joint out the window.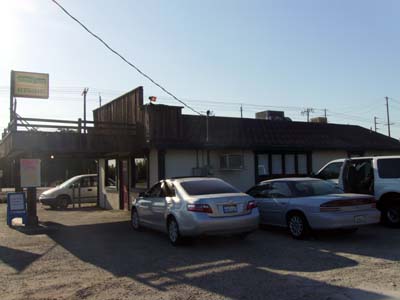 As tradition warrants, we had to stop by the Farmer's Catfish House in Modesto, California for what might be someone's last meal…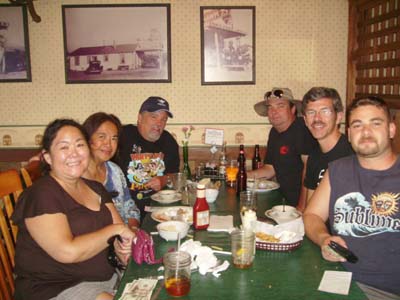 From left to right, Darnell, Rebecca (Indispensable shuttle driver), Instructor John, Macho Me, Jeff W., and Jaime.
Since I knew I faced possible death by river, I decided to try a dish that I never had tried before.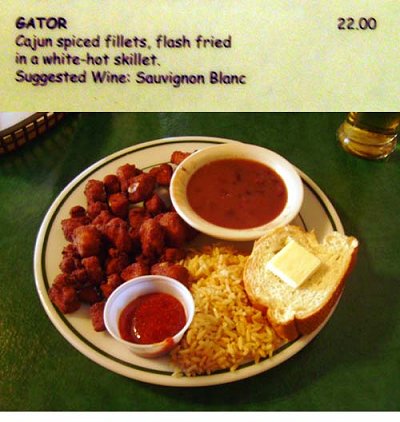 Yep, Gator – I believe it was Alligator, but the menu just stated "Gator."
Fried with spices, I have to say, I really don't know what Gator tastes like – sort of like Frog Legs, is the best I can tell.
The Farmer's Catfish House is an old converted gas station…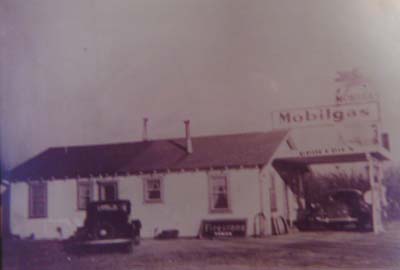 …and a Modesto, "locals'" gem, if you like Cajun style seafood.
The other customers looked at us like, "Who the hell are these people?"
After another few hours of driving and a night at a local Sacramento area Hotel, we were ready to do the entire 22 mile South Fork of the American River – something that the commercial rafting companies always divide into a two day trip.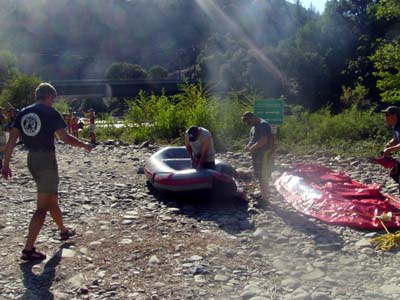 While we were inflating the raft, a Ranger came around and checked to see if we knew what we were doing.
And we do, unlike a lot of the other rafters that we would meet later in the day.
Around 10:30 AM – we set off.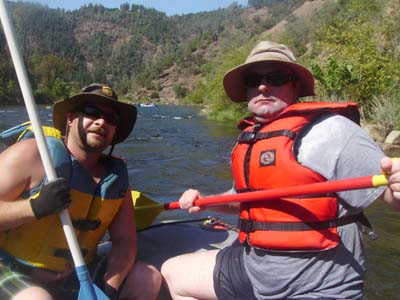 The front of the raft – the power paddlers – Jaime and Me.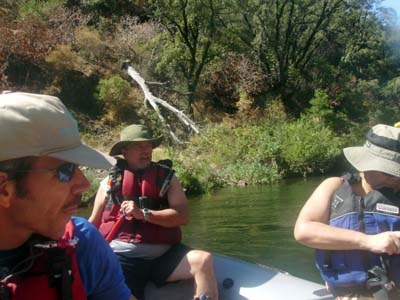 The back of the raft – Jeff W., Instructor John as the Guide and Darnell.
We went through our first rapid – Meat Grinder.
The raft was front heavy and when we hit a rock, Instructor John was catapulted forward.
Unfortunately, he couldn't get his feet out of the holds and ended up going over the left side.
Everyone in the raft was trying get him in – we hit another boulder and almost flipped.
Jeff W. yelled to the front to pay attention, and that the others would get him in.
They did.
John thought that he broke his leg – apparently, it really fucking hurt…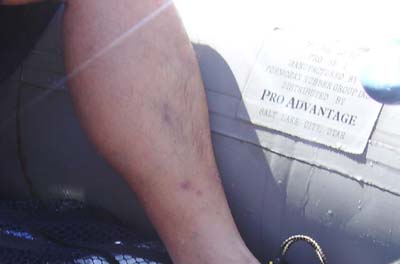 After a 20 minute break in an eddy, it was apparent that John's leg was just bruised and probably will be swollen later.
Regardless, we were in no place to quit, so after we redistributed the weight in the raft, we continued down the riiver.
A lot of the old Gold Mining trails from the California Gold Rush still remain on the river…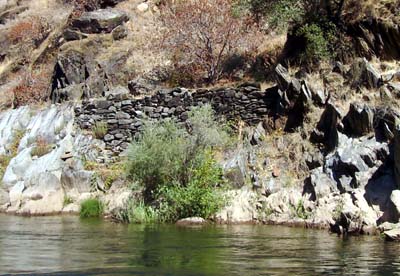 We rode a few class ones and twos with no further problems.
When you see in the distance an umbrella with a photographer underneath it, and about 100 spectators around him… and as the sound of intense running water increases, you know that you are now up for a challenge…
Trouble Maker Rapids
"Trouble Maker" is a 20 foot drop in the river, on a bend, with a big ass fucking boulder in the middle…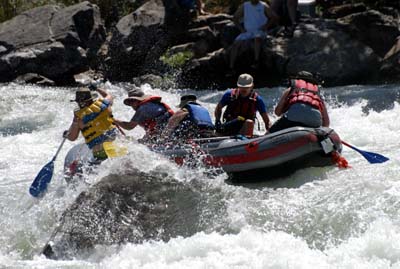 "Forward! Forward! Dig! Dig!" John yelled.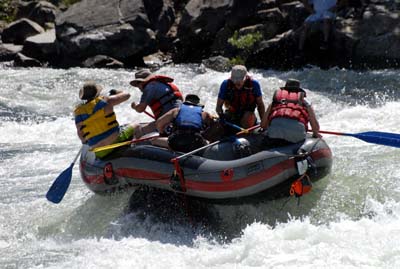 We had made it around the boulder in previous years, but the water was flowing too fast today.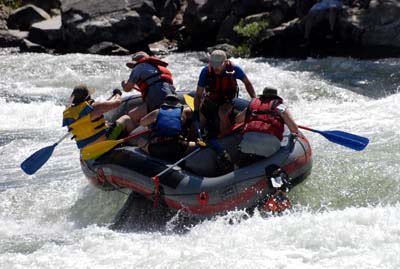 Fuck! Fuck! We are going over the boulder!
John yelled, "High Side! High Side!"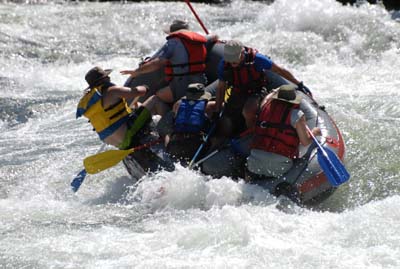 I leaned towards the high side, stopped paddling and grabbed onto the vertical side – I pictured everyone dumping out of the raft – I took a breathe, getting ready for a swim…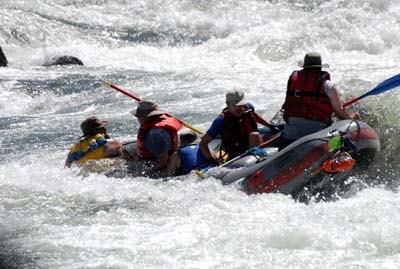 Instead of the raft going over my head, it landed flat.
Holy shit!
I wondered how many were still in the raft?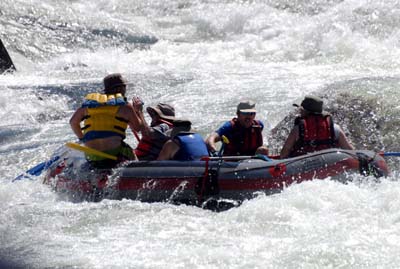 Holy crap!
I looked around, and everyone was still in!
The audience applauded – "Yeah! That's the way to do it!"
Upon later analysis, there were two things that kept us from flipping:
1. Shear luck.
2. Nobody panicked or froze, and everyone at least tried to take the high side.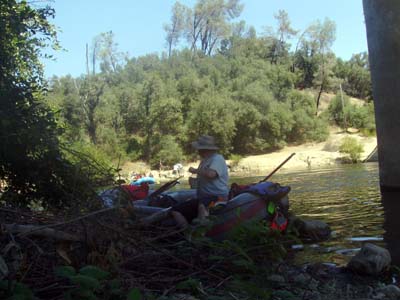 We took the rest of the stretch with no problems before ending up in Coloma for lunch – tacos at Gringo's Tacos.
We were back on the river at 2 PM…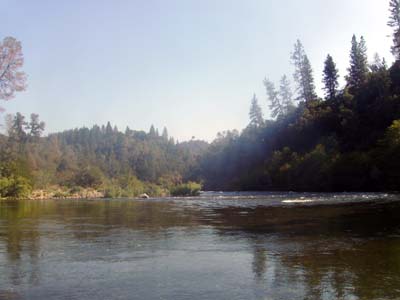 There's a part after Coloma that is just plain flat… we paddled and floated for two hours, maybe hitting a couple of class two rapids.
Finally, we came upon…
Satan's Cesspool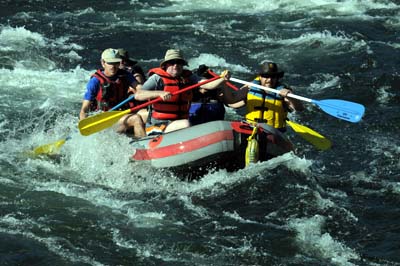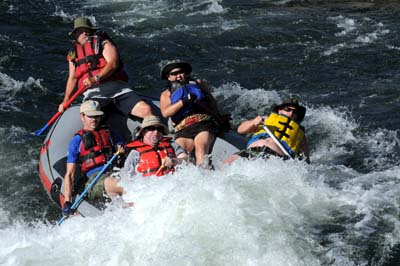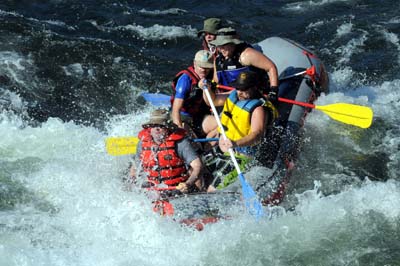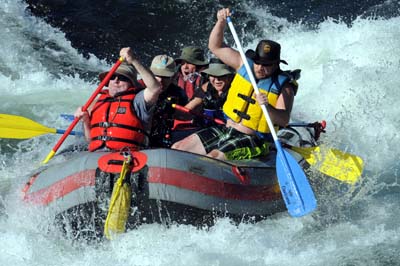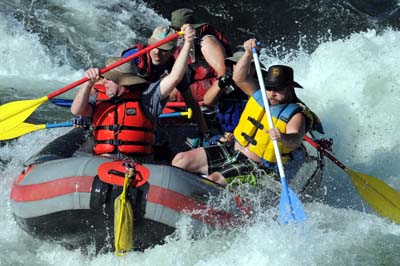 A perfect run – except for stalling in an eddy at the bottom, and being hit by some asshole that was following us too close because he, "Didn't know the rapids and wanted to follow us."
Yeah, he was some douche bag, with a cheap "bail boat" who wore a bucket on his head.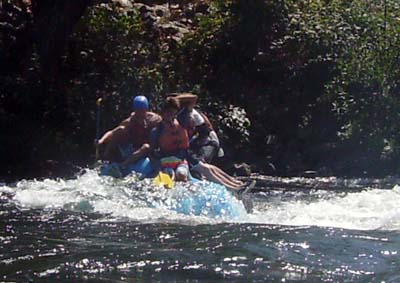 We passed by a group that had wrapped their raft around a rock.
Low budget rafting…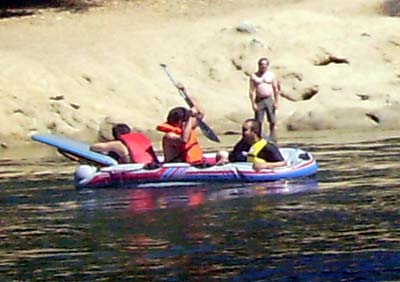 … a $45 Kmart pool raft that is losing air.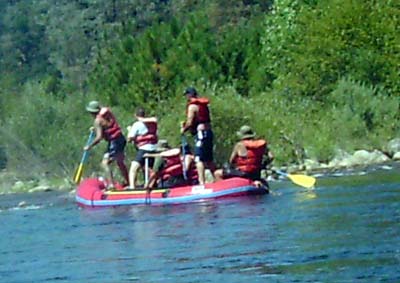 How some people try and take these rapids is amazing.
We approached the "Hospital Bar" rapids… this is where we flipped a few years ago on my last trip.
Hospital Bar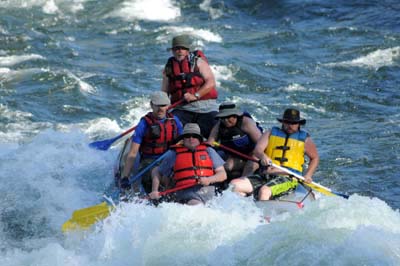 "Back Paddle! Back Paddle!"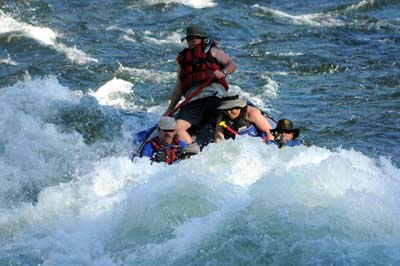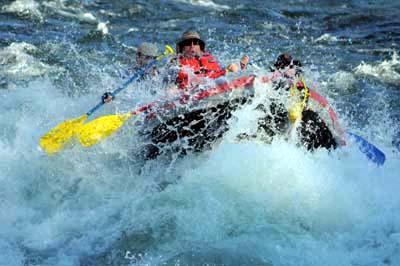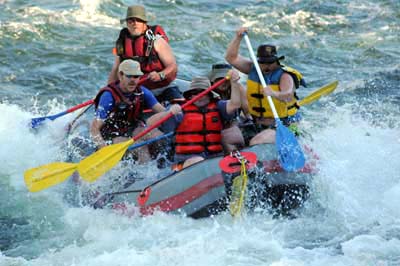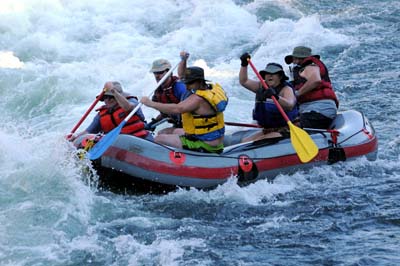 A perfect run this time.
After Hospital Bar, it's about a mile or so to the end of the South Fork of the American River, which dumps into Lake Folsom.
When we started to see large lake boats, we knew our journey was near the end.
We paid a jet skier $10 for a tow to the take out point – a service that has been greatly appreciated for the last few years.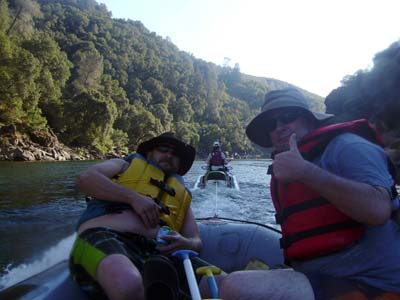 We made it!
Twenty-two miles in just under seven hours.
I made a quick slide show from all the professional photographs.
It may look like I'm making funny faces… OK, I am, but that's how I either hold my breathe or gasp for air – or yell, "Oh shit!"
To view this video on YouTube, click here.
The next day, we heard the tragic news that a woman had died in a Kayak accident on the same day.
We drove back to Los Angeles the next morning, hitting spotty Labor Day traffic.