Instructor Ed is back in town from his cross country trucking career!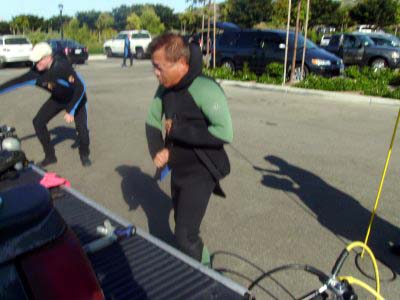 Sitting in a truck for weeks at a time makes it hard to fit back into his wetsuit.
Ed met a couple of his friends to go free diving.
The water looked a little rough – some chose The Point, a few others, including myself, chose to dive The Cove.
Logged SCUBA Dive #388
Dove with Air Force Chris and Dennis G.
Off the Cove, Terranea Resort, Rancho Palos Verdes, CA
In With: 3000 psi
Out With: 700 psi
Max depth: 40 feet
Waves: Slightly surgy
Visibility: 2-12 feet at best
Water Temperature: 54 degrees
Air Temperature: 75 degrees
Total Bottom Time: About 45 minutes
Dennis G. and Not New Chris (from now on referred to as "Air Force Chris") and I, made an easy entrance into the water.
Instructor Ed and his two friends went off on their own to free dive; I told them, "Don't shoot the big fish with the bubbles coming out of it."
We swam to the edge of 120 reef and descended.
I was 10 feet away from Chris and Dennis, but by the time I reached the bottom, they were nowhere to be found.
I looked around… I did a full 360…the visibility absolutely sucked.
I surfaced to look for their bubbles, but looking for the bubbles of two experienced divers can be challenging; it was a futile effort.
I re-submerged and went towards 120 reef; sure enough, through the absolutely crappy visibility, I found them…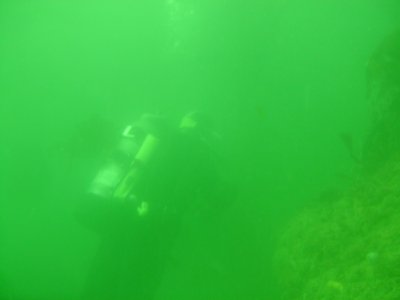 I made it a point to just follow Chris, that way if I got lost, I could blame him.
At best, we reached pockets of 12 feet of clarity; at worst it was a total silt out.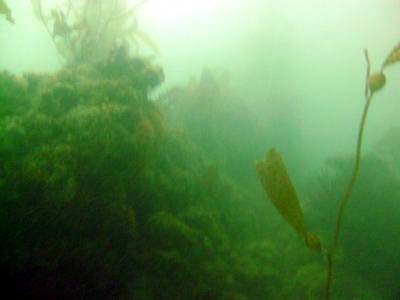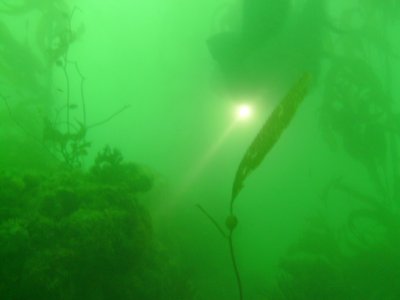 But, when the visibility is low, you just need to go macro…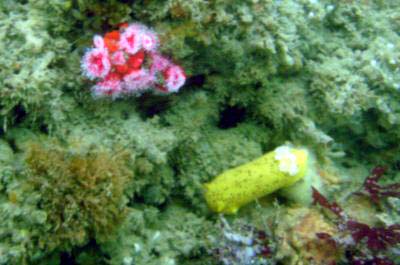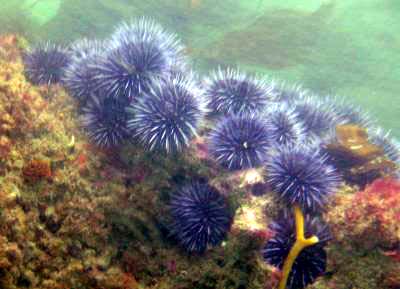 After about 30 minutes, Chris surfaced to get a bearing…
Dennis and I waited… and waited… we surfaced.
Chris had descended, but couldn't relocate us; we all met at the surface.
"This vis sucks," Chis said.
Nobody argued.
We re-submerged and swam to the "Garden."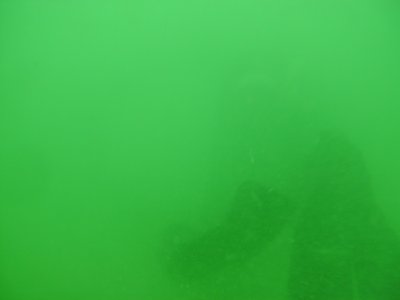 Visibility got worse; we eventually surface swam to our destination and then descended again.
The "Garden" as it is known, is to the right of the cove, facing the ocean.
Visibility wasn't that much better there either; we ran in to the group coming from The Point.
Everyone made a perfect and professional exit.
Visibility coming from The Point was reported to be 15 feet at maximum.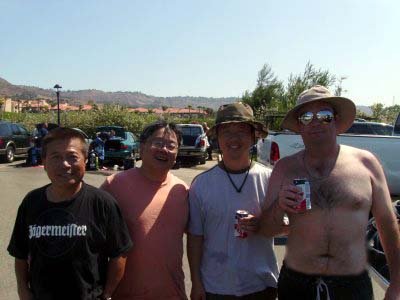 From left to right – Instructor Ed, Moo, Shawn and me.
Moo is the person, 20 plus years ago, who got instructor Ed into SCUBA diving.
Ed gave me some of the gear that I still use, but I found out that Moo gave Ed some of that equipment.
Apparently, my console was originally Moo's – he bought it new in the late 1970s and was amazed it is still around and that I am still using it.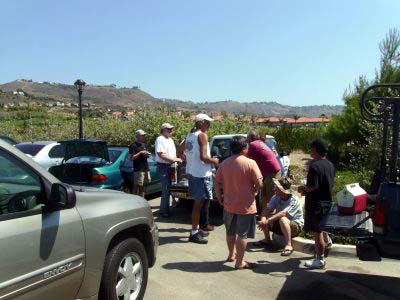 Debriefing was traditional – hot dogs, garlic bread, mango, chips and the King Of Beer!