I was called into work last Sunday morning and was unable to attend Sunday Services.
I'm trying to dive at least once a week now that Psycho Bitch is gone, so this is my weekly dive.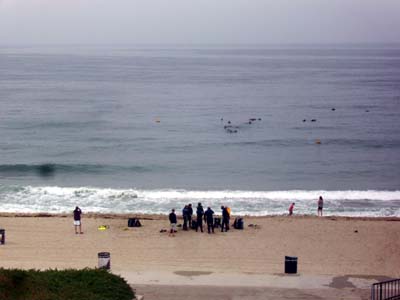 There were a lot of Divers here, most of them students.
I was determined to find this so called "Monument," also known as, "a pile of cinder blocks;" I was told to go off the stairs, dive to 50 feet and go South.
Logged SCUBA Dive #386
Solo Diving
Veterans Park, Redondo Beach, CA
In With: 2700 psi
Out With: 1100 psi
Max depth: 70 feet
Waves: Pretty flat
Visibility: 15 feet plus
Water Temperature: 59 degrees, colder at depth
Total Bottom Time: About 40 minutes
Entrance was easy – it was harder to avoid the students thrashing around in the surf zone than the actual waves.
I descended in 20 feet of water and swam West.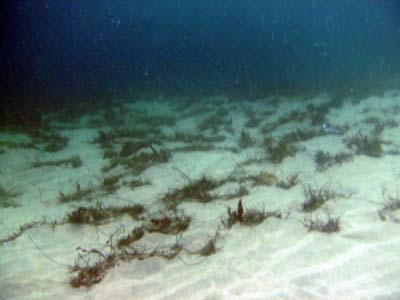 At 40 feet, the edge of the canyon appears – you just see black as it falls to 85 feet, really quickly.
Attack crabs lie in wait…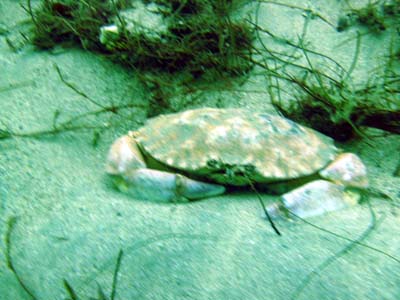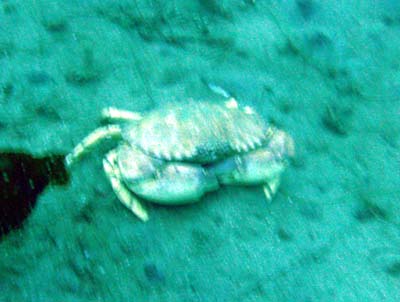 I didn't find the blocks, and the visibility was pretty good.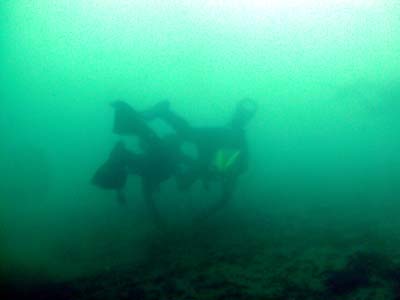 Scuba divers practice their skills.
I don't leave my camera on all the time while I dive, so I didn't get a picture of the nurse shark that swam past me as I was coming back up the canyon.
It scared the shit out of me – the shark probably was only four feet long, but water magnifies things by 25 percent, and my imagination magnifies sharks by 300 percent.
Well, Veterans Park is really not a very exciting place to dive, scenery wise, so I headed in after 30 minutes.
Comments Off

on SCUBA Diving Veterans Park