The boat moved to Geiger at Catalina.
Most of Crazy Ivan's students are now certified with that last dive – it's now time for my reward dive.
One thing, I left my compass at home – that sucks!
I have a wrist mounted compass that I keep forgetting to bring sometimes – I'm just going to tape the damn thing to my console, like I did previously.
I came up with an ingenious way of navigating without using a compass – there was a mildly strong current that made the kelp lean in one direction.
I planned to swim against the current, turn around midway through the dive and go with the current until I reached the depth that the boat was at.
Logged SCUBA Dive #384
Geiger, Catalina, CA
Solo Diving/SoCal Buddy Diving
In With: 2600 psi
Out With:500 psi
Max depth: 40 feet
Waves: Mild chop
Visibility: 15-20 feet
Water Temperature: 65 degrees
Total Bottom Time: About 45 minutes
I grabbed my camera and jumped over – I was the first one over, as usual.
My camera started to fog up – SHIT!
I climbed back onto the swim step of the boat and asked the Dive Master for a rag.
He had no problem catering to my request – I opened the camera casing and carefully dried the inside.
I jumped back into the water, and some sort of haze now covered the inside – it looked like wipe marks…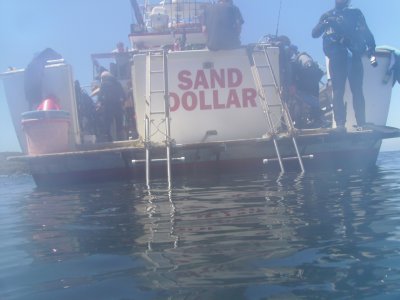 OK, I should have dried the case out with a paper towel and had some of those "do not eats" to put in the case.
I handed the camera back up to the Dive Master and asked him to just hold it until I returned.
I descended and swam directly against the current.
Of course, I saw a Leopard Shark and was unable to take it's picture.
I also collected an abalone shell – they make good soap dishes.
So, for 20 minutes I slowly swam up current, enjoying the interesting view of the reef structure, sheep crabs, lobsters and horn sharks.
Coming back was easy and I ascended about 20 feet away from the boat – perfect navigation without a compass!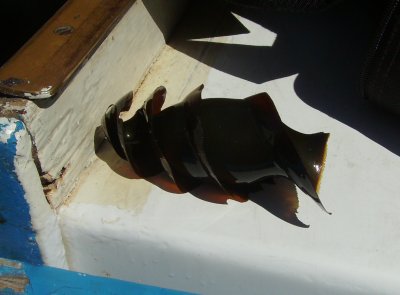 One of the Diving Instructors brought up a horn shark egg.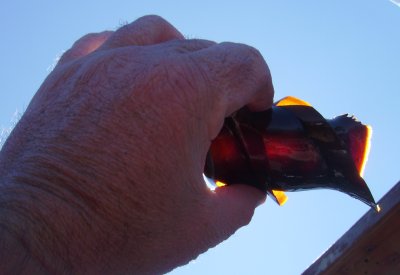 It looks like a kelp bubble, but you can see the shark embryo when you hold it up to the Sun.
The egg was returned to the ocean, to hopefully hatch.
This was a nice, uneventful trip and this was the first time that I dove off the Sand Dollar.
The crew was helpful, nice, competent and the Captain has an entertaining personality.
He said during the initial introduction that, "The skiff that we tow behind the boat is for emergencies only, it's not to pick you up after you see how far down current you can swim."
He also elaborated on what your foot would look like if a SCUBA tank fell on it from the rack.
They fed us constantly throughout the day, and aside from one course of hotdogs (aka "Death Sticks"), the food was descent – it was standard dive boat food.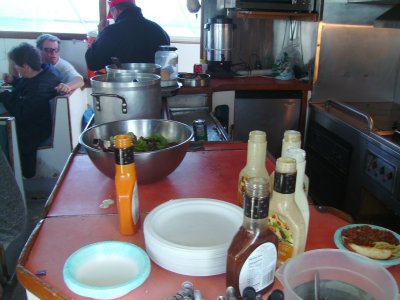 Dinner was spaghetti and meatballs.
Since this was a free trip for me, I tipped the crew well.
The only things that I didn't like about The Sand Dollar was that their air fills only go up to 2400 psi, and their refreshments don't include beer – but, you can bring your own.
Having been originally scheduled for the Mr. C, I did bring a six pack of Budweiser with me – it would have been a boring ride back if I didn't at least have my traditional debrief.
I would definitely take a trip on the Sand Dollar again.
Driving home I heard on the radio that a fellow SCUBA diver died – Amy Winehouse was found dead in her apartment.
Amy Winehouse credits SCUBA diving with saving her life.
I wonder how long she had been out of the water?
I guess for a while.
I'm already hearing people speculate that it was a drug overdose – I will wait for the autopsy results.
R.I.P. – Amy Winehouse.