It's time to celebrate the return of Diver Todd, mourn the soon to be loss of Military Bob and cheer two solid months of being free from Psycho Bitch.
The water was flat as a lake and the visibility was reported to be about 10 feet.
I was determined to dive.
Someone named Chris (yes, another Chris) asked if he could dive with me, and I accepted.
Logged SCUBA Dive #380
120 Reef, Terranea Resort, Rancho Palos Verdes, CA
Dove with Another Chris
In With: 2200 psi
Out With: 400 psi
Max depth: 35 feet
Waves: Pretty damn flat
Visibility: A good 10 feet, maybe 15
Water Temperature: 60 degrees
Air Temperature: About 75 degrees
Total Bottom Time: About 35 minutes
Entry was so easy, even non-macho divers would have been able to make it.
Luckily, I took a few breaths off my regulator before descending, otherwise I would not have known to ask Chris to turn my air on.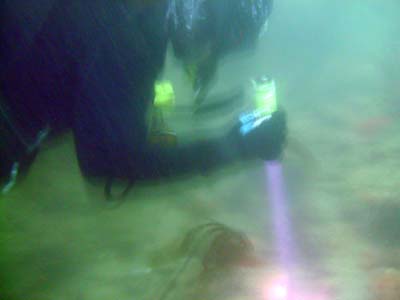 It was a little dark, due to it being overcast.
Most of my pictures came out blurry.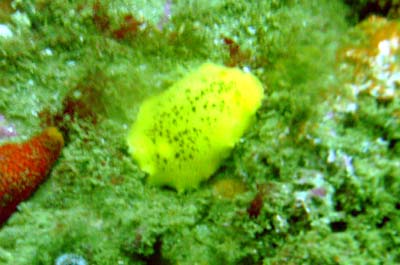 What is this?
It looks like a yellow booger.
Another picture of a reef.
I must have a slight leak in my tank; I only had 2200 psi in my tank at the beginning of the dive, so I'm afraid I cheated Chris out of some bottom time.
This was a nice, uneventful dive.
I surfaced at 120 reef and swam to make an easy exit.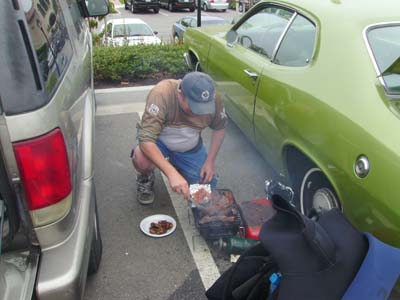 Professional Debriefer Paul tends the ghetto grill.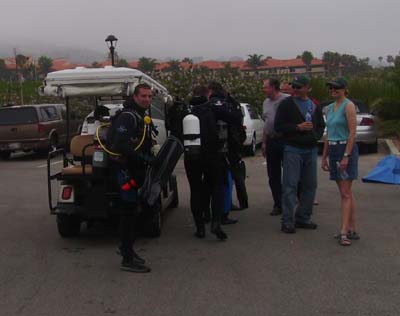 The privileged divers apparently have arranged transportation up the hill.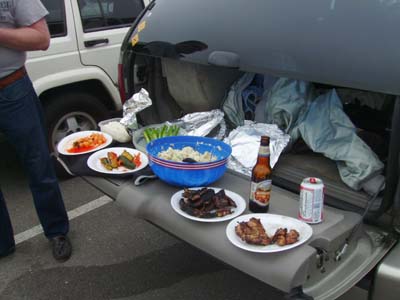 About 30 divers and groupies dined on a feast of Korean ribs, chicken, kimchi, potato salad and … beer.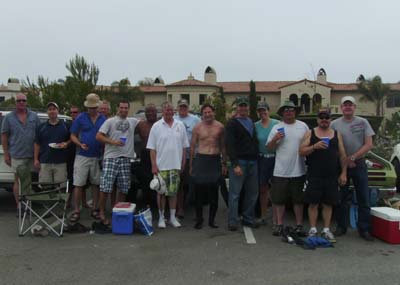 A group shot of the attendees at Sunday Services.
I brought two non-diving neighbors, Malcolm and Dena, who had a nice time aside from getting sunburned.
Dena said, "If your Psycho Bitch didn't like the scene here she was truly crazy."