I had too good of a time Saturday night and really didn't feel like waking up at 6:30 AM to actually dive – excuses, excuses, and I wonder why I'm turning into a porker.
I did, however, feel good enough to show up for the debriefing.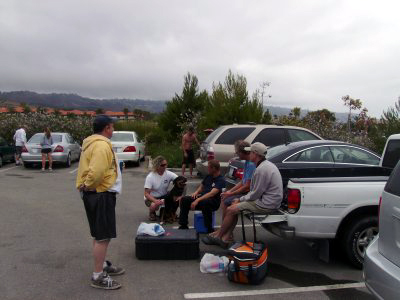 We did Terranea Resort a favor by increasing the demand for their $5 parking spots.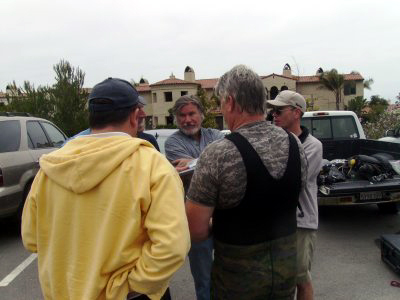 We met Al Schnepershoff, who is the owner and founder of Baja Dive Adventures; he had just finished teaching a spear fishing class.
Al has been free diving for decades and runs trips down to Bahia Tortugas, Mexico for spear fishing.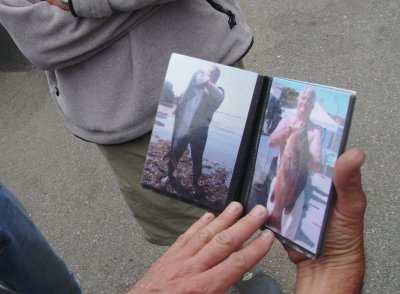 He said, "Everybody comes back with fish, even if I have to spear them myself."
His father was killed by a shark in the early 1970's while he was on the boat, but witnessing that hasn't kept him strictly on land.
I would be more afraid of getting killed by Mexican drug cartels than sharks, but I've heard that's all media hype.
We've been diving here for years, and everybody has noticed the absence of fish that were once around these waters; efforts are being made to make this part of the Palos Verdes coastline a marine preserve.
The consensus of dive reports was four to six or eight to ten feet of visibility – depending on where you dove – with one hell of a thermal cline that brought the water temperature down to 54 degrees.
Last week was apparently a lot better.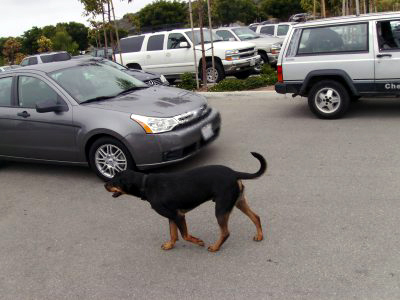 Kilani has a new hobby – car dodging.
The topic of conversation eventually shifted to the "couple who do the most" – there seems to be two studs in particular, that are in our diving circle, who bang any female dive groupie they want.
And, according to one of their reports, one of the females is so freaky that she would put even the most hard core porn actress to shame.
I must find out their secrets of success – being macho and driving a Duster hasn't been paying off with the women lately.
I must get back into the water – maybe Wednesday?
Last week, Professional Debriefer Paul made a short video of the Owl guy and conditions.
This video is from June 12, 2011 –
To view this video on YouTube, click here.
Comments Off

on Terranea Dive Report For Father's Day