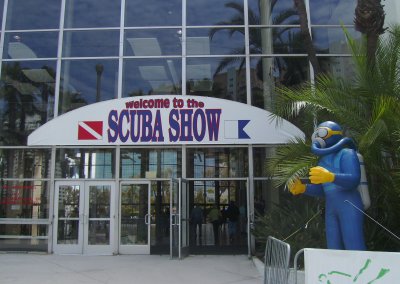 Once again, The SCUBA Show has arrived at the Long Beach Convention Center – and this time, I'm actually planning on taking a dive vacation sometime within the next year.
I mean a REAL dive vacation, not just a day trip to Catalina, so I paid close attention to the travel packages.
I was disappointed that Cuba was not represented at the show – my friend Bruce went diving in Cuba a few years ago and said it was one of the best trips he has ever taken.
Professional Debriefer Paul came along to inquire about SCUBA Certification and sample the beer that we stashed in his backpack.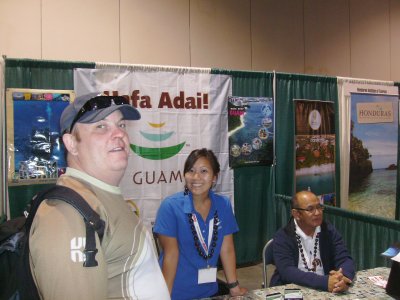 We annoyed this really hot chick from Guam.
At it's narrowest, Guam is only four miles across, but apparently there is an abundance of spectacular dives there.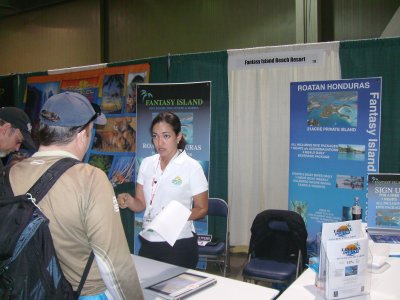 "Fantasy Island" in Honduras seemed interesting, and the chick at the booth said that there are no ugly women in the entire country.
The only thing that sounded weird about their resort is that it's on a small island, which gives me a feeling that it might be a tourist prison, but I was assured that it isn't.
When I go to Mexico, I drink with Mexicans, not American tourists, so one thing that I always scrutinize on a potential vacation is the interaction with the locals.
I will have to go over all the travel brochures that I collected and figure out where I want to go, and how broke I want to be when I return.
One of the attractions that I've overlooked in previous years has been the Wyland Art exhibit.
Robert Wyland is a world famous marine life artist whose work can be seen all over Southern California – he painted the whales on the whale tank at the old Marineland of the Pacific and painted the whales on the Redondo Beach Power Plant, just to name a couple.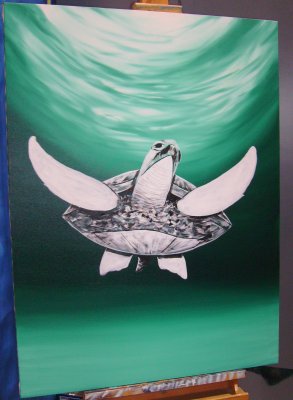 A work in progress – A Wyland Turtle.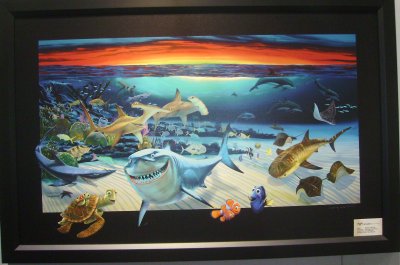 Wyland's smiling shark painting.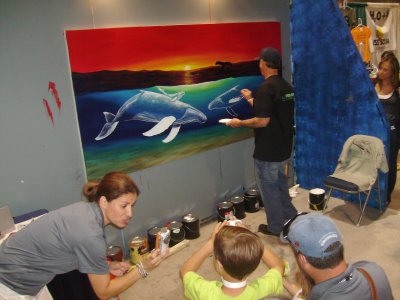 Robert Wyland was there, working on his next masterpiece.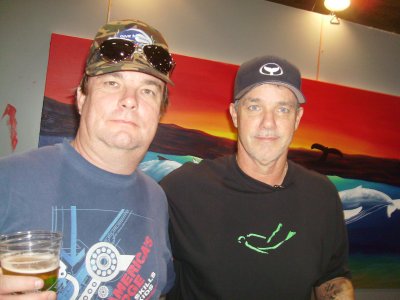 Me with the famous Robert Wyland.
We stopped by Pacific Wilderness and spotted my next major purchase – an auxiliary air supply for $380 – the price is good through June, so I have plenty of time to sell blood to finance the purchase.
We also annoyed the ECO Dive Center booth and inquired about Open Water Lessons for PDP.
There's a rumor going around that ECO has the hottest female dive instructors on the West Coast, and so far, I can't dispute that claim.
As soon as PDP mentioned "Divevets," "Dan" and "discount," the Open Water class price doubled.
When PDP actually gets certified remains the question, but hopefully it will be this year – with diving, he may one day be as macho as me.
We arrived later in the day, but still managed to meet a few of our friends from around the diving scene.
Profession Debriefer Paul captured the event:
To watch this video on YouTube.com, click here.