After almost two weeks of freedom from Psycho Woman, I decided to get back into the water for a short dive to see whether or not I need a refresher course.
A number of Open Water classes were being taught, as usual, in addition to Rips, Rocks and Reefs having a course.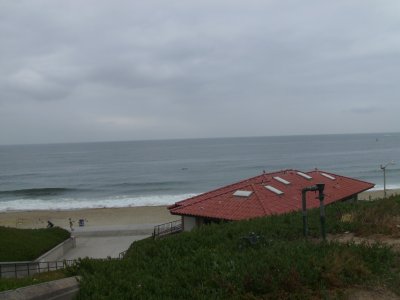 Logged SCUBA Dive #379
Veterans' Park, Redondo Beach, CA
Solo Diving
In With: 2400 psi
Out With: 1000 psi
Max depth: 50 feet
Waves: Some pain in the ass waves coming towards shore
Visibility: 10 feet above the canyon, better at depth
Water Temperature: 57 degrees, colder at depth
Air Temperature: About 70 degrees
Total Bottom Time: About 25 minutes
The surf was up towards the shore, but I made an easy entrance.
I was cameraless and, having left my hood at the Santa Monica crash pad, hoodless.
I submerged in 15 feet of water and swam towards the canyon – the water felt fairly warm.
As soon as I started over the canyon, it got really f'ing cold – ice cream headache set in big time.
My stay at 50 feet was short lived – I was just too damn cold without a hood on.
Visibility was 10 feet at best above the canyon, but seemed to open up at depth.
I saw the usual assortment of sand, trash and crabs – my camera wasn't needed at all on this dive.
After messing around above the canyon lip, testing my buoyancy while trying to sing Dean Martin's Volare, I headed in – underwater is the only place I don't get complaints when I sing.
Of course, as it always happens, the waves picked up on my exit.
I skillfully made my way, walking, to one feet of water when I slipped on the sand and got thrown by an incoming wave – right in front of the entire Rips, Rocks and Reefs class.
A couple of their Dive Masters came over to see if I needed help.
I stood up and thanked them for their potential assistance – they probably couldn't tell how macho I really am.
It is nice to finally go home to the Long Beach Ghetto, but word about my new found freedom has been getting around.
I went to a local watering hole for a beer, and when I came out, four young chicks were hanging all over my car.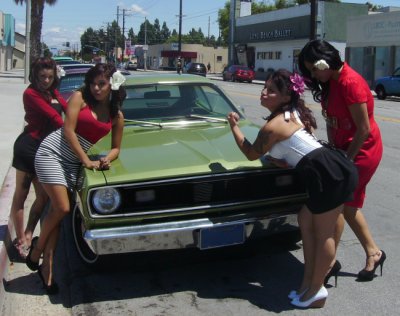 I don't know if women like me for who I am, or if they just like my car?