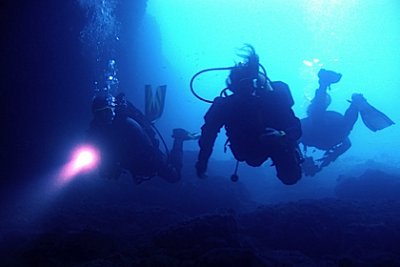 SANCTUM, a 3D action-adventure-thriller centered around cave diving, has been released today.
Since, as I pointed out in my previous post, I guess I'm now considered a journalist, here is my write up of the movie and press day.
I will try my hardest not to accidentally spoil any of the movie.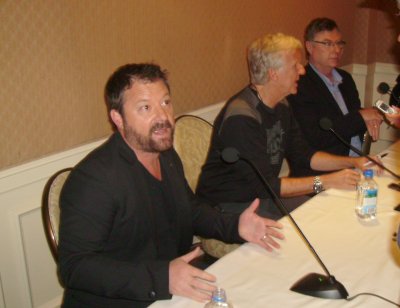 Alister Grierson, James Cameron and Andrew Wight – it's interesting to note that James Cameron and Andrew Wight are avid SCUBA divers.
SANCTUM was inspired by producer Andrew Wight's real life experience in 1988 when he was trapped with 14 other cave diving explorers after the entrance collapsed – all made it out alive thanks to a rescue party.
With that premise, and the addition of the risks and accidents that are known to happen in cave diving, emerges the theme of SANCTUM – but there's a lot more.
What happens when a group of people are fighting for their lives to survive and one gets hurt, potentially jeopardizing the rest?
What happens when someone in that group slows the rest of the group down?
"What would one do in a survival situation? There's a lot of very foolish decisions that we can make in very high stress situations…what we think we would do may not be what we actually do," actress Alice Parkinson said.
Those questions are addressed in SANCTUM.
What impressed me about the cast is that most of them had to learn to SCUBA dive before the filming began, then they went straight to technical diving where they used rebreathers and full face masks.
The underwater cave sequences were all filmed at night in a large tank.
The actors also performed a lot of their own stunts – including a scene where two of the characters are buddy breathing from full face masks – something that seasoned commercial divers wouldn't do
"We gradually built up the skills that we needed for the movie and kept up those skills… by the time we actually got to the diving, which was the last three or four weeks of the shoot, we were quite proficient. But we are actors making make believe, there was never any real element of true danger," actor Ioan Gruffudd said.
The number one complaint that the cast had about using a rebreather is that you can't take long, hard deep breaths, like you can on a simple regulator and tank – you can take a deep breathe, but it won't let you exhale quickly; they all had to learn to relax and control their breathing.
"We started with SCUBA diving which was really quite nice, so I thought this would be a breeze. Then we had to learn to use rebreathers, which is really advanced technology… that was acting in it's finest – pretending like we knew what we were doing." actor Rhys Wakefield said.
What was the most frightening or tensest moment on the set?
"Personally, it wasn't the diving or throwing myself off a cliff, it was doing that fight sequence with Rhys Wakefield, because emotions are high and we're actually doing it for real. Rhys is literally trying to keep me under the water, I'm trying to struggle out of the water and we were exhausted fighting… when my eyeballs are rolling, it's real because I'm gasping for air," said actor Ioan Gruffudd.
Most of the cast that was asked said that they would continue to SCUBA dive recreationally.
"I look forward to SCUBA diving, where there's warm water and you can always see the surface," actor Richard Roxburgh said.
So, what did I think about SANCTUM?
Things I liked about SANCTUM:
– I'm not sure if little camera mounted remote controlled submarines are widely available, even though the technology exists, and I guess breathing directly out of an air bottle, sans the regulator, is probably possible, but SANCTUM was extremely technically accurate in the way it portrayed the equipment and dangers of cave diving. The verbiage that was used is accurate.
And yes, cave divers really do take off their equipment and shove it through narrow passages.
– It is not very predictable – some parts are, but for the most part it gets more and more unpredictable as the movie progresses.
– The 3D enhances the movie experience, and didn't rely on any cheesy 3D gimmicks to make it better. 3D haters can enjoy the movie watching it in 2D.
The thing I didn't like about SANCTUM:
– I'm not sure if I have a problem with Attention Deficit Disorder, but a lot of characters were introduced in a very short period of time, and it seemed that everyone was angry at everyone else when the movie started.
So when the cave started to flood, I was still trying to figure out who everyone was and exactly what was going on.
*********
Not only did I like the movie, but I plan on seeing the movie again, to catch the things that I missed the first time around.
During Press Day, I got to meet Mark from Neutral Dive Gear; we have been following each other's blog for several years, but never met until now.