Thank you, Max Bottomtime for pointing this out.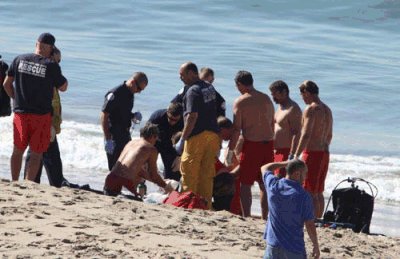 By Kristin S. Agostoni, Daily Breeze Staff Writer
Posted: 11/05/2010 01:09:42 PM PDT
Updated: 11/05/2010 08:36:49 PM PDT
A diver pulled from the waters off Redondo Beach was pronounced dead Friday afternoon following a rescue operation by county lifeguards, a fire official said.
The man was one of three people who had been reported missing by a fellow diver after the group dove south of the Redondo Beach pier, said county fire Inspector Frederic Stowers.
As a six-person rescue team responded to the incident just before 1 p.m., two individuals surfaced in the water, Stowers said. The third diver had to be rescued from the sea and was initially reported to be in critical condition.
"They brought the body up from about 15 to 18 feet below," Stowers said.
The man – whom he could not identify – was transported to a local hospital and later pronounced dead, Stowers said.
Another diver suffered minor injuries due to exhaustion but did not go to the hospital, Stowers said.
The group had been diving not far from the Ruby Street lifeguard tower when rescue workers got a call at 12:52 p.m., he said.
"Apparently a diver who surfaced reported the missing divers. They may have lost their orientation as to where they were in the water," Stowers said.
Stowers described the response as "pretty rapid," given that "by 1:15 p.m., everybody had been accounted for."
Joggers and beachgoers in the area stood watching Friday as lifeguards searched the waters with Redondo Beach's Harbor Patrol.
The original, full article can be found here.