I asked Jim what his secret was in getting three bugs.
He asked, "Did you pee in your wetsuit?"
"No," I responded.
"That might be your problem," Jim said.
The moon rose up from behind Palos Verdes.
Logged SCUBA Dive #372
Secret Location: 4a 75 73 74 20 6f 66 66 20 6f 66 20 74 68 72 65 65 20 63 68 69 6d 6e 65 79 73 2c 20 6e 65 61 72 20 74 68 65 20 67 61 74 65 73 20 6f 66 20 4d 61 72 2e
Palos Verdes, CA
Solo Diving/SoCal Buddy Diving
In With: 2000 psi
Out With: 500 psi
Max depth: 30 feet
Waves: Pretty flat on the surface, surgy below
Visibility: 10-15 feet
Temperature: 62 degrees or so
Total Bottom Time: About 35 minutes
Lobsters caught: 2
I rolled off the boat and my regulator started free flowing – I lost 500 psi before I could stop the leak.
Following Jim's advice, I peed in my wetsuit.
I submerged in 35 feet of water and started towards shore.
There's sort of a trench that goes to the East; I followed along, looking under the moving kelp.
I pinned another lobster, but released it after measuring it.
After 10 minutes under water at a depth of 25 feet, I finally pinned a keeper!
The anxiety of getting skunked was now gone.
I turned back and started following the trench for a few minutes before pinning a second bug.
Maybe Jim was right about the peeing in your wetsuit thing?
We all made it back to the boat – Jim had two, Crazy Ivan had none, Instructor John had none and I had two.
So, total for tonight – Jim, 5 – Crazy Ivan, 1 – Instructor John, 1 – Me, 2.
If we were Socialists, were would have spread the lobster wealth around and each brought home 2.25 lobsters; but we're not, so we each took home what we caught.
We drank some Budweiser, the King of Beers, on the way back and discussed the morning dives and this season in general, while watching lightening stikes to the North and South of us.
This was a strange Opening Night – not many people were out, compared to the last few years; maybe the thunderstorm warnings kept people dry?
Also, I have never been on water that was so calm on top, but surgy at the bottom.
Dive N Surf, for the first time in 30 plus years, wasn't open for the Lobster Mobster contest and the DFG was nowhere in sight.
Farmer's Almanac, and other long term weather predictions, forecast a cold and wet Winter.
We need to get our lobster dives in before the storms keep us out of the water – in previous years it's been December and January.
This season is also going to be tough, I think.
Three years ago, sometimes it was hard not to limit, now I'm so happy when I don't get skunked.
We'll see what happens.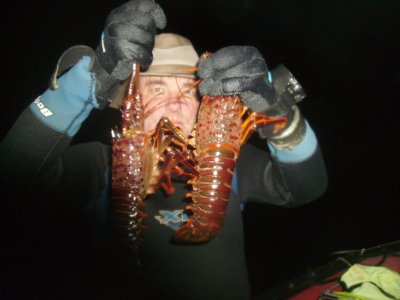 My first two bugs for this season.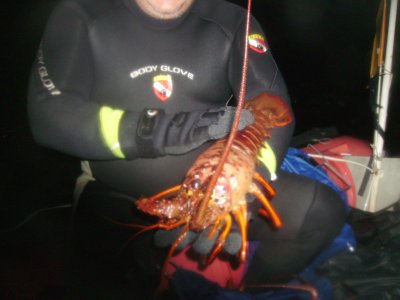 Jim pets his six pound bug.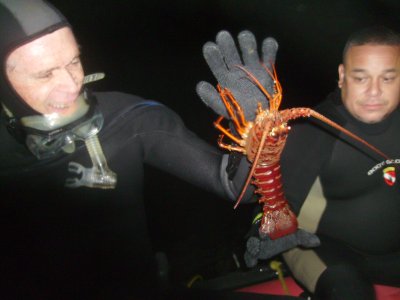 Crazy Ivan demonstrates where the concept of velcro came from.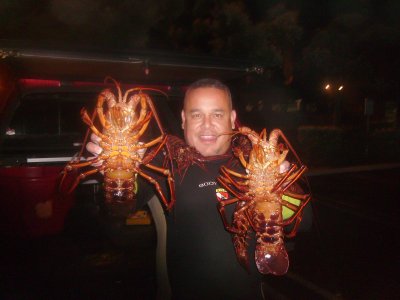 Jim, with his collection of bugs from tonight.