I had to get in the water today.
I have been stressed out and sedate in my macho activities for too long.
Just a swim in the ocean might be enough.
I arrived at Terranea Resort around 8:30 AM; since I had no air, I was just going to free dive.
Some of the regular SCUBA divers had already geared up and were walking down.
The water looked pretty calm, but visibility remained to be seen.
Free diving Terranea Resort, Palos Verdes, CA
Max depth: About 20 feet
Waves: Predictable one to two feet swells
Visibility: 5-15 feet
Water Temperature: Maybe about 63 degrees
Total Ocean Time: 35 minutes or so.
Entrance was easy; I swam to the right side of the Cove.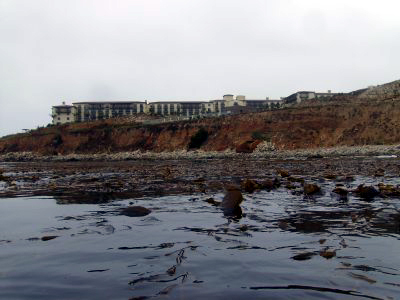 Kelp is very abundant now, which is quite a change from a few years back.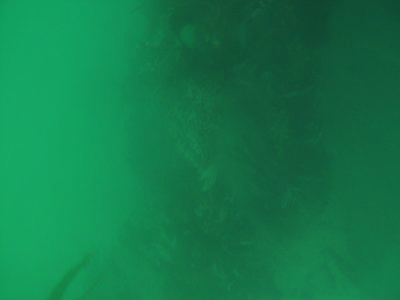 Visibility was OK; I could see the bottom from 15 feet.
I was perfectly neutrally buoyant with my very used 7 mm wetsuit and 16 pounds of weights.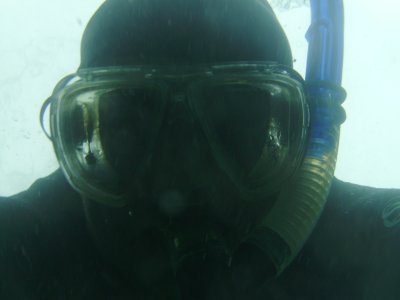 I held my breath and plunged down to 20 feet…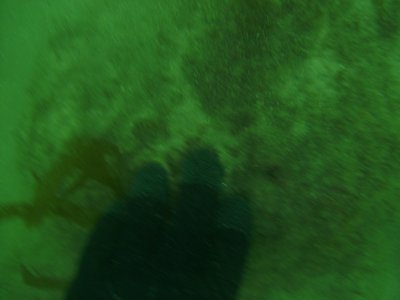 …I touched the bottom.
I'm still sort of macho, I guess.
The ocean water felt good, there was beer waiting for me in the car… and best of all – no psycho women!
About 30 minutes later, a woman took a picture of me making my easy exit.
I guess I'm that famous?
It seems when you free dive here, people actually watch you from their hotel rooms and pool.
I was asked what I was hunting, did I see any dolphins, how are the lobsters?
I told the guys that I was simply out for a swim, but I told all the women that I was out hunting sharks.
Beer in the parking lot washed the salt water out of my mouth.
11 AM rolled by and I noticed none of the other divers had made it back from their dives.
Was something wrong?
The dive started on time, but by 10:30 AM, most divers would usually have returned.
Two beers later, Nice Bob pulls up in his truck with Military Bob, Chipper and Jordan.
It seems they planned and executed an extremely macho dive – going off the Point, diving one way, across two coves to make a beach exit at Cardiac Hill.
Nice Bob had dropped his car off at Cardiac Hill earlier for the return trip.
They had reports of five to 15 feet of visibility.
They said it was a nice dive, but it kicked their asses – especially the walk up Cardiac Hill.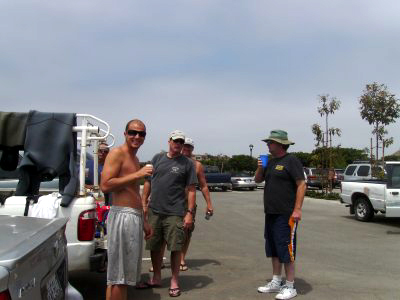 Debriefing continued as usual.
It was sort of a light SCUBA diver turn out, but I noticed a lot of oriental free divers carrying big spear guns – maybe three groups of them.
I didn't notice anyone coming back with fish.