Once again, I showed up to Old Marineland with my gear and beer, hoping to get in the water but not expecting the conditions to be all that great.
The parking lot was empty, except for Chipper who had made the journey from Hesperia.
We checked out the conditions…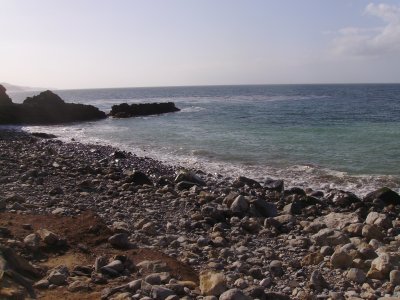 The waves were manageable, but over the last few days, Palos Verdes was getting pounded by waves up to seven feet high; the water just looked plain muddy.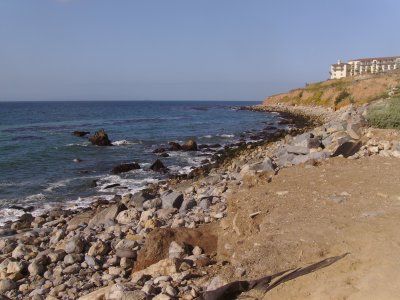 It was also extremely low tide; I think the beach has been rearranged since the last time I was here.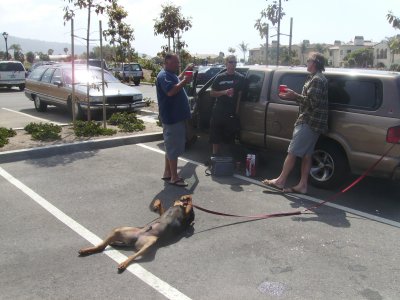 Dive Bum Don, Drysuit Greg and SCJoe joined us in the morning debriefing – well, maybe just briefing, as there wasn't any diving.
Chipper said that this was his third time driving to here from Hesperia and all the times he wasn't able to dive.
He also mentioned, "I have been following you on your blog for the last two years…you had just over 300 dives then and currently you don't have that many more."
I know… I know… Things will probably get better in June, I hope.
There was this one rich old lady that kept circling the parking lot in her Mercedes and giving us dirty looks.
They should be used to our Sunday ritual by now.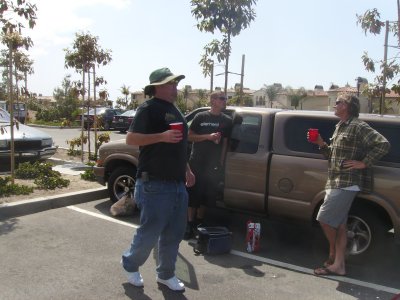 Am I really getting that fat?
Now, in other news, one of my local hang outs is offering off season lobster hunting…
To view this video on YouTube, click here.
For $2 a drop, you can try your luck at Maine lobster hunting.
I have never seen anyone win this thing, but people assure me that they do.
Even if you catch one, the lobsters kick themselves free; your best bet it to probably wait until they're almost dead.
Also, Professional Debriefer Paul has won his first video contest – The Unintended Consequences Of Government Regulation!
Hopefully, this will be the catalyst to fame and fortune!
To view this video on YouTube, click here.
Comments Off

on Terranea Resort Diving Conditions And Other News