With about three months of solidly horrid diving conditions and a canceled boat due to a broken prop, The Divevets were back in the water again, to hopefully liberate more lobsters before the end of the season.
The thing is, where are the lobsters?
Usually, as the storms calm down, lobsters go shallower towards the end of the season – but the weather has sucked, up until just recently.
I was loading my gear onto the boat, and as I was stepping off, the boat slightly moved and someone was standing in my crash landing spot on the dock.
I fell, one leg missed the dock, the other one hit the dock and my ass landed right on the boat's mooring post.
I've been told diving is dangerous, but I didn't know all the hazards until now.
We decided to try a secret location – a place where there's a bunch of submerged concrete pipes.
I guess the secret is out, as there were hoop netters and a fishing boat in the immediate area.
Eight seasoned lobster liberators hit the water – Dan, Donna The Hot Biker Chick, Mike C., Jester, Mary, Chipper, Reverend Al and myself.
Logged SCUBA Dive #366
Secret Location: 54 68 65 20 66 61 72 6d 20 77 68 65 72 65 20 70 69 70 65 73 20 61 72 65 20 67 72 6f 77 6e 20 6f 66 66 20 74 68 65 20 53 70 61 6e 69 73 68 20 52 65 64 20 62 65 61 63 68 2e, Redondo Beach
SoCal Buddy Diving With Chipper
In With: 2900 psi
Out With: 200 psi
Max depth: 85 feet
Waves: Choppy
Visibility: Maybe 15 feet
Water Temperature: About 54 degrees
Total Bottom Time: About 20 minutes
We went down the anchor line and immediately hit some structure.
I checked the pipes – a few shorts and a potentially large one out of reach.
We went South; either visibility sucked, or I needed to change my light batteries.
I turned on my auxiliary light – yeah, I needed new batteries.
At 1500 psi, I motioned to Chipper that we should turn around and I swam ahead – that's when we got separated.
Sticking to the game plan, we continued separately.
I spotted about ten shorts, no keepers.
After a short surface swim, I was the first back to the boat.
Chipper made it back after a long surface swim with one bug; he mistook my signal to turn back for pointing out a bug, which has apparently caught.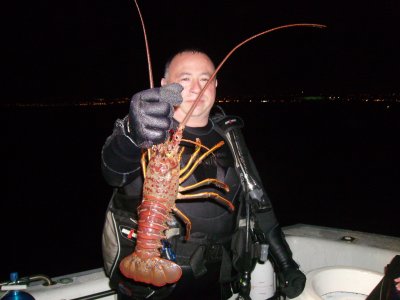 Chipper with his huge lobster – it barely fits in the picture's frame.
The Captain pointed out, "Listen to the people on that fishing boat about 20 yards away; they sound like Cheech and Chong…"
A minute later, I saw one of their fishing poles bend down.
"Odelay homes! You got a big one!"
As he went to reel it in, the line tension dropped.
I was hoping he didn't catch a diver.
Dan and Donna The Hot Biker Chick got skunked.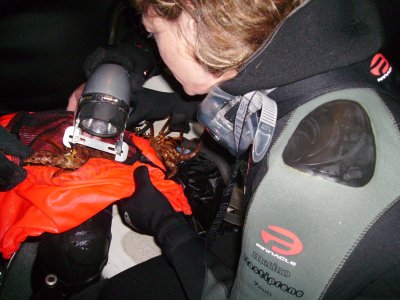 Donna practices measuring Reverend Al's catch.
Mike C. brought up, I believe, two – the boat total for this dive as I remember was three.
Mike C. said that he ran across someone's baited line and started pulling on it, before letting go.
Ah, ha!
That explains the vatos' excitement.
After a discussion with the Captain, him and I believe that the lobsters have been pushed even deeper.
They're probably at 200 to 300 feet – impossible to reach for a recreational diver, unless it's a one way trip.
We headed towards Palos Verdes to check a spot in 50 feet.
Comments Off

on OK, So Where Are The Lobster Now? First Lobster Dive Of The Year