Thanks to a post on Divevets…
Swimmers and surfers are advised to avoid ocean water in Lunada Bay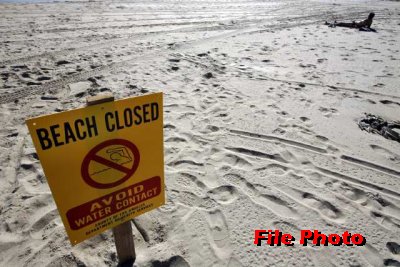 LOS ANGELES – Closure signs have been posted at the access points to Lunada Bay in Palos Verdes Estates due to a sewage spill. Los Angeles County Department of Public Health officials were notified this afternoon that approximately 100,000 gallons of sewage entered the intersection of Via Rivera and Paseo Lunado, resulting in effluence flowing into Lunada Bay.
The advisory will be in effect for at least 72 hours, pending test results that measure the bacteria level in the ocean water. Water samples were taken this afternoon.
"We are asking people to avoid entering, swimming, or surfing in the ocean in and around Lunada Bay," said Jonathan E. Fielding, MD, MPH, Director of Public Health and County Health Officer. "Our first priority is to protect the health and safety of the people who may visit the bay. Once we determine bacteria levels in the water have returned to normal, closure signs will be removed."
The Sanitation Districts of Los Angeles County stopped the flow of sewage and is now in the process of cleaning up the site. It is also involved in the repair of the collapsed sewage pipe that led to the spill. Public Health was notified by the Sanitation Districts today around 3:00 p.m. regarding the discharge.
Recorded information on beach conditions is available around the clock on the Los Angeles County Department of Public Health Ocean Water Quality Hotline at 1-800-525-5662 and online at www.publichealth.lacounty.gov/beach.