There is suppose to be three storm fronts moving in, which probably accounted for the light diver turnout at Terranea Resort.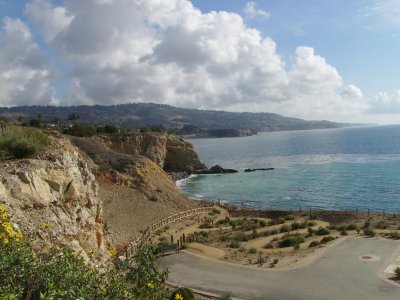 The water looked a little green and the surf zone had three to four foot swells between the calms.
"It's rough but doable," I was told.
Rather than prove that I can make it in and make it out alive, and hopefully not hurt, for a dive that was sure to be low vis, I decided to start debriefing early.
Seven divers, in three teams made it out of The Cove.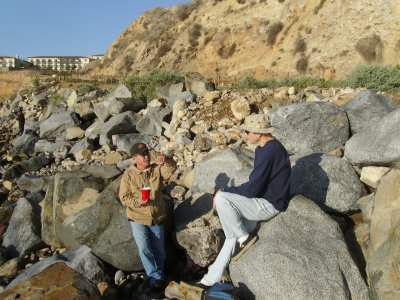 Instructor Ed and Crazy Ivan joined me at the Cove for a red cup breakfast.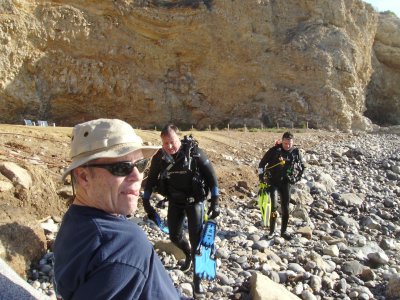 The first divers emerged, reporting seven to ten feet of visibility.
A couple of free divers entered during our debriefing period.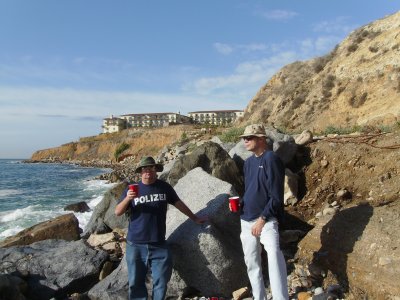 The tourists felt safe, since I wore my German Police shirt.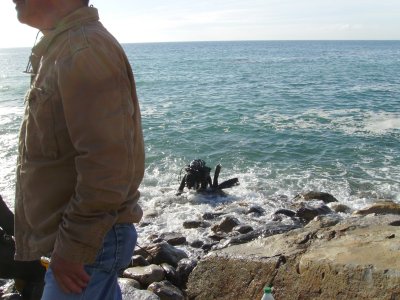 The second group emerged from SCUBA diving – "You didn't miss much, I would say five to seven feet at best.."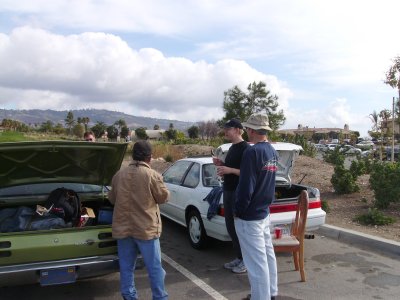 There was a skeleton debriefing crew – Crazy Ivan, Instructor Ed, TwinDuct, Eric and me.
We broke out the ghetto grill to cook some spicy sausages, but nobody had any matches.
After 20 minutes of trying to flame tissue paper with a car lighter and rubbing two sticks together, it looked like we were going to go hungry.
I dug down to the third layer of treasures in the Duster's trunk, and found a book with four matches still in it.
I split them in half giving us eight.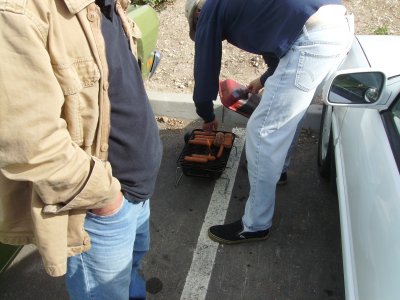 We barbecued at a secret, undisclosed location.
Debriefing wrapped up a little afternoon.
Instructor Ed suggested that we go to the best and friendliest bar in San Pedro – Rebel's Cocktails.
Instructor Ed tells Eric and TwinDuct how fat I was before he taught me to dive and made them both promise to never quit SCUBA diving.
It is suppose to be stormy all this week – massive rain, thunder and lightning.
It doesn't sound like I will be getting in much lobster hunting in this month, but I hope to hit the end of the season hard.
The thing is, after all these storms, where are the lobsters going to be?
Deeper, I know, but how deep?