I try and stay politically neutral here, after all this is a diving blog, not a political blog; however, it was pointed out to me that if Obamacare passes, I might not have anything to blog about in a few years.
As seemingly ridiculous as the headline states, there may be more truth to it than you think.
So many laws have been passed in the name of "public safety."
Seat belt, helmet, smoking, drinking, jay walking, and other "nanny state laws" were not passed because the government cares about your well being.
The real "reason" is to lower the supposed costs to society when you are hurt – and according to most politicians, everyone will eventually get hurt.
So what will happen to sports like SCUBA diving, hang gliding, rock climbing and bungee jumping that are considered "dangerous" pastimes if national healthcare passes?
Randy Shaw,* the training manager at the National Association of Underwater Instructors, which organizes scuba diving teachers, said he wouldn't put it past Congress to at least inadvertently include his members in a higher-risk pool, but that he hadn't seen anything that would lead him to be concerned.
"Right now people are more worried about how they're going to keep their dive shops open," he said. "But if the health care bill were to include diving as a hazardous risk, and increase premiums, we'd try and fight that any way we could… you can pretty much statistically validate that diving is less risky to your health than walking in a major city."
Shaw had strong feelings about the bill overall.
"The whole thing is just an excuse for them to be able to control your life a little more," he said.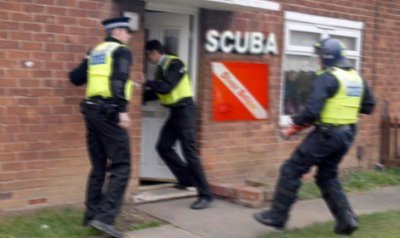 The health care bill is more than 1,400 pages of government entitlements, taxes and special interest provisions – nobody really knows what this monstrosity will do, because nobody has read the whole thing.
Look at countries that have, or have had, national healthcare – The Soviet Union (USSR) and East Germany (GDR) extended "free" health care to all, but outlawed hang gliding, hot air ballooning and private aircraft for "public safety" reasons.
Greece, which has national healthcare, severely restricts recreational SCUBA diving off of their shores.
Maybe outlawing SCUBA diving altogether will never materialize, but how will they offset the imaginary increased "risk to society" unless they impose some kind of additional tax?
*Randy Shaw was quoted from an article published at www.freerepublic.com.