Hearing that Redondo Beach had four to six foot swells and that there was some storm front coming in, I headed down to Terranea Resort hoping more for dive camaraderie and debriefing than in hopes of getting in the water.
There was a low diver turn out; having arrived at 8:07 AM, I saw a few cars of dive friends, but nobody setting up their gear.
Reverend Al, Not New Chris and Crazy Ivan were at The Point, watching conditions; Richard The Brit joined us soon after.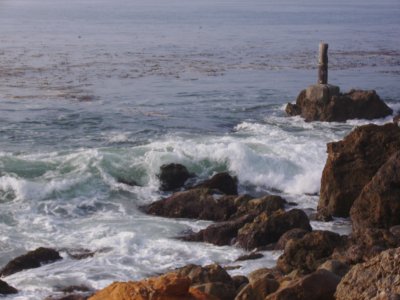 Entrance from The Point was pretty much ruled out from the beginning.
We walked towards the beach where we checked The Cove conditions.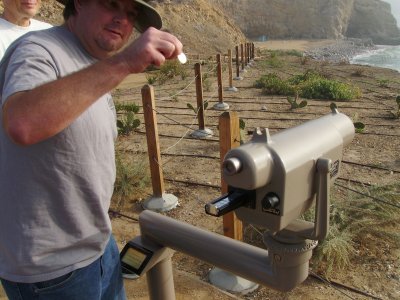 Yes, us divers do spend money at Terranea Resort.
After gawking from the cliffs above, we actually walked down to see the conditions first hand.
There were constant swells with an occasional, "Holy crap! I'm glad I wasn't in the surf zone on that one" wave.
It was possible, but I decided to call it; so did Crazy Ivan.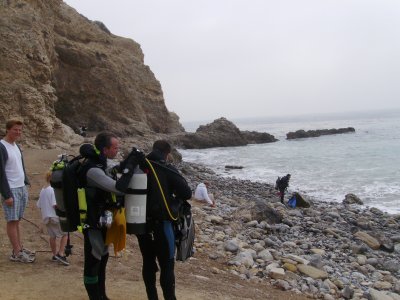 Reverend Al, Not New Chris and Richard The Brit decided to test their luck with a dive off The Cove.
All made expert entrances with no problems and submerged around 120 reef.
Professional Debriefer Paul showed up to join Crazy Ivan and me for some sea side beer drinking and wave watching.
The waves started to get larger and stronger when the divers were under.
A kayaker made it out in between sets.
About an hour later, the three returned and made an uneventful exit during a lull in the swells – either God was watching them, or the CIA's weather machine was rebooting.
A Japanese tourist asked Not New Chris and Reverend Al if they would pose with her son for a picture…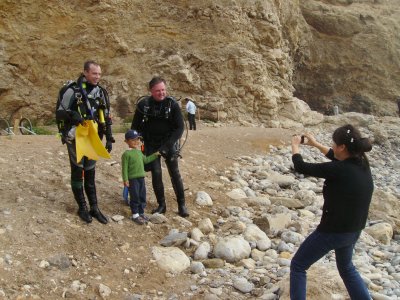 How could anyone refuse such a request?
The dive report was, "Some places were 20 feet, other places it was only a few feet with lots of silt; there was also constant surge that you had to fight."
Nobody who dove regretted getting in, and nobody that called the dive regretted staying dry.
The public toilet was locked on Discover Trails; I was about to relieve myself on the door until a woman came by and called the resort to complain.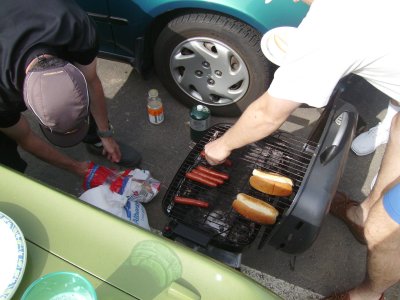 We debriefed in a different area in Palos Verdes, that was more barbecue friendly than Terranea's hotel parking lot.
Chris had hot dogs and Crazy Ivan brought some kind of vegetarian Bratwursts, which weren't bad tasting, but could never be mistaken for meat.
As I am writing this, I have just found out that our lobster trip for Monday night has been postponed until at least Wednesday.
Comments Off

on Palos Verdes Dive Conditions Report From Terranea Resort