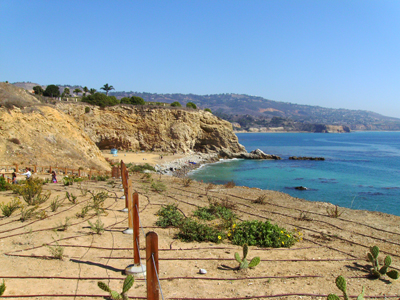 Having a legal appointment in the morning in Palos Verdes,  I had to miss the Sunday services dive, but managed to show up for the debriefing and dive conditions report.
The regular crew was there, including an appearance from Dry Suit Greg and a cameo from Wrinkles, which I missed.
A few went off The Point, others off The Cove to 120 reef; reports were 20 to 30 feet visibility, depending on who you asked.
I was told, "It was good, but not as good as yesterday."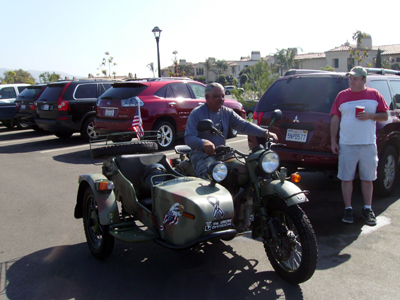 A biker pulled up and indroduced himself as Francisco;  we offered him a beer and he accepted.
I kept thinking, "Someone must know him, because people around here seem like they do…"
Nobody knew him, and in actuality, I realized later, this group is so cool, you are welcomed as a long time friend once you accept a beer.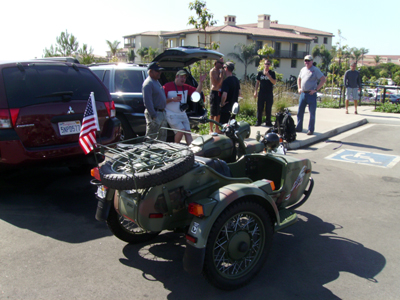 His bike was a Russian made Ural Military motorcycle, complete with a sidecar and…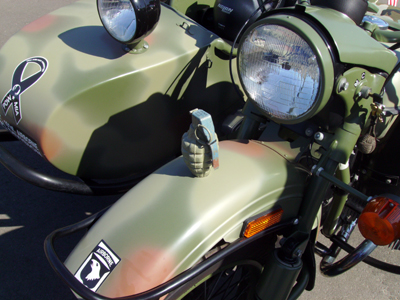 … a hand grenade hood ornament.
"I ride this bike everywhere, except to the airport," Francisco said.
A few years ago, someone in the group found an unopened Keystone Light on the trail;  it had been in Reverend Al's cooler ever since.
Even if we had run out of beer, that can stayed unopened.
"If someone gets really desperate for beer, we'll give it to him," was the saying.
Reverend Al, had an announcement today, "Guys, this is an historic day, Dive Bum Don was nice enough to drink that Keystone Light that's been in my cooler for the last few years."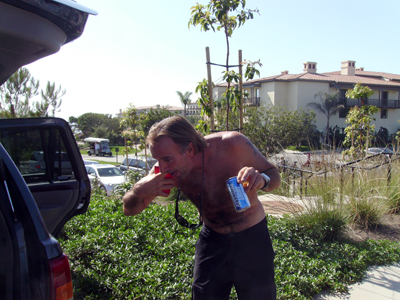 "I wondered why it tasted so nasty, I thought it was a Bud Light," Don said.
Don did not want to know what the experation date was.
We talked to Francisco at length;  he came from Cuba in 1977 and told us how much Cuba sucks.
"It's like a big jail," he said.
So a Cuban, riding a Russian Motorcycle with American flags plastered all over it – only in America!
He continued, "I was originally planning to immigrate to Spain, but I like the United States a lot better."
I asked why.
"One of the many things that's good about the United States, is that no matter how old you are, you can do anything you want; in other parts of the world, especially Europe, once you are 40, it isn't appropriate to roller blade, or wear shorts or do a lot of the things the younger people do," he said.
Professional debriefer Paul captured amazing, stunning and breath taking video of today's debrief…
To watch this video on Youtube, click here.
Also, I was able to put together the best of the best of my video I took Saturday, when Military Bob and I dove Laguna Beach
To watch this video on Youtube, click here.