I finally made it down to Laguna Beach again!
Military Bob was nice enough to invite me down for a couple of dives.
It was interesting to note how many divers, fisherman and beach goers can squeeze into residential parking spots.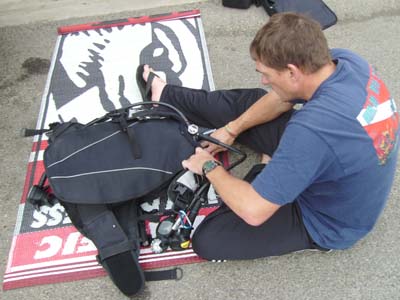 Military Bob's regulator was free flowing; I don't know what we did – we banged on it, shoved a few screw drivers down to try and adjust it and poured water over it – but we fixed it.
"Can you breathe through it?" I asked.
"Yeah."
"Well I guess we're good to go."
Logged Dive #357
Laguna Beach, CA
Dead Man's Reef from North Crescent Cove
Dove with Military Bob
In With: 3000 psi
Out With: 500 psi
Max depth: 55 feet
Waves: Pretty flat with some waist high swells in the surf zone
Visibility: 30 feet (no joke)
Water Temperature: About 60 degrees
Total Bottom Time: About 45 minutes
After an easy entrance and 100 yard surface swim to the reef, we submerged.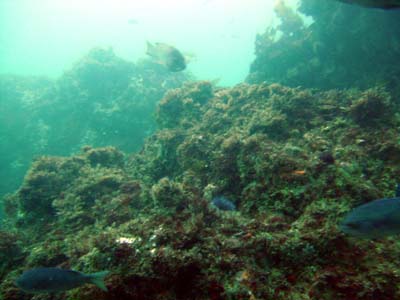 Visibility was spectacular!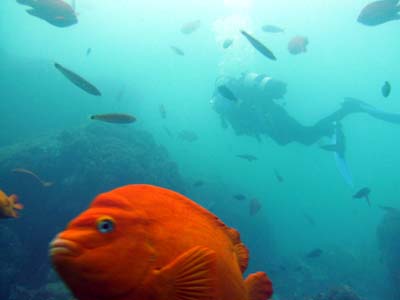 Vis was as good as 30 feet.
We found a huge lobster in 25 feet of water, but were unable to dig it out.
The remains of an octopus feast.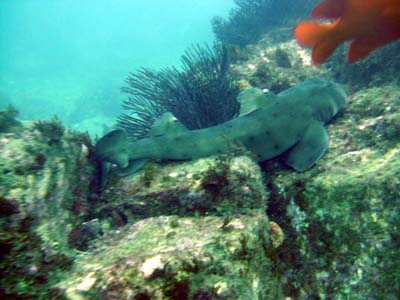 A deadly hork shark waits to attack.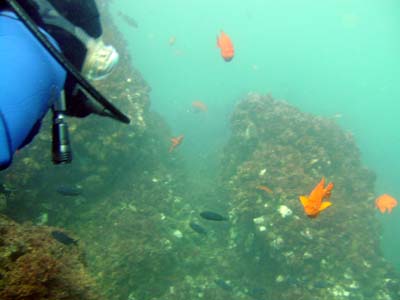 We headed back when I was down to 1000 psi; after a short surface swim to the beach, we were out with no trouble.