Finally, I was able to get Brother Paul (aka Professional Debriefer Paul) into the water for more of a snorkel voyage than a free dive.
I offered to provide a weight belt, but he declined.
"You're going to float like a cork," I advised him.
"That's fine by me," he said.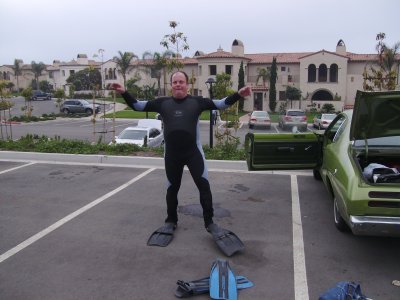 Paul could barely fit into my old wet suit, and wasn't able to put on an old pair of gloves.
Terranea Resort, Palos Verdes, CA
Free diving (more like snorkeling) With Brother Paul
Max depth: About 15 feet
Waves: Lots of surface chop, tricky swells crashing on shore
Visibility: 10-15 feet, pretty good
Water Temperature: Maybe about 60 degrees
Total Ocean Time: 35 minutes or so.
I briefed him on the way to get out and reminded him, "Spend the least amount if time in the surf zone."
Paul made it out with no problems, but he started coughing, or gagging once outside of the surf zone.
"Man, it's really hard to breathe," he complained.
He later told me that he had the same problem at Baja Reef, 20 years ago when we worked at Marineland.
The wind chop made the waves crash against us as we bobbed up and down on the surface like a couple of corks; Paul kept getting mouthfuls of water.
"Don't do that, breathe air, not water," I advised.
We swam out to 120 reef, but couldn't see the bottom; we went shallower, towards the other side of Pigeon Shit Cave.
We could see the bottom reef structures in 20 feet of water; I practiced some breath holding dives – I am out of practice and couldn't stay down very long.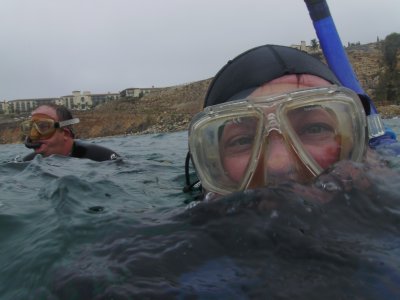 Having hung out here for years, but only on shore, this was a view of the property that he had never seen before.
Coming in, I said, "You can either take your fins off and walk ashore, or crawl ashore and behind a rock – but don't spend too much time in the surf zone."
Paul rushed his exit, hanging on to a boulder as a swell was trying to suck him back out.
Another swell came in and slammed him hard against a rock; he's probably going to have a big bruise on his chest tomorrow.
Making the mistake of leaving our beer locked in Reverend Al's cooler, Dive Bum Don gave us some Rolling Rock while we waited for Al's crew to return.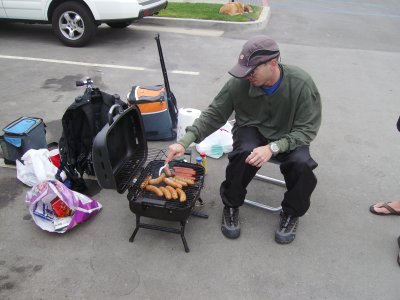 It was a typical debriefing Sunday – quiet, low key, beer drinking and grilling in the parking lot.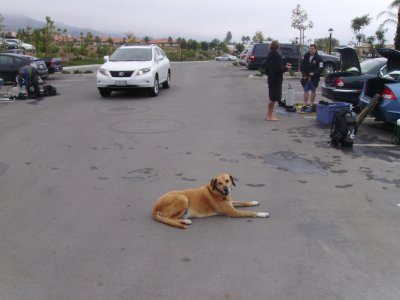 Cyber The Attack Dog blocked part of the parking lot so nobody would run over the grill or equipment.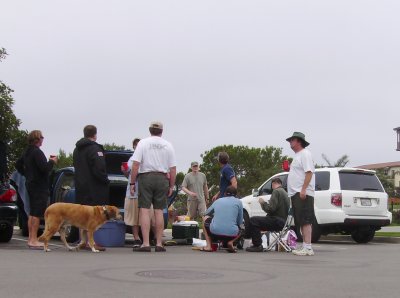 It was going to happen eventually…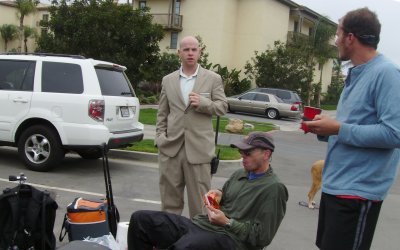 "Hey guys, you can't do the barbecue thing… we don't let our guests grill, so you can't either," an undercover Terranea security guard said.
Someone must have complained; he also told us not to park in the hotel parking lot, but up in the public area.
He didn't act like he wanted to tell us that.
Of course, Brother Paul has documented the day on Youtube:
To view the video on Youtube, click here.