There were storms in Southern California earlier in the week; I think they at least put all the forest fires out.
The weather has calmed down a bit, so the Divevets' Island Diver charter went back out to our "secret lobster farm."
The boat left with the Captain, Rolando the beer concierge, and eight divers – Dan, Mean Bob, Richard The Brit, Mike C., Reverend Al, Hollywood, Donna the Hot Biker Chick and Me; two chicks on the boat is a rarity.
Logged Dive #355
Palos Verdes, CA
Secret Location: 32 35 30 20 79 61 72 64 73 20 53 6f 75 74 68 20 6f 66 20 6f 75 72 20 6c 61 73 74 20 6c 6f 63 61 74 69 6f 6e 2c 20 77 68 65 72 65 20 6e 6f 20 62 6f 61 74 73 20 77 65 72 65 20 73 65 65 6e 20 6f 6e 20 6f 70 65 6e 69 6e 67 20 6e 69 67 68 74 2e
Solo Diving/SoCal Buddy Diving
In With: 3000 psi
Out With: 300 psi
Max depth: 45 feet
Waves: Sort of choppy
Visibility: 10 feet or worse
Water Temperature: About 60 degrees
Total Bottom Time: About 45 minutes
I was the first one over board; the boat anchored in 40 feet of water, so I decided to do my lucrative voyage to 25 feet where I caught six lobster last time.
I saw a few shorts and grabbed one legal lobster in about 30 feet; the vis was really crappy, maybe 10 feet at best.
I missed the pin on a big bug, which pissed me off, as I really didn't see too many lobsters to begin with.
I navigated back and surfaced with 300 psi; I looked South and then East and then North, but didn't see the boat.
Where the hell is the boat?
I turned West, and the boat was about 20 feet away; I was first back with one bug and a grim report.
The other divers slowly made their way back – some got skunked, some came back with one or two.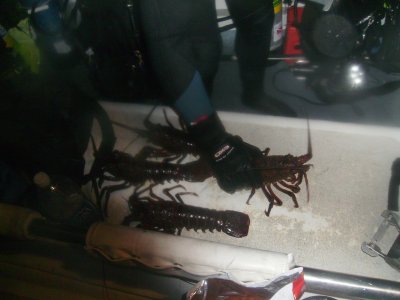 Hollywood and Mike C. scored with four bugs; all caught in 50 feet of water.
We analyzed our dive; I spent too much time shallow, the storm earlier in the week has pushed them deeper.
We moved the boat to a deeper spot.