This is my first lobster trip of the season on the Island Diver with the Divevets.
Joining us on this trip was Donna the Biker – a recent transplant from Chicago (or is it Tennessee?) who has not been scared away by the bizarre antics of some in the group.
This was Donna's first lobster trip.
I packed all my gear into my second game bag, and took one last look in my trunk before boarding.
I didn't realize I had turned my light off and left it in the trunk; thanks to Dan and a spare light that he had, my dive was saved.
Thank you Dan!
I would have went anyway with my secondary light, but that would have really sucked.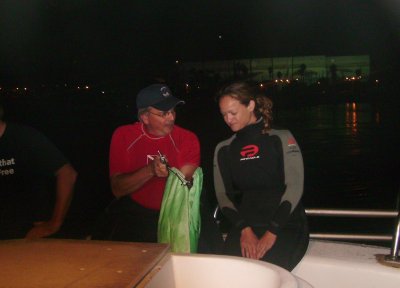 Dan instructs Donna on the proper bagging procedures.
Logged Dive #353
Palos Verdes, CA
Secret Location: 4f 66 66 20 74 68 65 20 67 61 74 65 73 20 6f 66 20 4d 61 72 2c 20 6d 69 64 77 61 79 20 62 65 74 77 65 65 6e 20 61 20 66 6c 61 74 20 72 6f 63 6b 20 61 6e 64 20 61 20 62 72 69 67 68 74 20 68 6f 75 73 65 2e
Solo Diving/SoCal Buddy Diving
In With: 3000 psi
Out With: 400 psi
Max depth: 35 feet
Waves: Calm
Visibility: 15 to 20 feet
Water Temperature: About 60 degrees
Total Bottom Time: About 45 minutes
Once anchored at our secret spot, I pushed others aside and was the first to jump in the water – I had to urinate really badly.
I submerged to 35 feet and started patrolling for lobsters to liberate.
Many shorts were spotted, but I didn't even bother grabbing them for practice.
I had gone all the way to 15 feet before turning around; about 20 minutes into the dive, I finally grabbed my first legal bug in 30 feet of water.
The water was surprisingly clear; an almost full moon was on the horizon peaking over the Palos Verdes hillside.
I spotted another legal bug under the kelp, but missed the pin.
I was the first back to the boat with my single lobster; others followed either skunked or with one or two.
Jimmy the Bagman was lucky enough to run across a lobster hole and caught four.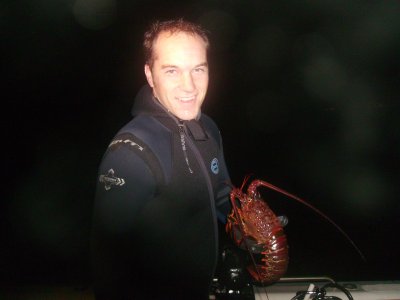 Jimmy the Bagman poses with one of his prized bugs.
Dan and his protégé came back with a few…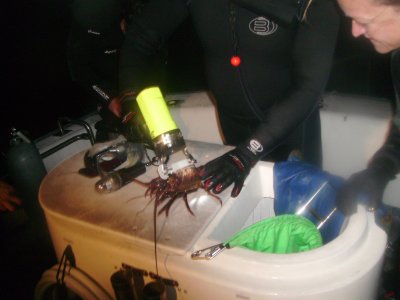 Dan shows Donna how to measure a lobster – of course this was already done in the water before it was bagged.
One of the first time hunters on this boat pinned a molted lobster carcass; the diver mentioned, "I thought catching these things would be a lot harder, I didn't know it was dead."
We moved the boat to hopefully a "better" spot.
Comments Off

on Operation: Lobster Liberation Off Of Palos Verdes