We moved the boat to a "better spot" next to some other boats, close to some shore divers.
This opening night, there weren't too so many people out.
The break water is usually packed with boats and shore divers and so had been Palos Verdes, in the past.
This year I would say, it was maybe half the crowd.
Logged Dive #352
Palos Verdes, CA
Secret Location: 46 69 67 75 72 65 20 74 68 65 20 6c 61 73 74 20 73 70 6f 74 20 61 6e 64 20 68 65 61 64 20 33 30 30 20 79 61 72 64 73 20 74 6f 77 61 72 64 73 20 4d 61 6c 61 67 61 20 43 6f 76 65 2e
Solo Diving/SoCal Buddy Diving
In With: 3000 psi
Out With: 600 psi
Max depth: 35 feet
Waves: Calm
Visibility: 10 to 15 feet, really silty is some areas
Water Temperature: About 60 degrees
Total Bottom Time: About 40 minutes
I have to say, this was a nice night dive; lots of interesting reef structure and lots of fish.
Tonight was a full moon and word has it that a lot of the lobsters stay home when they can see the moon.
I guess the hungry ones forage on such nights, because I caught three more additional bugs on this dive; every bug that I caught tonight was in 20 to 30 feet of water.
There were a lot of shorts spotted, but it's nice to know that this season may not be so grim.
I had to do a long surface swim back to the mighty zodiac; Jim was already on board.
Jim said, "Did you see that nurse shark?"
"No, did it attack you?"
"No, but it started to circle around, which scared the shit out of me," Jim said.
This trip took longer than I thought, but we were heading back to King Harbor around 4 AM.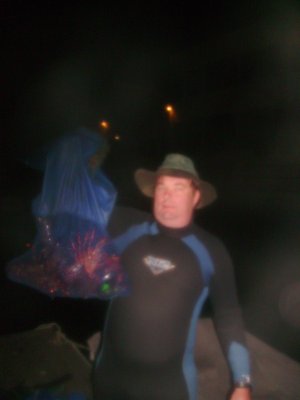 Tonight netted me 11 pounds of lobster – almost $200 retail value.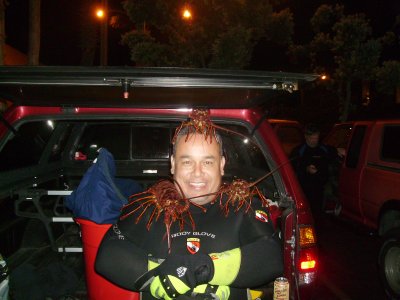 Jim poses with his bugs.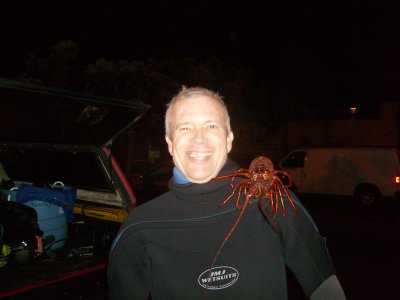 Instructor Ron poses with his catch.
Wait, how many did you end up catching, Instructor Ron?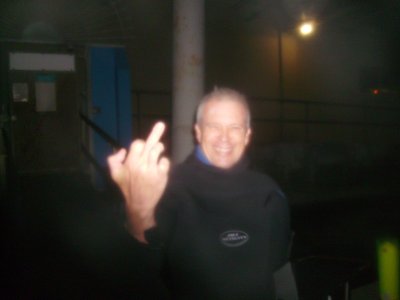 Oh, only one.
I got lucky; once you are an experienced lobster hunter, it all depends on your luck afterwards.
We were off to the Lobster Mobster event at Dive N Surf…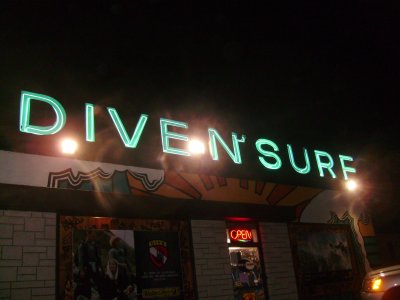 On opening night, Dive N Surf is open all morning long for this event; sign up before 10 PM the day before, bring in any legal lobster and you get a free T-shirt.
I registered, so I thought, over the phone, but was not on the list; they were kind enough to award me a T-shirt regardless.
The person that brings in the biggest bug wins some kind of a prize – maybe a few million dollars?
Just like last year, the same guys brought in their limit of lobsters – huge lobsters!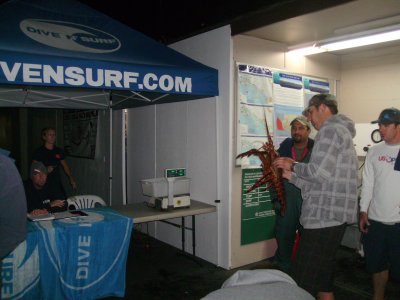 They were on course to win with an 11 pound bug.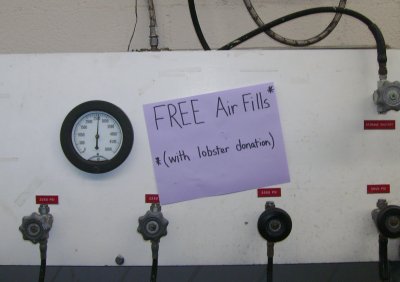 I donated my smallest lobster to get free airfills.
We usually offer the lobsters one last request before they are liberated; most ask for cigarettes, but we had one that requested beer…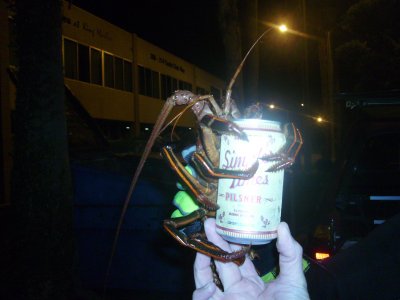 I ran in to an old diving buddy who was diving in another secret location – my guess is either Laguna Beach or the Redondo Beach break water.
He was trying to catch his limit, with one more to go, when he came across a cave with some bugs in it.
He reached in the hole as a swell pushed him against the rocks and dislodged his tank; he took his BC off to reattach it when another swell smashed him against the rocks which dislodged his mask and it flooded.
As he was clearing his mask, another swell hit him again and ripped the mouth piece from the regulator – he took a breath and it was nothing but water.
He was in 25 feet of water and solo diving.
He ditched his BC and tank and did an emergency swimming ascent to the surface where he called for assistance to his buddies.
He did everything right, but someone who is not experienced probably would have died.
Friends, SCUBA diving is a great activity, but can be dangerous; a buddy certainly would have helped out in this situation, but if you are going to go solo you need to rely only on yourself and yourself only.
As far as lobster hunters as buddies?
They suck; they are more concerned about bagging bugs than watching you.
So be warned.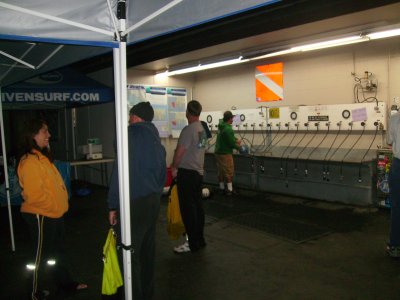 The small crowd started to thin out even more around 5:30 AM; I left to hit first call at my local Long Beach Bar – Wardlow Station.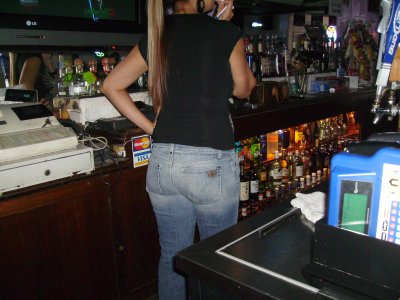 I traded another lobster in exchange for taking a picture of the bar tender's butt.
I debriefed for a few hours, giving two more away to some neighbors before making it home and collapsing from exhaustion.