Ok, I guess I screwed up just a bit.
I thought we were suppose to meet at 10:30 PM at the dock, the plan was to leave at that time.
Having pissed off Instructor John, Instructor Ron and Jim, who hate to wait on anyone, I arrived at 10:30 and did the fastest sprint gear-up that I have ever done.
We were off at 10:50 PM and I kept thinking, "I geared up so quickly, I must have left something behind."
The mighty zodiac chugged along the flat seas with four divers, eight tanks and gear.
We arrived at a pre-scouted secret destination off of Palos Verdes 20 minutes before midnight…
Logged Dive #351
Secret Location: 4f 66 66 20 74 68 65 20 67 61 74 65 73 20 6f 66 20 4d 61 72 20 6e 65 61 72 20 61 20 70 6c 61 63 65 20 77 69 74 68 20 74 68 72 65 65 20 63 68 69 6d 6e 65 79 73 2e
Solo Diving/SoCal Buddy Diving
In With: 3000 psi
Out With: 500 psi
Max depth: 40 feet
Waves: Pretty damn flat
Visibility: 5 to 15 feet, really bad close to shore
Water Temperature: About 60 degrees on the surface
Total Bottom Time: About 40 minutes
We entered the water a minute or so before midnight…
I inflated my BC, tied it to the boat and threw it overboard… I soon followed.
The BC didn't fit, I couldn't put it on.
It was twisted up… I untwisted it, and managed to put my arms through… but I couldn't find my console or regulators.
I was in such a hurry gearing up, I put my BC and regulator on the tanks basically inside out and backwards.
Instructor Ron helped me regear in the water while saying, "I wonder how you're going to document this episode."
I submerged about 15 minutes after midnight and headed towards shore – the lobsters are usually pretty shallow this time of the season.
Visibility was initially pretty damn clear.
Ten minutes into the dive I spotted and pinned my first legal bug; the anxiety of "will I get skunked tonight" was now over.
I proceeded to go shallower and eventually hit 15 feet where vis turned to crap.
I turned around and came accross the biggest F'ing bug that I had ever seen in my entire life!
It was as big as a horse… well, maybe a small dog.
I exhaled and pinned it to the bottom; as I took my other hand to slide underneath the torso it's tail whipped up and hit me in the nuts which made me lose my grip.
I closed my legs and tried to use some jiu jitsu to subdue the monster, but it wiggled free and escaped.
My lobster hunting hubris has now been ruined.
I was lucky enough to find two more way-legal bugs before heading back to the mighty zodiac.
I caught three, Instructor Ron none, Jim one or two and Instructor John five or six.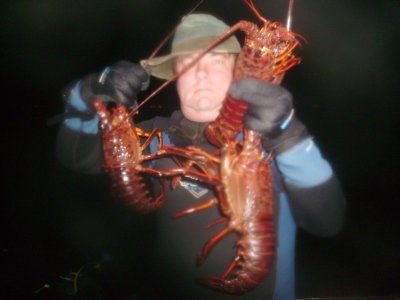 I was quite content with this spot, but of course the divers who didn't do too well wanted to find another spot.
The next dive and outcome will be up in another hour…