After enduring more than two weeks of domestic psychological torture, I woke up at my crash pad and thought to myself, "Screw it! I'm going diving!"
Driving down the long Terranea driveway, there was this staff member that stopped me and asked, "How may I help you?"
"Can you carry my SCUBA gear down to the water for me?" I replied.
He pointed to the public lot and said, "Park in there…"
He disappeared from his post after I parked.
We had a good crew today, minus Reverend Al; a few new faces were around.
Terranea Resort, Rancho Palos Verdes, CA
Diving with TwinDuct
In With: 2900 psi
Out With: 400 psi
Max depth: 57 feet
Waves: Pretty damn flat
Visibility: 10-15+ feet
Water Temperature: In the 60s, with only a slight thermal cline at depth
Total Bottom Time: 42 minutes
We entered off the point with no problems what so ever; it was fairly high tide and the swells were minimal.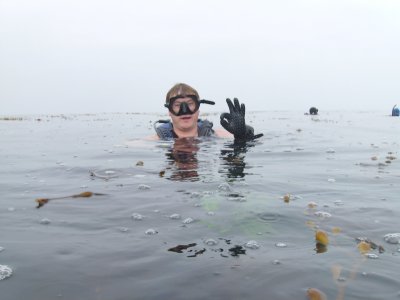 I took this picture of TwinDuct before we submerged… then my camera stopped working; it stayed on, wouldn't turn off, wouldn't respond to any of the buttons – crap!
This only happened once before and now I'm convinced the firmware must have been written by Microsoft – my camera is a 6 Mega Pixel Intova.
We submerged and continued our dive.
I am used to following someone when I dive off the Point, this dive I lead the way; except for basic compass headings to get us back to The Cove, we scouted reefs that I had not passed by before.
We couldn't find the statue.
At 45 feet and deeper, there was a ripping current going from East to West; the kelp practically laid on it's side as we swam against it, not getting very far.
We had discussed prior to submerging, that exiting the Point today was a possibility.
The current died down once we were in 35 feet.
A large school of mackerel (I think?) passed over us and dimmed our lighting.
Visibility was pretty good compared to recent previous dives – Sheephead, Bat Rays and, believe it or not, White Sea bass were encountered on this dive.
On the way in, I found a dive knife similar to the one I lost here a few years ago.
We made an easy exit at the Cove.
We were greeted by Instructor Ed who had to leave as soon as we started to debrief… he is on the wagon for a bit.
I was able to open my camera case, take the batteries out and reboot; the camera started to perform normally – yep, must be a Microsoft product.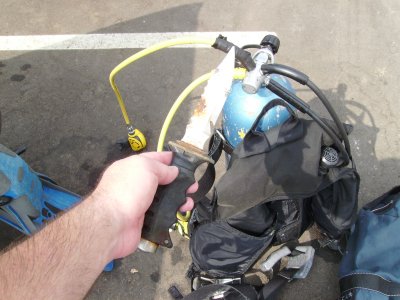 The knife that I scored on this dive; it wasn't THE knife I lost, but it fit into the sheath.
Debriefing took place close to the Casitas, for maximum guest enjoyment.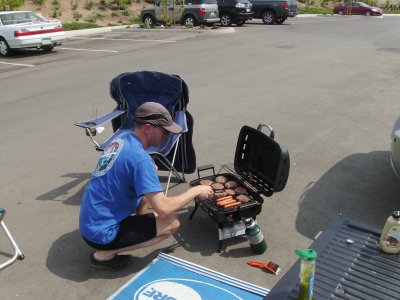 Not New Chris broke out the grill for our feast of hamburgers and hot dogs; we kept it low key, but guests and passersby looked at us as though we were some sort of homeless transients.
One golfer even asked us, "So who's playing football today?"
"It's not football season," I replied.
"Well, what's the bumper party for?"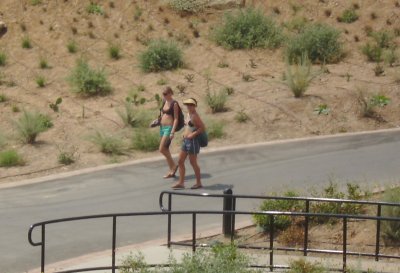 Now that Terranea is open, this place attracts some extremely hot chicks.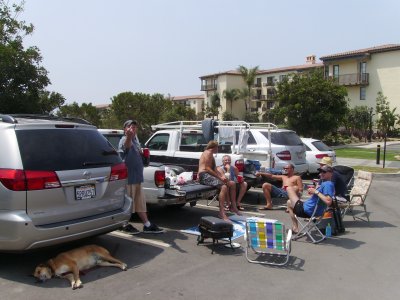 It's starting to look like the Old Marineland debriefing again!
If we ever got a hassle by management, we are planning on doing the rich man's ploy – just start asking the security guard or manager, "Do you even know who we are? Do you even know who we know here? We can have your jobs in a matter of minutes," and then one of us would pick up a cell phone and start dialing.
It may not work, but so far we've been respectful as always, and haven't had any complaints.
My brother, professional debriefer Paul, made a video of today's debriefing that can be viewed here: