After news of giant squid attacking divers down in San Diego and being seen as far North as Orange County, I decided to dive off of the Redondo Canyon to hunt down and kill as many giant squid as possible.
Ok, actually it was really hot today in the ghetto of Long Beach and I just wanted to cool off and stay away from home; I haven't been to a Wednesday evening dive in a while.
The parking lot was crowded, but I was lucky enough to find a spot.
I geared up and was in the water by 5:30 PM; I brought my light just incase, but I really didn't need it in retrospect.
Veteran's Park
Solo Diving
In With: 3100 psi
Out With: 600 psi
Max depth: 83 feet
Waves: Manageable two to three foot swells at the shoreline
Visibility: 5 to 10 feet at best
Water Temperature: 66 degrees at the surface, 54 at depth
Total Bottom Time: 30 minutes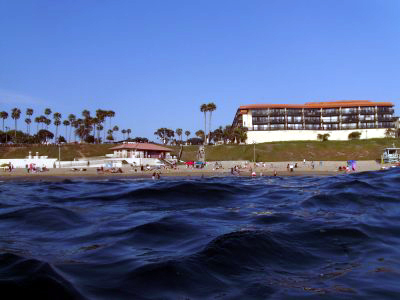 The beach during the Summer can get pretty crowded.
Once submerged, I had to adjust my equipment; when everything was situated, I grabbed for my camera strap that was roped around my wrist… and it was gone!
Fuck!
Where's my camera?
It floats, so I (carefully) bolted to the surface from 20 feet of water and looked.
I always meant to put a little note in my camera case that stated, "If found please return to…"
But, of course, how would I ever lose my camera?
I floated on the surface thinking about all the recent pictures – diving, the fourth of July and homemade porno – that will now fall into some stranger's hands.
I looked over where I thought the current was moving, and I spotted it!
Phew!
My dive continued…
The water on the surface was warm and the vis close to shore sucked.
I headed down the canyon…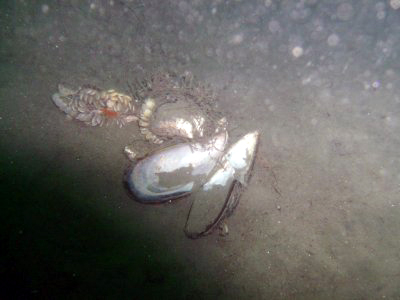 Muscle shells; maybe the victim of an octopus.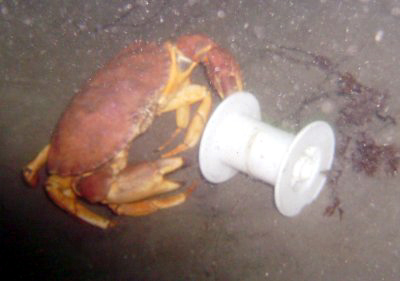 Humans have punching bags, crabs have clawing spools.
I tried to find "The Monument" or "Blocks" but they have apparently moved to 70 feet and are now more covered in sand.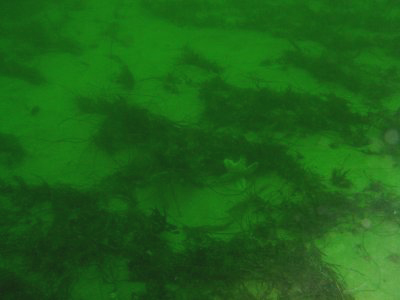 Sort of an uneventful, plain old Redondo Canyon exercise dive – of course I say that now, since I recovered my camera.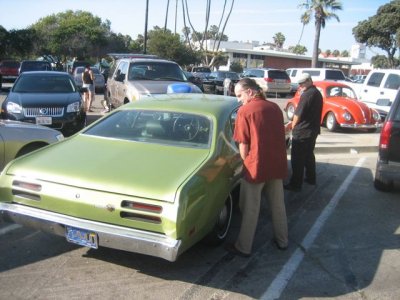 Photo by Rolando
The Divevets welcomed me back by peeing on my car.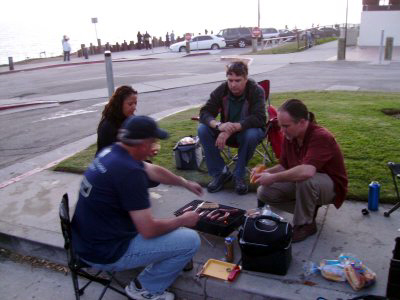 Dan fires up the outdoor stove for a Summer evening barbecue as we were treated to the Village People's hit, "Macho Man" from another diver's stereo.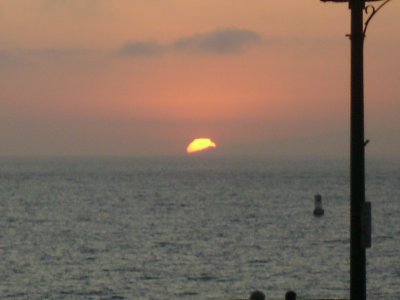 The sun sets at Redondo Beach.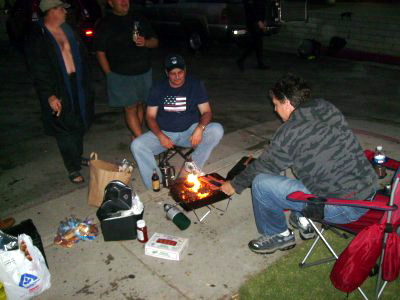 Debriefing continued into the night; we talked about many off beat topics including how the group can get more single women and whether or not we should buy a foreign kid "for adoption and exploitation."
All in fun, but they have a tendency to corrupt new divers.
High surf is expected this weekend, so I'll have to see what this weekend brings.
Comments Off

on Hunting Giant Killer Squid Off Of Redondo Beach