Logged SCUBA Dive #344
Terranea Resort, Rancho Palos Verdes, CA
It's time to get wet again, but this time Terranea Resort was open to the public – no more slipping the guard a beer for beach access.
Conditions from yesterday were reported as "green with poor visibility."
Dove with Instructor Ron & Nick
In With: 3000 psi
Out With: 1500 psi
Max depth: 34 feet
Waves: Annoying surge at shore
Visibility: 0 to 10 feet
Temperature: 58 degrees
Total Bottom Time: Exactly 20 minutes
It was low tide and with the promise of pretty crappy conditions, we decided to go off the cove.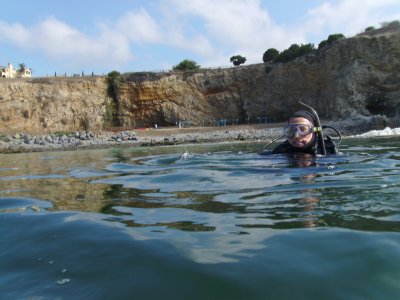 Max Bottomtime had reported that he had lost a camera light between the Cove and The Point, replacing it would cost hundreds of thousands of dollars.
We decided to search for it.
For some reason, I have an uncanny ability to predict the future, hence my luck at the race track.
With my excellent navigational skills and our perfect search pattern, Nick found the camera lighting…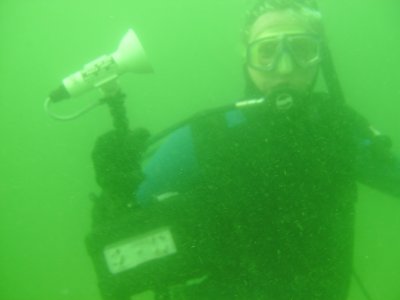 Congratulations to Nick for scoring us all some beer!
Neither Ron nor Nick were macho enough to carry the camera lighting (it weighed 20 plus pounds), so I put it in my game bag and lugged it around the entire dive.
Vis sucked, so I'll spare you the pictures.
After 20 minutes went by, diving over the sand just to record this dive, we exited the cove.
Instructor Ron helped carry the extremely heavy camera lighting to shore.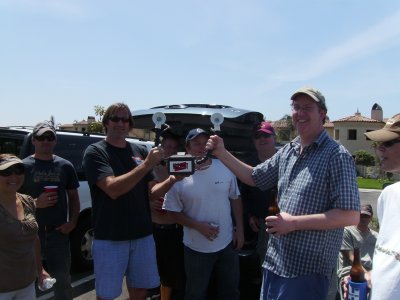 Nick returns the camera housing to Max Bottomtime, our recovery team was rewarded with a case of Budweiser!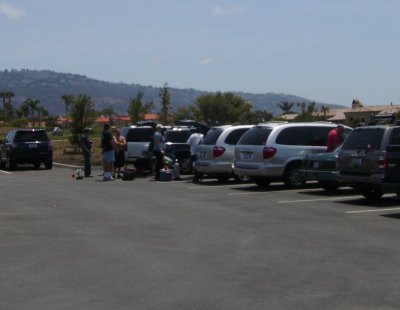 Debriefing continued, but this time with safety cups and the glare of the public.
Hopefully conditions will improve and maybe, one day, I'll have something to write about besides diving here.