Logged SCUBA Dive #339
Malaga Cove, Palos Verdes Estates, CA
Dove With Reverend Al
In With: 2900 psi
Out With: 1500 psi
Max depth: 21 feet
Waves: Slight rolling waves, but pretty flat on the surface
Visibility: 5 to 10 feet in some spots but silty
Temperature: 56 degrees
Total Bottom Time: About 40 minutes
I checked out Honeymoon Cove expecting the displaced Old Marineland divers to be there, but the only one who showed up was Reverend Al.
Conditions apparently sucked all along the hill yesterday, so maybe word had gotten out?
Al and I checked Christmas Tree Cove; both Honeymoon and Christmas Tree looked descent and diveable, but the question was posed, "How much work do you want to do today?"
Both coves have long goat trails leading to the water.
Considering the trails down and the fact that Malaga Cove has more sea life, we headed over there.
Malaga Cove was pretty flat and you could see the submerged rocks in the shallows – it was a no brainer, "Let's do the dive."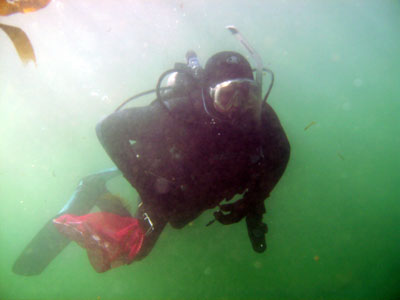 After an uneventful entrance and surface swim, Reverend Al and I submerged in 15 feet of water.
We headed towards Flat Rock before turning around to head back for a beach exit.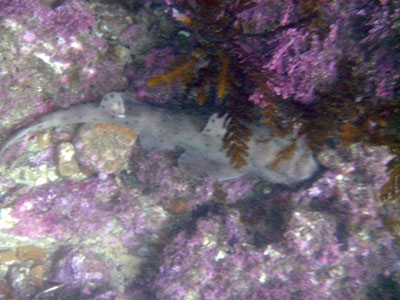 A deadly horn shark off of Malaga Cove.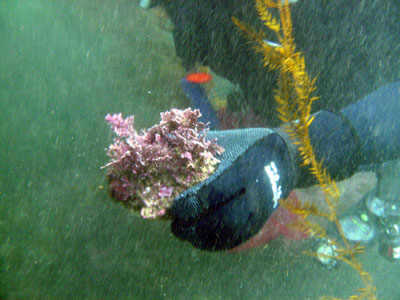 Reverend Al collected a perfect rock for his aquarium.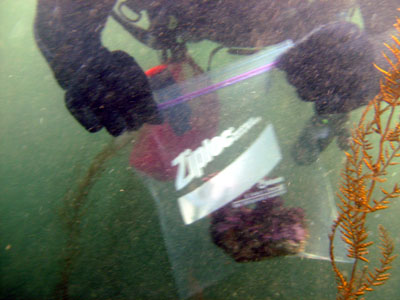 The specimen is bagged and tagged.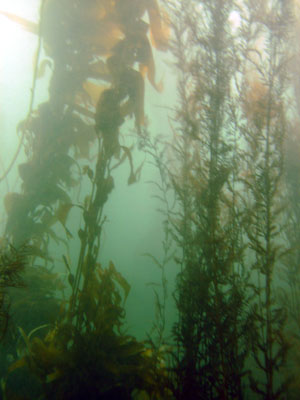 There were some patches of decent visibility today.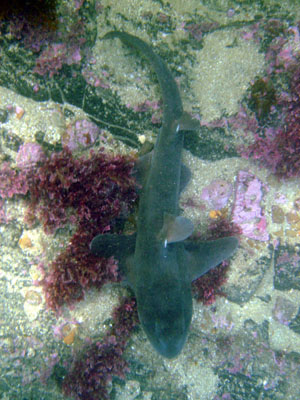 A horn shark patrols Malaga Cove.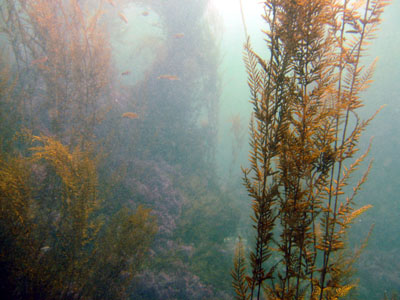 The sunlight and the shallow depths made for an OK dive, despite the silt in the water.
As we got closer to the sandy beach, the visibility went down to only a few feet and the surge was tremendously annoying.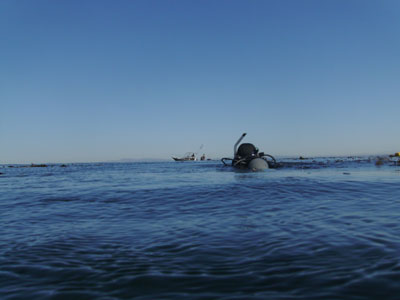 We ascended right by a fishing boat and made a surface swim to the beach to avoid the underwater surge.
We finally met FrankPro1 and SPKelpDiver from the Divevets' board; they were heading in, as we were coming out.
Not So New Chris had finished his dive and was in the parking lot; he remarked, "Those horn sharks must have an awfully good night life because all of them were sleeping."
Low key debriefing ensued for a bit.
I have my diving fill in for the next few days.