Logged SCUBA Dive #336
Secret Location: 4f 66 66 20 74 68 65 20 67 61 74 65 73 20 6f 66 20 4d 61 72 2c 20 61 72 6f 75 6e 64 20 74 68 72 65 65 20 6c 6f 6c 6c 69 70 6f 70 73 2e 20, Palos Verdes
Solo Diving/ SoCal Buddy Diving
In With: 3000 psi
Out With: 200 psi
Max depth: 40 feet
Waves: Annoyingly choppy, but calmer towards the end
Visibility: 10 to 15 feet
Temperature: 58 degrees
Total Bottom Time: About 35 minutes
I was corrected earlier this morning – lobster season ends at 11:59 PM this Wednesday, March 18, 2009, not at midnight on the 18th.
Not being scheduled on any boat Wednesday and too busy tomorrow, Instructor John and I took the mighty zodiac out for what might be the last lobster dive of the season.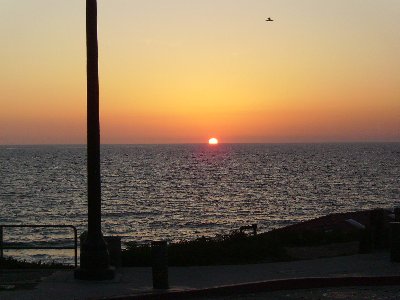 The sun sets over Redondo Beach.
The wind was really blowing, but calmed down after sunset; the ride out was pretty choppy, but since both of us are pretty damn macho, we continued on to our secret destination.
A few dive and hoop netters were out trying to make a catch at the tail end of this season – no pun intended.
We submerged down the anchor line that was in 45 feet of water; I headed to 35 feet.
The tide was fairly low and the kelp was annoyingly thick.
I ran by a black sea bass and a few horn sharks.
Midway through my dive, I ran across, and was able to easily catch, two legal lobsters – they were like grabbing beer cans, but I measured them just to be be sure.
At 40 feet, I came across a huge six pound bug that was wedged in a reef; the foolish lobster started to crawl towards the light…
Yes, go towards the light… go towards the light…
I grabbed for it and it shot back deeper into the hole.
I had 800 psi left and didn't want to waste time getting back to the boat.
I surfaced with 500 psi and looked for the boat.
The zodiac has such a low profile in the water, that even from 40 yards away, it looks like a half a mile.
I managed to breathe down to 200 psi, swimming under the kelp and did a short bitch crawl over to the boat.
Instructor John and I made it back at the same time.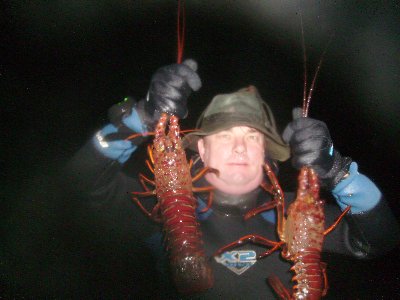 My two prize bugs that I liberated from this dive; John came up with one.
With little problem, we pulled anchor and started the engine.
The ride back was surprising smooth; I didn't spill my beer once.
I may be able to get out Wednesday night, but again this may be it for me for this lobster season.